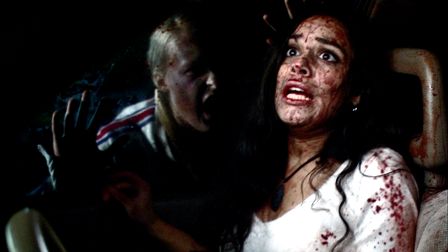 If there was a perfect crowd to see ZMD: Zombies of Mass Destruction with, it was definitely at last night's screening. The audience was packed with people who made ZMD – actors & crew, director and producer – and also with true lovers of the Zombie genre.
The story centers on gay couple Tom (Doug Fahl) & Lance (Cooper Hopkins), who have just arrived in the picturesque town of Port Gamble, WA in order to finally come out to Tom's mom – and on Frida (Janette Armand), a gorgeous college dropout who has an Iranian father, but was born in PG and can't understand why everyone obsesses over her heritage. Once the virus explodes, American stereotypes abound and Tom, Lance & Frida find out that some residents on the island are actually more dangerous than the Zombies.
Director Kevin Hamedani turned out a horror/comedy that's frankly a lot cleverer than I expected. Some of the acting is a little amateur at first, but give it about 15 minutes. The acting gets better, and once the extreme gore hits, the buckets of corn syrupy splatter and one liners don't stop (fans of Evil Dead and Dead Alive will be very, very happy). I guarantee you'll appreciate it as a whole.
There was a lot of laughter and a lot of clapping during the screening, and it was well-deserved. Zombie fans should definitely check out the next showing of this – but if you miss it, Producer John Sinno said at the Q&A that if for some reason ZMD didn't get distribution after a few more festivals, he would release it himself. 
{ZMD: Zombies of Mass Destruction plays again at SIFF again tomorrow, June 4 at the Kirkland Performance Center at 10pm – but get your tickets FAST. This one's only got a few left!}