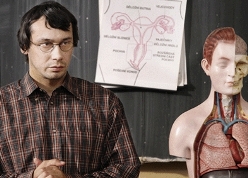 Weekend three of four!
Are you feeling the SIFFatigue yet? I am. But I'll be queuing up for these films anyway:
The Country Teacher
(6/4 and 6/6, Harvard Exit)
Title character Petr (no that's not a typo) turns down a job at a prestigious school in Prague to move to an isolated, rural village for a teaching position. He's a gay homosexual, but keeps this on the low, both out of fear of persecution in the village and his own ambivalence about his sexuality. When friend and landlady Marie signals her romantic interest, Petr balks under the pretense that she's too old for him… all while trying to repress his secret desire for Marie's cheeky 17-year-old son! OK, this is a Czech film so it's probably not as juicy as I want it to be, but reviews so far are positive: The Village Voice says it's "sweetly ingenuous", and Salon calls it a "lovely, drily comic and often surprising drama".
Il Divo (6/6 Egyptian, 6/13 Cinerama)
Known by the Caesarian moniker "Divo Giulio" for his three-decade reign at the top of Italian politics, former Prime Minister Giulio Andreotti has been part of the Italian political machine for more than half a century. He currently serves as a "senator for life" in Italy's parliament… despite lingering rumors of ties to the Mafia. This biopic tackles the intelligent, ferocious Andreotti's political saga and has been well-received on the festival circuit; following its screening at Cannes last year, Il Divo was frequently hailed as a masterpiece. Says the LA Times: "Simultaneously exhilarating and confounding, dazzling and confusing, this is filmmaking of such verve and style that you likely won't care that you can't follow it completely."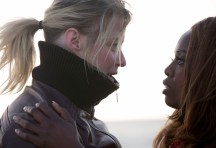 Little Soldier
(6/7 Harvard Exit, 6/10 Pacific Place)
Raised by her grandparents after her mother died, the tough, dykey former war vet Lotte (Trine Dyrholm, one of Denmark's biggest stars) returns to her provincial hometown and asks her dad for a loan to help her get back on her feet. He offers her work as a driver, and she winds up a chauffeur and protector for daddy's mistress… who also happens to be one of the Nigerian prostitutes he pimps as a side to his legitimate trucking business! And ultimately an uneasy bond is forged. Lots going on here — disturbed former militant, prostitution, daddy-daughter messed-up relationship drama — but I'm confident that highly accomplished director Annette K. Olesen (In Your Hands) handles it well. She does not mess around, and I can't wait to see this film.
Machan (6/5 and 6/10, Uptown)
In Colombo, Sri Lanka, lifelong friends console each other after their latest visa applications are rejected: barman Manoj dreams of living in the West, and street vendor Stanley is losing his fight against overwhelming debt. They discover an invitation to a handball tournament in Bavaria, and, despite the fact that neither of them knows what handball is, their tournament application is accepted. They round up a ragtag collection of friends to form the Sri Lanka National Handball Team. After reading about the exploits of the real 2004 Sri Lankan team, Italian producer Uberto Pasolini (The Full Monty) decided to get behind the camera for the first time to tell their story, using mostly non-pro actors from Colombo to provide authenticity to the tale.
Manhole Children (6/7 Pacific Place, 6/10 SIFF Cinema)
The Soviet Union's fall in the early 1990s, and Mongolia's sudden transition to a capitalist economy, produced overwhelming levels of unemployment and poverty. By the winter of 1998, thousands of abandoned children were living under the streets of capitol Ulan Bator, where manholes provide access to a vast network of steam pipes that heat the city's homes. Shot over ten years, this film traces the endangered lives of three of these "manhole children" who reach adulthood while living on (and under) the street. The Stranger's Charles Mudede calls it his favorite film of SIFF 2009 and urges: "Do not miss this documentary; it is sad but also as strange as your strangest dreams."