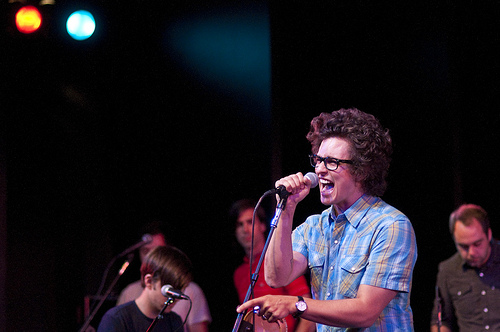 There's plenty to dig into at this year's Bumbershoot Music Festival outside of the big-draw acts (Gotye, anyone?) that make the daily ticket price well worth every hard-earned dollar you're going to spend. There's an impressive comedy lineup, KEXP's always-awesome "secret" Music Lounge, endless vendors, and the sunny goodness of the Seattle Center grounds — and it all awaits us as another Labor Day weekend looms around the corner. You can head on over to the official Bumbershoot site to go over the schedule and fine-tune a personal lineup, of course — but here's a few of our hot picks anyway, just in case you find yourself with a case of multi-stage overwhemsion.
SATURDAY
Bumbershoot kicks off strong this year with some feel-good bands breaking us in on our first day, like JC Brooks and the Uptown Sound (fingers crossed-times-infinity that they do their killer cover of "I Am Trying To Break Your Heart"), Sera Cahoone, and the Barr Brothers, still fresh in our mind from their performance at Pickathon. THEESatisfaction is sure to electro-groove our very souls before we get a good shredding from the Heartless Bastards, and later on we'll gladly close out day one with a bit of Jane's Addiction and M. Ward:
2:30p, Fisher Green Stage: JC Brooks and the Uptown Sound
3:30p, Sub Pop Stage (Fountain Lawn): Sera Cahoone
4:30p, The Promenade: Barr Brothers
5:15p, Sub Pop Stage: THEESatisfaction
5:45p, Starbucks Stage (Mural): Heartless Bastards
9:00p, The Promenade: Damien Jurado
9:30p, Mainstage (Key Arena): Jane's Addiction
9:45p, Fisher Green Stage: M. Ward
There's tons to do in that gap during the dinner hour, including the Stranger's Guide to America, grabbing actual dinner, checking out Flatstock, and seeking out one of a bazillion killer comedy acts before picking back up the tunes.
SUNDAY
Chugging along into day two, we'll gladly get take our wakeup call from Eighteen Individual Eyes (and a side of the-good-kind-of-bite from Katie Kate) before we ease into a mainstage set at Key Arena from Sharon Jones and the Dap Kings (hell yes!!). There's a run of favorites and Sub Pop all-stars through the afternoon, with blissy sets from the Young Evils, the Fruit Bats, and Mudhoney; and another day'll easily get knocked out of the park with a closing set from Wanda Jackson and those Dusty 45s:
12:00p, The Promenade: Eighteen Individual Eyes
1:30p, The Promenade: Katie Kate
1:45, Mainstage: Sharon Jones and the Dap Kings
4:30p, The Promenade: The Young Evils
5:00p, Sub Pop Stage: Fruit Bats
6:45p, Sub Pop Stage: Mudhoney
9:30p, Starbucks Stage: Wanda Jackson & the Dusty 45s
Between 2:00 and 4:30p, you can check out Eldridge Gravy & The Court Supreme, Barcelona, and even Tony Bennett (!) on the Mainstage, and later on in the evening, let the Allman-jams of Blitzen Trapper and croons of Keane fill your dance card between the comedy stages, the fine eats, and the vendor-browsing.
MONDAY
As we near the end of Bumbershoot oh-twelve, there's no slowing down in sight — day three has just as great of a curation as the rest. We're all about getting our fill of Noah Gunderson's vocal prowess before soaking up some Best Coast, and the vibe will stay sunny and strong with sets from Posse, M83 and The Pains of Being Pure at Heart. The evening shifts into a hodgepodge of likes, from (holy) Fishbone (you guys) to Star Anna, with some sure-to-be-gorgeous burlesque from the Atomic Bombshells and a set from the Rebirth Brass Band to wrap up both the night and the fest.
1:30p, The Promenade: Noah Gunderson
1:45p, Mainstage: Best Coast
3:00p, The Promenade: Posse
3:15p, Mainstage: M83
5:00p, Sub Pop Stage: The Pains of Being Pure at Heart
6:15p, Exhibition Hall Stage: Fishbone
7:30p, The Promenade: Star Anna and the Laughing Dogs
8:30p, Bagley Wright Theater: Atomic Bombshells Burlseque
9:45p, Starbucks Stage: Rebirth Brass Band
Tickets are on sale now, and range from $45.00 for standard daily entry up to killer Platinum Package combos that give you free drinks, special viewing areas, and so much more. More on the different types of ticket packages and all things fest-related here.
We'll see you at Seattle Center!
{Photo of Pickwick at KEXP's 2011 Bumbershoot Music Lounge by Victoria VanBruinisse.}