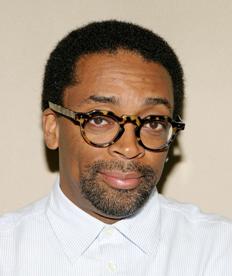 Wednesday night SIFF will present the Golden Space Needle Award for Outstanding Achievement in Directing to special festival guest Spike Lee in recognition of his extraordinary filmmaking career. Around this presentation will be a special tribute event (7p at the Egyptian) which will include the usual filmmaker-in-town SIFF elements: a montage of clips highlighting his diverse work as a director, an on-stage interview and an audience Q&A.
And a big chunk of the evening will be devoted to what is surely one of the most singular films of SIFF 2009: Passing Strange, a Lee-filmed performance of the brilliant, exuberant, multi-award-winning stage musical by singer-songwriter Stew. Lee shot the final performance of Strange's short-lived Broadway run last summer, with relatively few of his typical stylistic photography and editing touches, seeming to opt instead for allowing the show's rich liveliness to speak for itself. As such, this isn't your typical "Spike Lee joint", and Strange is definitely not your typical Broadway extravaganza: it's really more like a musical performance with a story.
("At this point in the play," Stew says at one critical juncture early on, "we were planning a show tune. An upbeat, gotta-leave-this-town kind of show tune. We don't know how to write those kind of tunes." Gotta love that.)
In a nutshell, the plot is Stew's quasi-autobiography: an LA-bred youth leaves the comforts (and discomforts) of his God-fearing, middle-class home in the late '70s to discover himself in Europe. In Amsterdam and Berlin he finds art, music, sex, and love… and it all plays out as the actual here-and-now Stew and his band are belting out the soundtrack right alongside the stage performers.
Mesmerizing stuff, even considering that (on the surface, at least) it's all relatively spare by Broadway standards: aside from the stunning musicians, uber-talented actors, and just a few well-utilized props, there's not a lot of razzle-dazzle… until the spectacularly artful wall of neon reveals itself in the Europe segments. And this isn't your typical Vegas-y neon, either: it's a truly gorgeous creation, a surprising bit of flashy designer eye-candy about which I could write an entire review. It makes its appearance as all hell is breaking loose onstage, and it is downright perfect.
This is just one of many elements that make Passing Strange feel less like a Spike Lee film and more like the hippest episode of Great Performances ever… which is appropriate given the PBS show just acquired the film for its 2010 season. A quick pre-TV theatrical run will likely happen in late '09, so if you don't see it at Wednesday's (somewhat pricey) tribute event, or the regular SIFF screening at Kirland Performance Center on June 2, rest assured that you will have your chance.
Unless you were lucky enough to see it performed live, Passing Strange is a can't-miss, and is best seen in a cinema. Because that fabulous neon just won't shimmer and glow as beautifully on a TV screen.