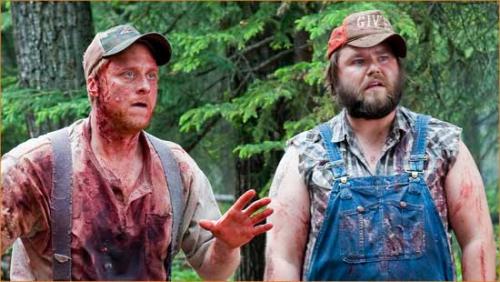 Ahh, October. The month when all the bloody, gory, scary, and spooky movies crawl out of the cinematic woodwork. In other words, MY FAVORITE MONTH. There's plenty of spooky stuff showing this weekend, so I thought I'd pick a few things for you to spend your $$ on.
Central Cinema is showing Kubrick's The Shining tonight, so you can view Jack Nicholson's madness, creepy twin girls, and the fantastic blood-filled elevator in all their cinematic glory. It's also a great tie-in to EMP's Can't Look Away Exhibit! See the movie tonight, than head to the museum tomorrow to see the actual axe. How awesome is that? Showtime at 9:30pm, $8 tix. (Plays again 10/11 and 10/12)
The Varsity has Tucker & Dale Vs. Evil – which by all accounts is more funny than scary, but it's got Alan Tudyk (oh, WASH, I weep for you) and splatter! And it looks hilarious. Basically two backwoods hillbillies run across a bunch of college kids and save one of the girls from drowning, which is mistakenly viewed as kidnapping by the rest of the kids – who then proceed to try to rescue her, wherein accidents happen resulting in lots and lots of murders. Hooray! Showtimes: 2:40pm & 5:00pm, $8 matinee tix, and 7:30pm & 9:30pm, $10.50 tix.
And lastly, The Grand Illusion Cinema has 1940's classics The Wolfman (this one is WAY better than that Benicio del Toro thing they put out in 2010, trust me!) at 7pm, and Frankenstein Meets the Wolfman at 9pm, both starring Lon Chaney Jr. and both chock full of awesome sets and screaming dames. $8 tix, $5 for members, $6 for students | seniors.