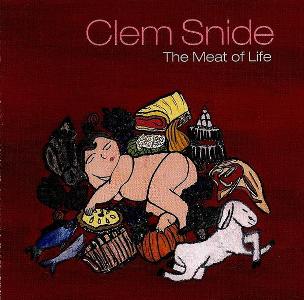 Hey Kids, do you like self-aware, beautully arranged, bittersweet indiepop performed by giant gangly men from New Jersey? Of course you do. Today, the sun will rise a little higher, birds will chrip a little more sweetly, and the sweet Baby Jesus will smile a little wider, because it's Clem Snide album release day!
Eef Barzalay and company will release The Meat of Life, the band's 7th album, and, better yet, they are touring this spring! As always, the mutable Clem Snide have put forth another woebegone collection of songs that will rend your heart like a Ocean City taffy puller. Like the Mamas and the Papas say in "Unhappy to Be Sad," "But for someone you adore, it's a pleasure to be sad."
NPR is featuring a free listen to the album in its entirety and it can also be preordered on Physical and iTunes.
Tour dates are as follow, per the band's fan list mailing:
5/12: Tiger Room, FT Wayne
5/13: Lincoln Hall, Chicago
5/14: Frequency, Madison
5/15: 400 Bar, Minneapolis
5/18: Mississippi Studios, Portland
5/19: Tractor Tavern, Seattle
5/20: Humboldt Brews, Arcata
5/21: Bottom of the Hill, San Francisco
5/22: Spaceland, Los Angeles
5/23: Plush, Tucson
5/25: Mohawk, Austin
5/26: Doublewide, Dallas
5/27: Hi Tone, Memphis