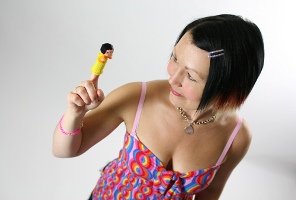 I just got my copy of the latest Bis release, We're Bis from Glasgow.
It's a fantastic two disc greatest hits compilation that brings together a 20 of their hits and a DVD with nine videos and performances.
In case you aren't familiar, a couple songs are posted on their MySpace (and one of my favorite songs is youtube'd below). Their feisty, DIY, electro garagey songs are still oft visited on my iPod.
The compilation release has also marked their return to Bis-dom! Bis has taken to the stage several times in the UK and even though I may not see them without taking a trans-Atlantic flight (which isn't necessarily out of the question), this burst of happiness and excitement lead me to conduct some spy internet searching to see what I could find out about the band and their whereabouts, goals and more music.
The catch-up session I was looking for was found on lead Bis supa gal Manda Rin's MySpace! On there she has some new solo songs (my fav being "Breakup Breakdown") and links to another project she's was part of (that's now defunct) called Data Panik. DP's sound is like a mix of Bis and Infomatik. The songs are very heavy on the synth, but with the melodic spunk and fun vocals of Bis. You should go listen to "Rules and the States" on Data Panik's MySpace page right now!
AND, Manda Rin, our pixie spit-fire, also DJs at clubs around the UK! The fun never stops on that magical island!
On her MySpace page she also links to her Flickr account. Upon clickage, I found that, besides some cute kitty cat pictures, she has a bunch of photos of her in the US (Milwaukee even!). So who knows… maybe they will have a show in San Fran or something?
That would be totally ruling!
(Thanks to Sean for finding this video in the thousands of search results for "Bis" in YouTube)