Okay, not only is the track list insane, but I'm a sucker for a sweet graphic: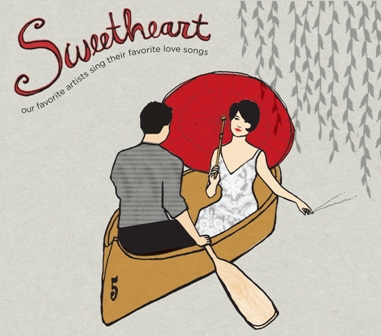 How gorgeous is that? Seriously. And check this out, straight from Starbucks:
Everyone loves a love song.

We approached some of our favorite artists and asked them to cover a tune that's touched their hearts. The result is Sweetheart, an exclusive 14-track compilation featuring artists such as Death Cab for Cutie, Katy Perry, and She & Him reviving selections from the songbooks of a host of greats, ranging from Bruce Springsteen and Billie Holiday to The Cure and Coldplay.

EXCLUSIVELY IN STARBUCKS STORES JANUARY 30, 2009

1. Death Cab for Cutie – "Love Song"

2. Katy Perry – "Black and Gold"

3. DeVotchKa – "Hot Burrito #1 (I'm Your Toy)"

4. Department of Eagles – "Love Me"

5. Jessica Lea Mayfield – "Words of Love"

6. Ben Bridwell – "Your Love is Forever"

7. Kate Tucker – "I'm on Fire"


8. Rogue Wave – "Maps"

9. A.C. Newman – "Take On Me"

10. Jem – "Yellow"

11. Richard Hawley – "Early Morning Rain"

12. Daniel Martin Moore – "I Hear Music"

13. She & Him – "I Put a Spell On You"

14. Lila Downs – "My One and Only Love"
Can you stand it? As if that weren't enough, there's rumors of an advance copy making it's way through the postal service to our doorstep — so check back for a full-length review soon!
[Lots of love to Cheryl Waters for lending a hand.]