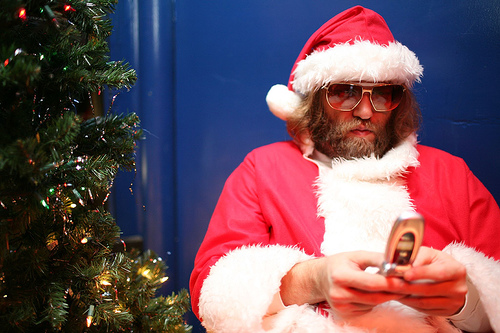 I'm not sure if it's good or bad luck to start talking about the holiday season before Halloween, but this morning's announcement that Stephen Colbert and team will be releasing a holiday special (and DVD) actually made me kinda excited for the season of tinsel and fruitcake.
Adam Schlesinger (Fountains Of Wayne and Ivy) and David Javerbaum (executive producer of The Daily Show) have written eight original songs for A Colbert Christmas: The Greatest Gift Of All, a one-hour musical special which will air on Comedy Central on November 23 and feature songs performed by Colbert and a gaggle of friends. The special will also be released on DVD with a portion of the proceeds from the sale of the DVD will go to the charity Feeding America.
The track listing is beginning to look a lot like:
Stephen Colbert – "Another Christmas Song" and "Cold, Cold Christmas"
Toby Keith – "Have I Got a Present for You"
Stephen Colbert and Willie Nelson – "Little Dealer Boy"
Stephen Colbert with John Stewart – "Hanukkah"
Stephen Colbert and John Legent – "Nutmeg"
Feist – "Please Be Patient"
Stephen Colbert and Elvis Costello – "There Are Much Worse Things To Believe In"
…. and the entire ensemble will perform a version of Nick Lowe's "(What's So Funny 'bout) Peace, Love And Understanding."
The news has certainly put a jingle in my step. Who thinks that Toby Keith appearance is a big surprise? I wonder if REM or Apples in Stereo (who I assumed were a couple of Colbert's favs) will be added to the line-up?