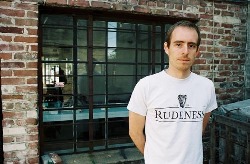 I think Ted Leo might be the nicest guy in indie-rock. Or at least in his sub-genre of indie punk pop. On stage he rules the roost with sweaty guitar jabs and catchy verses. Recorded, he has always offered something worth hitting repeat… repeatedly.
Now he's secured his place in my heart with the release of an EP in response to the Minnesota Police brutality at the Republican National Convention case (more info, video, photo at this link). The release was put together to bring awareness and financial aid to the people affected by the police brutality in Minnesota.
Last week, Ted and the band went into his home studio and recorded the Rapid Response EP which features two new songs, "Paranoia: Never Enough" and "Mourning In America," plus two covers, "I Got Your Number" (originally by Cock Sparrer) and "Nobody's Driving" (Amebix).
As Ted explains it:
"…Real people were hurt in St. Paul, and real people have bills to pay, and real people need funding to continue their good works. We (the band and I) were all feeling these events as deeply as we could from our 1200 mile remove, and so as not to feel entirely powerless, and in an attempt to contribute SOMETHING to that continuation of those good works, we wrote a song and recorded it…"
The Rapid Response EP is available now for an exclusive two-week window via Touch and Go Records for $4.00, with other donation options available for those who would like to contribute an additional amount.
After the two week period, Rapid Response will be available for single track purchase at online retailers (Itunes, Amazon et al), as well as the Touch and Go Records website.
The songs are great as is the cause… get to it people!