Even as someone who is obsessed with music, it is rare to attend a performance that induces goose bumps, let alone one that does so several times. Mark Burgess and his current outfit, The ChameleonsVox, delivered on that response Friday evening in what turned out to be one of the very best shows that I have witnessed in a long time.
The concert itself was a UK post-punk dream. Preceding the headline act, Gene Loves Jezebel's Jay Aston played a solo acoustic set that was beautiful, honest and impressive. He strummed through his songs with conviction and his bare voice sounded both strong and vulnerable at the same time. After his set, Theatre of Hate stepped onto the stage and immediately took command of the audience. They belted out their material with impressive fortitude, culminating in the classic tribal anthem, "Do You Believe in the Westworld?"
The night was already off to a ridiculously strong start when Mark Burgess and The ChameleonsVox launched into "A Person Isn't Safe Anywhere These Days," which sounded just about as powerful as ever. From then on, there wasn't one moment that was a letdown. In mostly chronological order, they performed songs from their three legendary 1980s albums, Script of the Bridge (1983), What Does Anything Mean? Basically (1985) and Strange Times (1986).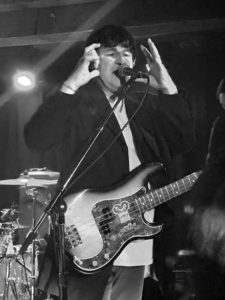 The Sunset seemed like far too small of a venue for this concert, but that also meant that the sold out show afforded everyone in the audience a close vantage point to the stage. The band seemed to be thoroughly enjoying themselves as Burgess expressed his surprise and gratitude towards the rapturous audience a handful of times. The entire set of The ChameleonsVox was an absolute joy, but even with that, there were some pinnacles, all of which were the tracks selected from their masterpiece, Strange Times. "Tears" and the rarely performed "Paradiso" were introspective, gorgeous highlights while "Soul and Isolation" and "Swamp Thing" were sharp, political and visceral opuses. One of the greatest things about the group and their music is that their songs cover the spectrum between darkness and light.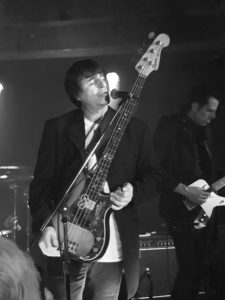 Burgess is one of those rare artists who is still so passionate in his delivery and yet humble in his stage presence, which is one of the reasons why The Chameleons will always be one of the best and most underrated bands around. There is no pretense whatsoever, just an abject honesty and yearning that has been sustained ever since their first single, "In Shreds," an intelligent punk classic that started off their trajectory in 1982, one that sadly turned out to be short lived. Luckily, Burgess continues touring to this day and he has carried the torch with the utmost grace.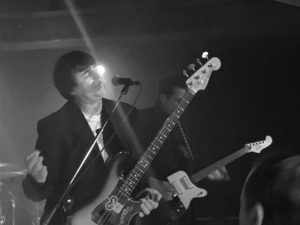 Special thanks to animanocturnaofficial for the photographs.
Setlist:
A Person Isn't Safe Anywhere These Days
Paper Tigers
Monkeyland
Return of the Roughnecks
Perfume Garden
Tears
One Flesh
Paradiso
Soul in Isolation
Swamp Thing
Second Skin
Encore: