As much as we try to keep it a secret, summers in the Pacific Northwest are heavenly. The days are long, the sun is bearably warm, and the general mood of the whole place is euphoric. One of the highlights of last summer was our visit to the Timber Festival in Carnation, WA, which Imaginary Gemma and her teen-age daughter covered in a pair of reviews. The summer festival was a weekend of music, water adventures, s'mores, yoga, and stargazing (and it's happening in 2020!).
Did you know the wonderful Timber folks also put together a winter festival? This year's Timbrrr! Winter Music Festival will be the weekend of January 24-25, 2020 in Leavenworth, WA – right when we are all starting to succumb to the mid-winter-doldrums (tix).
They've put together quite the party in the snow. There will be a Hot Toddy Garden, skiing, snowboarding (with discounted single day lift tickets), family sledding, and all the usual Leavenworth food and fun – including a Sonic Boom Pop Up Store!
But, it is a MUSIC festival after all – so the biggest news we have to share concerns the line-up! And we're super excited to share the news as soon as it's hot and on the presses!
The 2020 Timbrrr! Winter Music Festival will feature performances by:
Pedro the Lion
Bully
Ivan & Alyosha
Lisa Prank
Bryan John Appleby
Bear Axe
Actionesse
Purple Mane
Warren Dunes
Vanna Oh!
Brett Benton
Amanda Winterhalter
Zebrahunt
Carlarans
Robin Bacior
Dean Johnson
What a line-up! We're in!
Honestly, they had me at "Hot Toddy Garden."
The weekend of January 24-25, 2020 is going to be awesome! Get thee to Leavenworth, WA!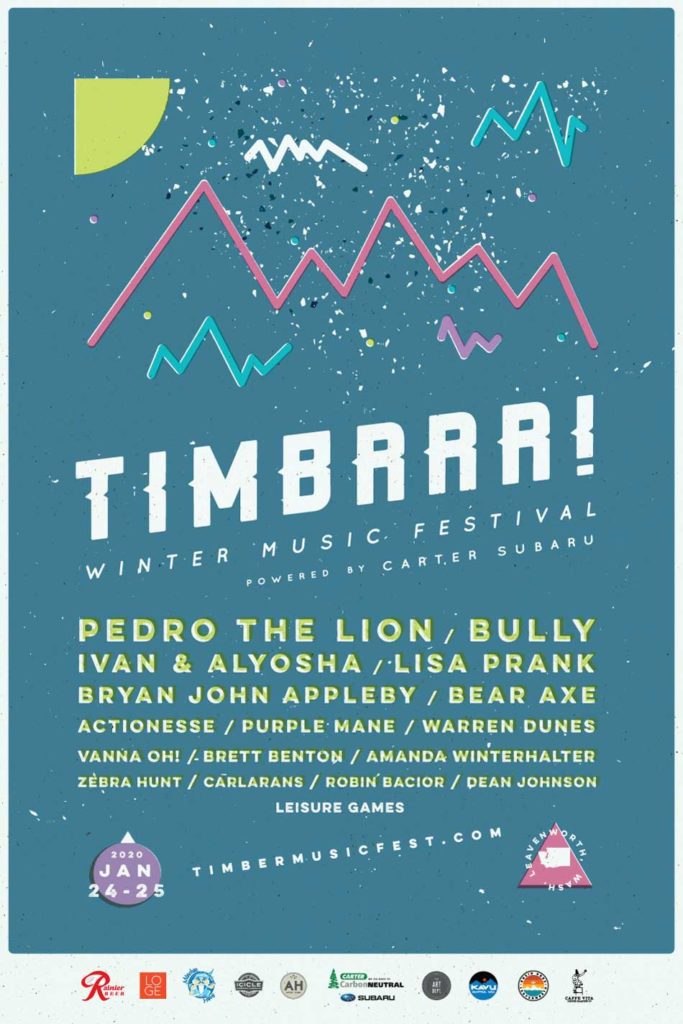 PS – you might also be interested in reading our reviews of last summer's Timber! Outdoor Music Festival…