Remember a couple years ago when Rat Fancy gave us "possibly the sweetest collection of 'fuck you's' ever committed to vinyl" with the summer time EP, Suck A Lemon?
Well, they are back and ready to help fill this summer's playlists with garage-y C86-esque indie-pop with their new album Stay Cool (releases June 7, 2019 on HHBTM). Thank you, Rat Fancy!!!
Rat Fancy is fronted by Diana Barraza of Sweater Girls fame. On Stay Cool, she and the band bring the poise of early Go-Gos emboldened with unapologetic and honest self-reflection.  This time around, there's an extra touch of carefree fancy wistfulness thanks to David Newton of eighties indie pioneers The Mighty Lemon Drops who recorded the album. The end result is an indie-pop album that mixes punky youthful abandon with splashes of L.A. sun.
I love how all that is rolled up into the fuzzed out-college-pop-anthem with "RIP Future" — and here's a sneak listen (and you can only hear it here on TIG!!!):
Here's some inside scoop about "RIP Future" from RF's Diana Barraza:
[quote]I was sitting in a doctor's office feeling pretty bad when the words started coming to me: "lately I can't catch a break…" This was a particularly rough time being extremely underemployed as a designer and I was terrified of the future. I know many folks my age who can only dream of things like stability and home ownership. While that's all at play, the song isn't supposed to be bleak. We're saying that even though it's tough out there, we're happy. The car on the cover is an example of that. It's an old car that's seen better days, driving along an ominous road, yet there's a big happy face on the top of it (like the car in the 90s film Doom Generation). [/quote]
While supplies last, you can preorder the limited edition of the album that comes with download card, koozie, limited edition postcard, button and stickers and the album pressed on translucent green vinyl (order it here).
There's also a non-koozie colored vinyl pack if you like your beverages room temperature (like me).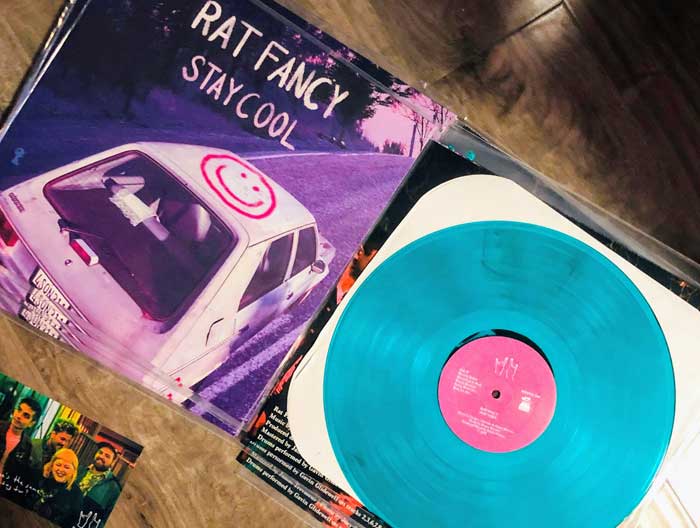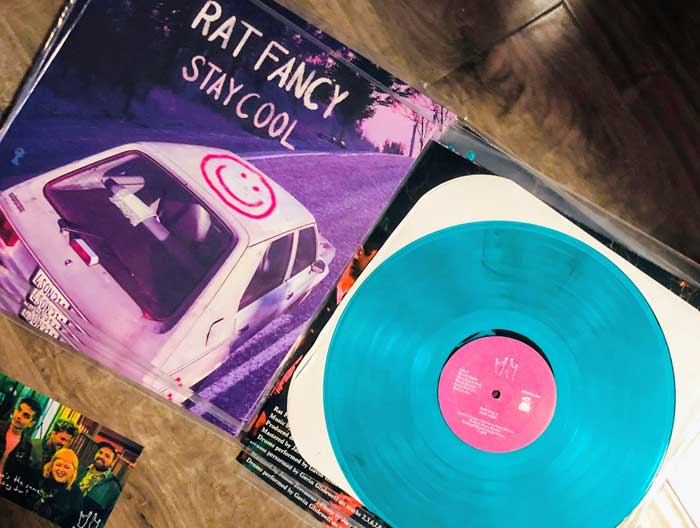 Here's a video for another song from the album! Let's get our Rat Fancy on!!!: