Look, there's no way to properly do this list. And that's why Seattle's music scene is so wonderful.
I've been utterly awash in Seattle music since moving to the city in 2011 (and then serving a couple of stints running arts departments at local publications. Trying to sum up a decade's worth of beautiful and wildly different sonic shades and colors is a fool's errand. And I am certainly a fool.
This city puts out So. Much. Good. Music.
For this exercise, I've put together the 15 local albums from the 2010s that I think are brilliant in differing ways. But that didn't feel complete enough; so made an honorable mention list to encapsulate a top 50 of the decade. But even that didn't feel complete enough for the city, because this list so dependent on my own personal taste (not Three Imaginary Girls as a whole, they're just kind enough to host my ramblings).
But that's the most beautiful thing about Seattle. You could make entire lists of stuff I didn't even list. For me, the major theme of the decade in Seattle music has been the female-led indie/punk scene and it's overflowing cup of artistic riches. But someone could go another direction and be totally correct. Maybe you'd include some of the heavy-hitters (Pearl Jam, The Head and the Heart, Fleet Foxes, Brandi Carlile, Odesza – some of which are covered in my list of "The 10 Most Significant Seattle Albums of the 2010s"). Maybe you'd toss in different hip-hop (OC Notes, The Physics, Dave B, Sol, Brothers from Anther). Maybe you'd highlight more locals on the bigger Seattle labels (Hibou, Porter Ray, Seapony). Maybe you have different folk-y tastes (The Moondoggies, Sera Cahoone, Noah Gundersen, Courtney Marie Andrews, Kris Orlowski) or indie favs (Telekinesis, Kithkin, Cumulus, Cataldo, Sisters, Prom Queen, Stickers, The Lonely Forrest). Maybe you (bizarrely) consider Anacortes part of Seattle (Mount Eerie). Whatever the case, the Seattle music scene is robust enough for a myriad of valid picks (including scores that appear nowhere in this article).
So if nothing else, take a moment to appreciate how lucky we are to have this soundtrack playing in our backyards.
Honorable Mention Top 50
Teens of Denial – Car Seat Headrest
Time to Go Home – Chastity Belt
The Horizon Just Laughed – Damien Jurado
Third Daughter – DoNormaal
Dehumanize – Dude York
Falling – Dude York
Touch Screens – Erik Blood
Die Alone – Gazebos
Four of Arrows – Great Grandpa
Whatever Will Happen – iji
Even the Sun Will Burn – Iska Dhaaf
Single Rider – Jenn Champion
One Christmas at a Time – Jonathan Coulton and John Roderick
It's Alive – La Luz
Adult Teen – Lisa Prank
The Heist – Macklemore & Ryan Lewis
OMNI – Minus the Bear
Assholes EP – Mommy Long Legs
Life Rips – Mommy Long Legs
Duo – Onry Ozzborn
Too Bright – Perfume Genius
Can't Talk Medicine – Pickwick
Rumours 2: The Rumours Are True – Pony Time
Hospital Handshakes – Rocky Votolato
Bleeders Digest – Say Hi
The Make It All Show – Skating Polly
Berio: Sinfonia; Boulez: Notations I-IV; Ravel: La Valse – Seattle Symphony
Black Up – Shabazz Palaces
The Man Who Made Himself a Name – Shelby Earl
Swift Arrows – Shelby Earl
Lost Time – TacocaT
Fog on the Lens – Tomo Nakayama
EarthEE – THEESatisfaction
Skin –Wild Powwers
You're a Shooting Star, I'm a Sinking Ship – Whitney Ballen
Out of every Seattle release put out this decade, Be True might be the most balanced. While other record have higher peaks, Sloucher's first LP has no valleys. And that's quite the admirable feat.
Tapping heavily into '90s indie rock and power pop, Be True hums along with a seemingly effortless casual cool without ever feeling like rehashed nostalgia. Sloucher breezes through upbeat jaunts ("Be True," "Up and Down"), playful slacker riff reflections ("Cloverdale"), and heavier creeping numbers ("Waiting to Start") without ever missing a step. The songwriting by frontman Jay Clancy keeps things fresh from track-to-track, as he delivers a worldview that's both realistically unvarnished but also not devoid of a tiny spark of hope that being true will win out in the end.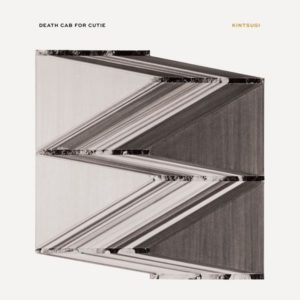 14. Kintsugi – Death Cab for Cutie (2015)
After vaulting to the top of Seattle's rock scene in the prior decade with a practically unparalleled run of stellar indie rock albums, the 2010s proved much rockier footing for Death Cab for Cutie. It started when 2011's Codes and Keys dropped and pretty instantaneously became the group's first polarizing record. But the moment that really shook the foundation of DCFC came in 2014, when founding guitarist/producer Chris Walla left the band after finishing recording Kintsugi (the first Death Cab album he didn't produce). While the band has been an undeniably different entity since that departure, at least Kintsugi wasn't a sour note of a farewell.
The album begins with one of the best starting runs on any Death Cab album, courtesy the 1-2-3 punch of the brightly twittering "No Room in Frame," the moody plodding of "Black Sun," and the veteran riff and rhythm swagger of Kintsugi's best track, "The Ghosts of Beverly Drive." Ben Gibbard spends much of the album hashing out his disenchantment with the Hollywood lifestyle in the aftermath of his celebrity marriage to Zoey Deschanel. While that might not sound like solid and relatable lyrical footing, Gibbard's wordsmithery manages to fall on the side of clever curtness rather than venomous venting. While the energy dips after the white-hot intro, earworms still abound on slower tempo tracks like "You've Haunted Me All My Life" and "Little Wanderer." The outlier in the more somber pace comes via "Good Help (Is So Hard to Find," perhaps the danciest track in the Death Cab oeuvre.
It may have broken Death Cab for Cutie, but much like it's shattered pottery namesake, there's plenty of beauty still to be found in Kintsugi.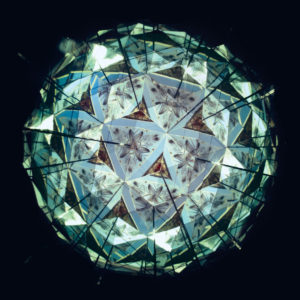 13. The Kaleidoscope – Lemolo (2012)
Floating onto the scene with an ethereal air, Lemolo delivered a dose of dream pop serenity on its debut, The Kaleidoscope.
Buoyed by Meagan Grandall's knack for layering her own sounds – be they weightless self-harmonies, soothing piano lines, or guitar riffs capable of switching from light sparse picking to thunderous crashing waves of chords in a matter of mere moments – the album immediately carves out the band's signature sound. Additional credit to drummer Kendra Cox for providing a percussive background that adapts fluidly to each song's dramatic build.
Together the duo excels both at bright tunes that capture the majestic spirit of the Puget Sound in its hopeful beauty ("Open Air," "Beautiful Knight") and songs with haunting dark undertones ("The Knife," "On Again, Off Again") while seeming equally natural in either environment.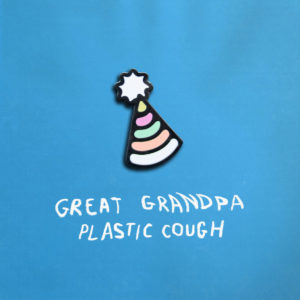 12. Plastic Cough – Great Grandpa (2017)
It's magical when an album-opening song can hit you with such an electric jolt that it entirely changes how you think about a band. Before listening to Plastic Cough, Great Grandpa could've been mistaken for just another run-of-the-mill Seattle band that was getting a bit of buzz. You could see them live and not fully "get it." But halfway through listening to "Teen Challenge"? It's an immediate, "Oh, this band is gonna matter."
From the jump, Plastic Cough grabs listeners by the lapels and shakes them to attention with emotional honesty. Led by Alex Menne's commanding voice – which can swing from piercing yelps to delicate pleas in a single breath – Great Grandpa crafts an album that excels in moments moments of howling punky passion ("NO") and contemplative reflection ("All Thin g Must Behave / Eternal Friend"). There's an unnatural maturity to both the sober lyricism and musical arrangements while still boasting a thriving youthful energy. It's the kind of album that imbues you with hope regarding the city's creative future.
(And, honestly? Great Grandpa's follow-up, Four of Arrows, is the best local album of 2019 and might deserve a spot on the Top 15. But it's only been out for a couple of months, so it's impossible at the moment to know if its lasting resonance will hold up… but it probably will.)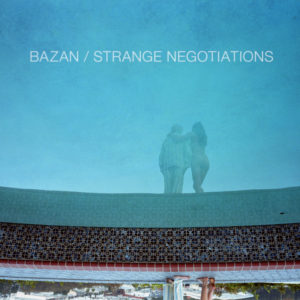 11. Strange Negotiations – David Bazan (2011)
If you don't think David Bazan saw all of this (//gestures wildly at everything terrible in the world) coming, you should probably relisten to Strange Negotiations.
Following the falling-from-the-flock brilliance of Curse Your Branches, Bazan turned his songwriting sights away from direct reflections on religion to hone in on some of society's larger troubles and how they manifest on a micro-level in our own relationships.
Never one to hide his feelings, things get started on a deliciously unsubtle note with "Wolves at the Door," a screed against hucksters and the dupes that continually let them in and ruin our lives (it's basically the 2016 Trump campaign in song-form before Obama had even been elected a second time). Gloriously rocking out while examining self-delusion continues in full force on tracks that pack a musical punch like "Level with Yourself" and "People." But in typical Bazan style, Strange Negotiations isn't confined solely to full-throated proselytizing. He strips things back cuts to raw emotional cores on solemn tunes about relationships strained by distance (chiefly his own due to his house touring lifestyle; "Won't Let Go")  and quiet moments with friends who have passed on ("Virginia").
The album's title track splits the difference between the two spectrums. Over guitar chords that barely feel held together by a steady beat and moaning key swells, Bazan employs the second person to achingly bemoan an existence built on narrow-sighted and destructive greed in a way that makes the listener question whether he's singing about an individual or the capitalist system (or if there's really any meaningful distinction between the two at this point).
Strange Negotiations isn't an easy listen, but if the artistry on display doesn't sting your soul at least a little bit, then you've got some serious reflecting to do.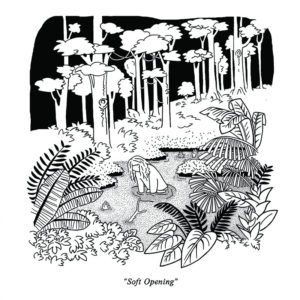 10. Soft Opening – Posse (2014)
While there's been no shortage of quality slacker indie rock coming out of Seattle (see: Chastity Belt's whole discography, #15 on this list, etc.), nobody did it better over the course of an entire LP than Posse did on Soft Opening.
It all starts with the distinct vibes of the trio's instrumentation which always feels like an improvised afternoon jam, drifting along in an artful haze without ever coming across as meandering or random. The vocal mix of Sasha Maxim's calm, soft tones and Paul Wittmann-Todd's seemingly off-the-cuff flat-toned delivery blend together to form an unusually appealing audio blanket of ease. Many of the lyrics lean into an aimless intellectual sensibility on tracks like "Cassandra B." and "Interesting Thing No. 2," and even when there's a bit more mildly angry tension on songs like "Zone" or "Shut Up," there's still enough casualness to the singing that it doesn't throw the listener. There's not a lot of indie rock music that can evoke slipping into an almost meditative trance, but this album qualifies. The success of Soft Opening that it sounds like Posse put almost no effort into making an incredibly honed collection of songs.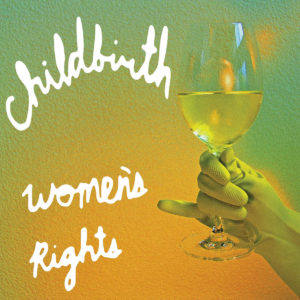 9. Women's Rights – Childbirth (2015)
The most undervalued songwriting skill is satire. The ability to be legitimately funny in a tune without being a comedy act is hard enough, but using the jokes as social commentary? You might be able to count the number of artists that truly do that effectively on one hand. Childbirth is one of them, and the atypical mixture of cutting feminism and ridiculously silly fun on Women's Rights can't be topped.
The local supergroup of Chastity Belt frontwoman Juila Shapiro, TacocaT bassist Bree McKenna, and Pony Time drummer Stacy Peck take delicious aim at a slew of targets ripe for mocking, and attack with a catchy punk melodic sensibility. You can hear the dryly-delivered eye-rolls in Shaprio's voice as she gleefully cuts the knees out from under tech bros ("Tech Bro," obviously), vapid bands ("Breast Coast (Hangin' Out)"), tired female archetypes ("Let's Be Bad"), and unaccepting loved ones ("Since When Are You Gay?"). These "Nasty Grrls" delight in being unkempt vessels of chaos, but are equally not afraid to get deliberately silly on the social dating app ode "Siri, Open Tinder" or the as-mindless-as-it-sounds "Will You Let the Dogs In?"
In the end, it's not important how you get your message across as long as its being received. On Women's Rights, Childbirth just decides to deliver their points with a laugh to maximize their own entertainment.
Repeat manages to be both no-nonsense and all-nonsense punk at the exact same time. Wimps' debut LP crams 12 frenetic songs about sleeping, eating, complaining, and – of course – aliens into 24 blistering and blissed-out minutes.
The trio packs catchy melodies into each bite-sized musical morsel, but what really makes Repeat go down so smooth is the pure relatable simplicity of the songwriting. The drama investment of each Rachel Ratner-sung ditty remains willfully low-stakes and silly throughout with the overarching emotion being a humdrum frustration that is actually universal. We've all "Slept in Late," had days where all we wanta do is "Nap," or consumed some highly questionable "Old Food" from the back corner of our fridges. When it's broken down that basically and presented with bouncy glee, only a true grump could not have a blast with Wimps' fully inclusionary punk.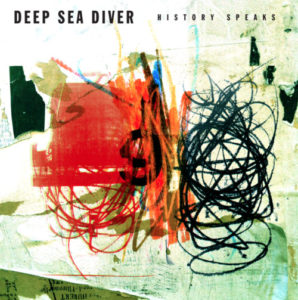 7. History Speaks – Deep Sea Diver (2012)
In terms of instantly accessible pure musicianship, it's hard to come up with many Seattle records that can top History Speaks. If frontwoman Jessica Dobson isn't the city's best guitarist, she's definitely at the top of the conversation (and her bandmate/husband Peter Mansen fits into the parallel drummer conversation). With that stellar skill base, Deep Sea Diver crafts a brilliantly diverse soundscape on its first LP.
The album draws the listener in immediately with the hooky and coy staccato riff and syncopated rim clink rhythms of "Ships," a song awash in lost love metaphors of ships adrift. "You Go Running" crosses shredding guitar, '80s Latin dance-pop, and calypso grooves in a radiant burst of bliss. Dobson's emotionally-charged laments ring pure and true whether accompanied by her own tricky finger-picking ("Tracks of the Green Line") or whiskey-and-saxophone soaked keys ("The Watchmen"). And backed by an elite Mansen beat (my favorite local one of the decade), the piano-driven "NWO" builds into a downright anthemic ode to the strength of a loving bond in the face of world's ills.
History Speaks is the type of invigorating album that people who bemoan there being "no new good rock records anymore" would absolutely love if they burned as many calories seeking out new music as they do complaining.
When it came to making the local music scene fun in the 2010s, nobody can touch TacocaT. The pop-punk quartet turned every show and album into a party for everyone to enjoy. And NVM remains the group's most boisterous party to date.
Everything about the album funnels into a feeling of a candy-coated treat. Singer Emily Nokes leads the way with sugary vocals (which can aptly turn sour when raging) and the constant cheerful jangle of her tambourine. Armed her effervescent attitude and bouncy backing instrumentals, TacocaT is able to turn period days into surf rock beach hangs ("Crimson Wave"), rainy days into sunny dreams ("Bridge to Hawaii"), and still have time to spit venom at catcalling street harassers ("Hey Girl"). The album also taps into some deep-seated Seattle-specific truths, like our inability to handle winter weather ("Snow Day") and most everyone's least favorite King County Metro bus line ("F.U. #8").
While it didn't have the national impact of that other NVM album to come out of Seattle (the non-chatspeak one), we're okay with this being a smaller, more manageable, but no less enjoyable party.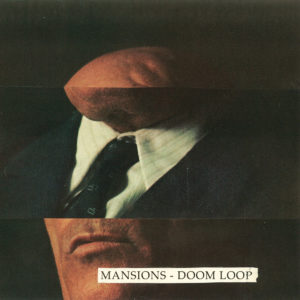 5. Doom Loop – Mansions (2013)
While Mansions remain relative musical hermits of the local scene compared to all the other bands on this list, Doom Loop tapped into some of the classic Seattle musical hallmarks better than anyone else. While a far cry from grunge, the album is unabashedly fuzzy, intelligently angsty, and expertly maneuvers soft verse/loud chorus formula.
Hitting like a ton of bricks after a mere beat, the shredding album-opener "Climbers" quickly establishes just how massive a wall of guitar sound is in store for listeners. There's an explosiveness to both the soundscape and frontman Christopher Browder singing, making it feel like the proverbial bomb could drop at any moment. The songwriting dwells heavily on the mistrust beneath the surface strained and shattered relationships (not necessarily the romantic type), and Browder milks the spiteful bite out of every syllable on tunes like "Two Suits" and "Out for Blood." There's also room for some juicy bad trip lyricism to be sprinkled in via songs like "Flowers in My Teeth" and "La Dentista." Robin Dove helps maintain an almost oppressive air to the unrelenting exasperation through thunderously thumping bass lines. Still, in the brief moments of respite Browder's voice to strains with emotive delicacy that affairs Doom Loop's humanity in the face of its wonderfully Goliath presentation.
4. American Soft – Chris Staples (2014)
Seattle is lousy with masterful singer-songwriters, so Chris Staples ability to stand out from the pack with American Soft is a telling accomplishment. The 10 songs found on the album are crafted with the to-the-shaving touch of a master carpenter.
There's a subtlety to the whole package. That starts with Staples's voice, which downplays dynamics to stick to a soothing coo. That demureness and mostly straightforward acoustic rock instrumentation are however counterbalanced by Staples uncanny ability to write infectious grooves with these typically ungroovy tools. The hushed hooks and unshowy-but-effective percussive flairs on songs like "Black Tornado" and "Grand Coulee Band" make them downright dance-worthy. But even when things are more stripped back, Staples can still blow you away with melodic sincerity on "Dark Side of the Moon."
The most striking (and perhaps inviting) aspect of Staples's songwriting comes from the album's lyrical acceptance. The album sidesteps drama to take life as it is. There's plenty of cloudy corners to be found in the undertones of distant longing, but it's counterbalanced by a understated plucky optimism. It all leads to American Soft boasting a peaceful, almost meditative calm in moments where a lesser songwriter would've leaned into sorrow or hope (perhaps best expressed on "Overpaid": "Well it wasn't like you said / So I'm free-associating / Just to find the common thread"). (Musically this sense is channeled in the instrumental "Wurlitzer.") The songs roll over the listener with a comforting blanket of catchy tranquility (or in the case of "Early Bird Tavern," the jukebox playing your favorite Tom Petty songs) as if to say, "Everything might not be okay, but it's gonna be okay."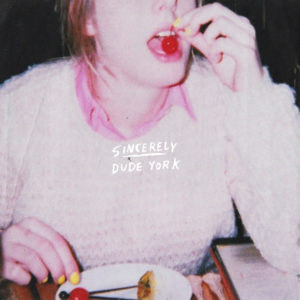 3. Sincerely – Dude York (2017)
There's something to be said for exuberance. In an increasingly dark world, blissful ignorance isn't desirable, but taking things on with an energetic zeal proves to be a wonderfully non-defeatist approach. More kinetic and bubblier than a dropped and dented can of LaCroix, Dude York's Sincerely provides track after track of effervescent pop-rock that refuses the let listeners lull.
From the opening riffs of the manga-themed "Black Jack," the musical jubilance is on full display. While Peter Richards might be yelping his feelings about therapy ("The Way I Feel"), feelings of isolation ("Giving Up"), or anxiety ("Paralyzed"), the instrumentation is never down in the dumps. Instead, it skates the thin line between pop-punk and power pop with a razor-edged grace. Richards displays a stylistic diversity that gives pep to the whole album: from the stripped-down plucking of "Time's Not on My Side" to the extended and massive layered shredding showcase on the outro to "Paralyzed." Andrew Hall also flashes the ace fill work which makes him one of the city's most underappreciated drummers.
But the real jolt to the Dude York mix on Sincerely comes when bassist Claire England takes over lead vocal duties (something she hadn't done on the band's first LP, Dehumanize). To put in frankly, England has the best pop-rock sensibility in town this side of Ben Gibbard. Both "Love Is" and "Tonight" burst at the seams with instantly captivating vitality and triumphantly empowering "I'm done wasting time on this relationship B.S." lyricism (the later might just straight up be the best Seattle single of the 2010s).
Through the sheer force of will and genuine sincerity, Dude York manages to turn even the roughest spots into uplifting musical moments on Sincerely.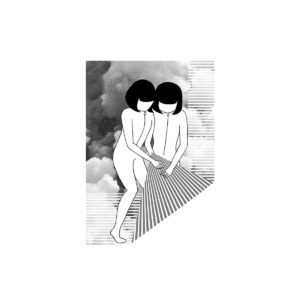 2. Talk to Me So I Can Fall Asleep – Crater (2016)
No Seattle album from this decade sounded bigger than Talk to Me So I Can Fall Asleep. To listen to Crater's electronic pop-rock masterwork through headphones is to be transported into an entirely different aural realm of digital isolation with faint flickerings of human warmth in the distance. Considering that's also a good way to sum up the feeling of actually living through the 2010s, it is fair to say the duo hit on a zeitgeist idea early (even if the actual zeitgeist didn't take note of it).
The throbbing digital heartbeat of the album quickly shows itself on "Crater Head," as thumping bass and electronic drums establish a palate that's equal parts sleek and grimy in its synthetic disposition. With each passing track, the listener feels more and more like they're sinking into an unsettling underbelly where the only thing keeping the faintest connection to humanity are the voices of Cecilia Gomez and Kessiah Gordon. But there's an allure to the sonic darkness the pair weave; while the soundscape can feel oppressive and cold, the melodic undercurrent makes for a grim dance grind.
Gomez's vocals have just enough soothing tones to counterbalance the electronic violence that surrounds her. Gomez mirrors the feeling of listening to the album, always searching for solid footing where there's none to be found; straining herself to make sense of this electronic world around her. It can be unnerving the way Gordon holds the repeated syllables of "skin" on "Summer Skin," but Gomez always conveys that there my be hope of escaping this digital wasteland; always grasping for that moment of fleeting connection.
Talk to Me So I Can Fall Asleep ends up being a triumph in the same manner as the best science fiction creations. It simultaneously feels utterly gorgeous and dystopian; engrossing and distant; sophisticated and tapping into something basal; ahead of its time and startlingly reflective of the moment of its creation.
Sometimes we all just need a good cry.
The reason Cool Choices stands apart from the rest of Seattle's musical output from the 2010s is its focused cohesion. Simply put: It's the best breakup album of the decade. It never deviates from that idea and drills down to specific in a way that's both cutting and cathartic.
The tone is set from the very first line as Jenn Champion sings, "This is how losers feel / I am a loser," over piano chords so faint that you can practically hear her summoning up the courage to actually depress the keys. Champion lays her heart utterly bare over the course of 12 tracks that detail all the ugliest thoughts that consume anyone who's gone through a bad breakup. There's the self-loathing belief that you deserve this ("Losers"), the fight to stay strong when you're at your weakest ("Like Gangbusters!"), the suck of loneliness ("Vampires"), the unkind emotional games exes play ("Brunch"), fixating on your ex as the only reference point for relationships ("Remember Love"), and the impossible search for clean-cut finality post-breakup ("Tell Me," "Balderdash"). All the while, Champion's poetic but straightforward songwriting remains amazingly raw and unvarnished, feeling like any sung note could quiver, break, and lead to an instant flood of tears.
With the rest of the S band (guitarist Carrie Murphy, bassist Betsy Olson, and drummer Zachary McNutty) aiding her crushing journey, she's able to craft an indie rock instrumental palate that bolsters the emo resonance of each track. There's just enough hooky diversity to make each chorus an earworm unto itself, and Champion even gives into her electropop inklings for the choreography-worthy "Tell Me." Chris Walla's production also makes the album feel incredibly polished without needing excessive layering, allowing the songs to maintain their lo-fi intimacy.
As the bummer proceedings wind to an end, the album-closing "Let the Light In" offers one last gut-punch. As an atmospheric synth swells pound the musical coastline, the waves part just long enough for Champion to deliver this closing salvo: "This was how I thought I'd get over you / I'd write it all down like it makes this true / Let go of the things that you said to me / And now in the end I can feel so free." But as it seems that we've reached the emotional pit and darkness has enveloped all our potential for love and happiness, a counter-voice coos out: "Think you can't go on / You can / Let the light in." It's the moment of hope in a sonic sea of despair.
Cool Choices: Cause if you're gonna cry, you might as well sob.