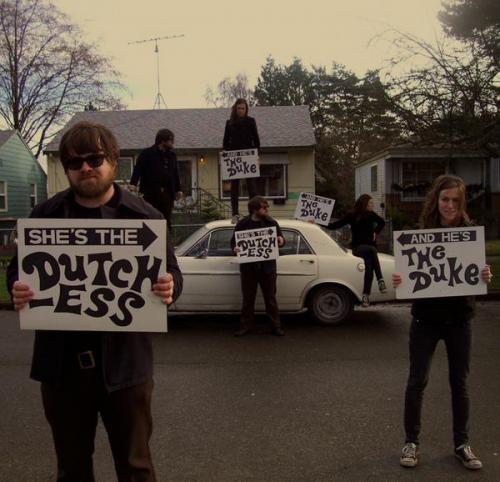 Just because I feel like antagonizing ChrisB, I have to mention the Fleet Foxes one more time today.
Seattle-based husband-wife duo (and recent Hardly Art signees) the Dutchess and the Duke are heading out for a 18-date tour with local wonderband-of-the-imaginary-moment Fleet Foxes. The band's debut full-length releases on July 8th, and from the tracks they've got up on MySpace (hint hint, go listen), it's gonna be a gem of lo-fi indie goodness. 
The band also plays at McLeod House tomorrow night (May 30th) before kicking off that aforementioned tour.
Here are those tour dates, so all you Fleet Foxes junkies — make sure you arrive early and keep your ears open for the Duke and the Dutchess.
06.26.08 – San Francisco, CA – Bottom of the Hill
06.27.08 – San Diego, CA – The Casbah
06.28.08 – Los Angeles, CA – The Echo
06.29.08 – Los Angeles, CA – Spaceland
06.30.08 – Tucson, AZ – Solar Culture
07.02.08 – Austin, TX – The Mohawk
07.03.08 – Dallas, TX – The Loft
07.05.08 – Atlanta, GA – Drunken Unicorn
07.06.08 – Chapel Hill, NC – Local 506
07.07.08 – Washington, DC – Black Cat Backstage
07.08.08 – Philadelphia, PA – First Unitarian Church
07.09.08 – New York, NY – Bowery Ballroom
07.10.08 – Brooklyn, NY – Union Hall
07.14.08 – Cambridge, MA – The Middle East Upstairs
07.20.08 – Minneapolis, MN – 7th Street Entry
07.22.08 – Denver, CO – Hi-Dive
07.23.08 – Salt Lake City, UT – Kilby Court
07.25.08 – Portland, OR – Doug Fir