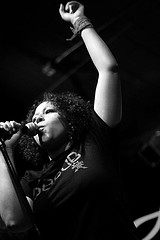 Still not sure how to kick off your Friday evening? C'mon down to Easy Street Queen Anne tonight at 8p for the next installment of "The Seattle Weekly Reverb Music Showcase," featuring Thee Emergency!
Our Reverb showcases are always all-ages and always free… how can you lose? Use that extra pocket money to pick up a copy of the Thee Emergency's latest brand spankin' new release Solid — and make sure to read the imaginary review of the record too. 
Hope to see you tonight!