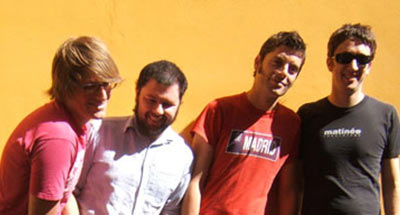 We love Bradley's Almanac and their recent post of MP3s covering the entire Lucksmiths set from their visit to Cambridge, Massachusetts on Sept 27th makes us heart them even more!
They were even so kind as to brake the recording up into neat MP3s and label them for our downloading ease and pleasure. The set sounds like it was stellar (much like the Seattle one blew us all away):
01. Camera Shy
02. The Music Next Door
03. Good Light
04. A Downside To The Upstairs
05. Great Lengths
06. Once Again
07. Under the Rotunda
08. A Hiccup In Your Happiness
09. The Year of Driving Languorously
10. Sunlight In Abort
11. Sunlight In A Jar
12. do or don't wop (banter)
13. A Sobering Thought (Just When One Was Needed)
14. The Chapter In Your Life Entitled San Francisco
15. T-Shirt Weather
16. Midweek Midmorning
17. encore applause
18. Transpontine
BA also posted some beautiful photos from the set on his flickr… go check those out as well.
Did I really just applaud while sitting at my dayjob desk?