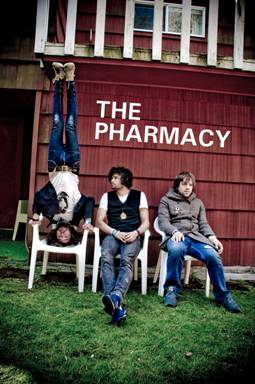 Seattle band the Pharmacy are about halfway through a rollicking cross-country tour with Japanther in support of their latest full-length record, Choose Your Own Adventure, which right now represents a big ole gaping hole in our imaginary record coverage. We are sorry about that and aim to remedy the problem as soon as possible.
Live, the Pharmacy are equal parts raucous good times and sloppy indie-rock, with some fun synth kicks thrown in for good measure and the occasional Beatles cover to boot (srsly).
Those Japanthers are probably having one helluva good time about now. The Pharmacy makes two passes through Seattle, once on May 30th (with Japanther), and again on June 27th (sans Japanther). Mark your calendars, see deets below, and plan accordingly.
Have a listen to "Mirror" from Choose Your Own Adventure or hell, just go ahead and listen to the full album stream for yourself right here. 
Here are those tourdates:
05/22 Flagstaff, AZ @ Stab Mountain
05/23 Long Beach, CA @ Babe's Warehouse
05/24 Los Angeles, CA @ The Smell
05/25 San Francisco, CA @ Thrillhouse Records
05/25 San Francisco, CA @ Hemlock Tavern
05/27 Eugene, OR Shady Pines
05/28 Portland, OR @ Exit Only
05/29 Olympia, WA @ Midnight Sun
05/30 Seattle, WA @ Sonic Boom Records – Ballard
05/30 Seattle, WA @ Booty Cave
05/31 Silverdale, WA Jackson Hall
06/27 Seattle, WA Bend-It Fest @ Cal Anderson Park