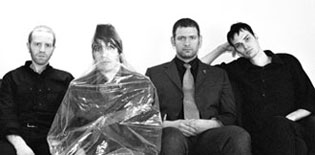 This found its way into my e-mail box a short while ago and I had to share:
Rock and roll children!

OMFG!

The Turn-ons are opening for The Jesus and Mary Chain at the Showbox SODO on Wednesday July 16th! Info at www.showboxonline.com

xo
If you're wavering on whether or not to get tickets to see the legendary The Jesus and Mary Chain next Wednesday, maybe this will make the decision a little easier. From what I heard when I bought my ticket last week, there are still plenty available. That must mean that there are quite a few people still undecided.
If you haven't downloaded The Turn-Ons new record Curse, you should do so. It is an excellent rock and roll record and it's free on their website. Because JAMC tickets are expensive ($33 adv.), this will help make it seem like more of a bargain.