Home for the Holidays: This Jodie Foster directed Dramedy (I hate that word, but it's accurate) is, in my opinion, one of the best movies about families ever in the history of EVER. Holly Hunter stars as Claudia Larson, headed home for Thanksgiving and plenty of family drama amidst a mid-life crisis, unemployment, and some shocking news from her teenage daughter. Everyone in the cast is perfect: Robert Downey Jr. as the prankster brother, Cynthia Stephenson as the bitchy, uptight sister, Anne Bancroft and Charles Durning as the loving, but crazy, parents – and Dylan McDermott, who plays one of the best romantic interests I've ever seen on film. HELLO NURSE (please take me to coffee and hold my hand, kthnks).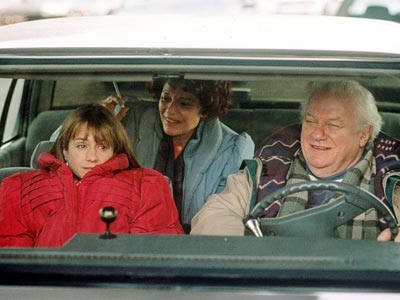 Planes Trains and Automobiles: Duh, like I even need to mention this one. But if by some miracle you haven't seen this John Hughes classic, toss aside whatever's been stopping you from doing so and rent it NOW. Martin and Candy are hilarious and touching as the odd couple who team up as traveling companions so they can make it home for the holiday. Definitely a film that will make you both laugh hysterically and end up crying. And of course; "Those aren't pillows!" (Hi, I'm 12)
[Video:http://www.youtube.com/watch?v=kCqcMOB6STc]
A Charlie Brown Thanksgiving: Sure, it's not as beloved as the Great Pumpkin, but this TG cartoon in which Snoopy and Woodstock cook a dinner of toast, popcorn, pretzels and jellybeans was one of my favorite things to watch as a kid (plus it has some awesome super-trippy 70s music).