A couple weeks ago, I wrote that this year's Timber! lineup was bound to swell the ranks of Timber-fans. What I didn't realize at the time was that I was going to be one of them. I found out after the fact that 3000 people attended this iteration of Timber! Outdoor Music Festival, but it felt so much smaller. The three-day festival at Tolt-MacDonald Park in Carnation felt like a weekend camping with your extended family – except with killer music instead of family politics.
Thursday
The music kicked off on Thursday evening with Jacob Miller. I'm pretty sure I've seen him before with a 1930s-style full band, but now he's doing the singer-songwriter thing with only faint hints of retro. For part of his set at Timber!, he was joined by Anna Tival (whom he also joined during her set later in the evening) in the first of the festival's many shared stages.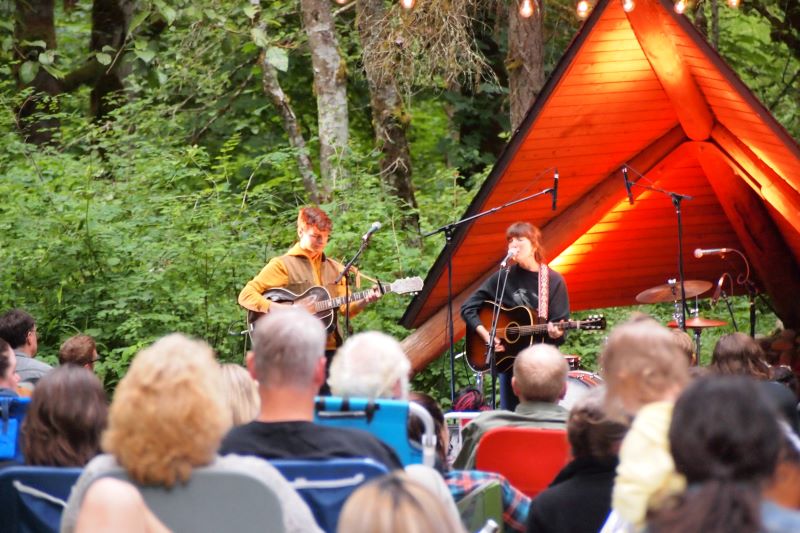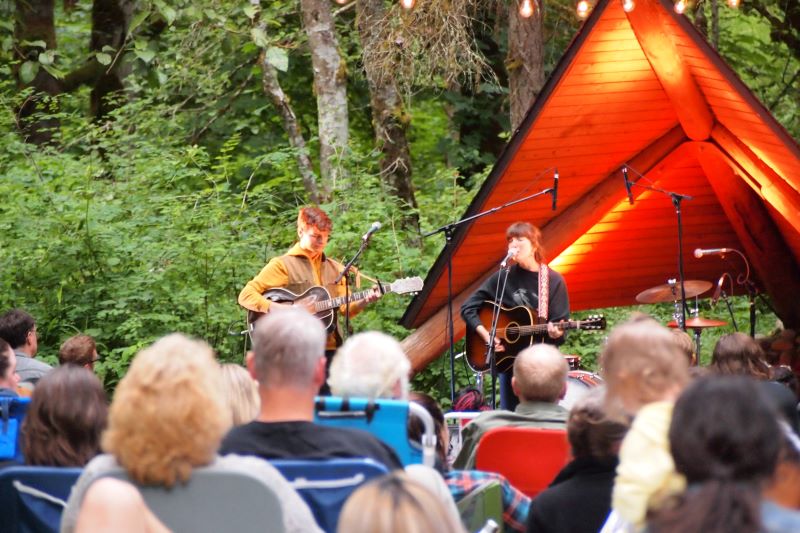 On Thursday we also saw Hillstomp, a banjo-driven honky-tonk band whose set included an instrumental love song about a one-eyed dog named Merle.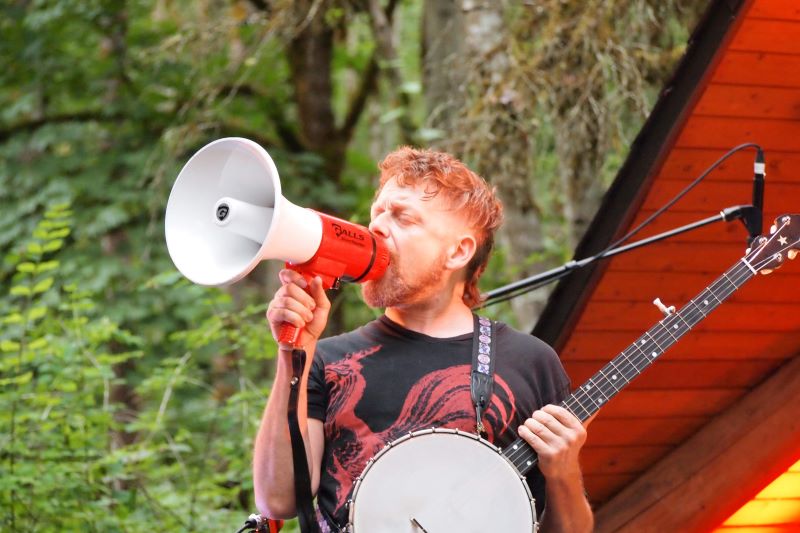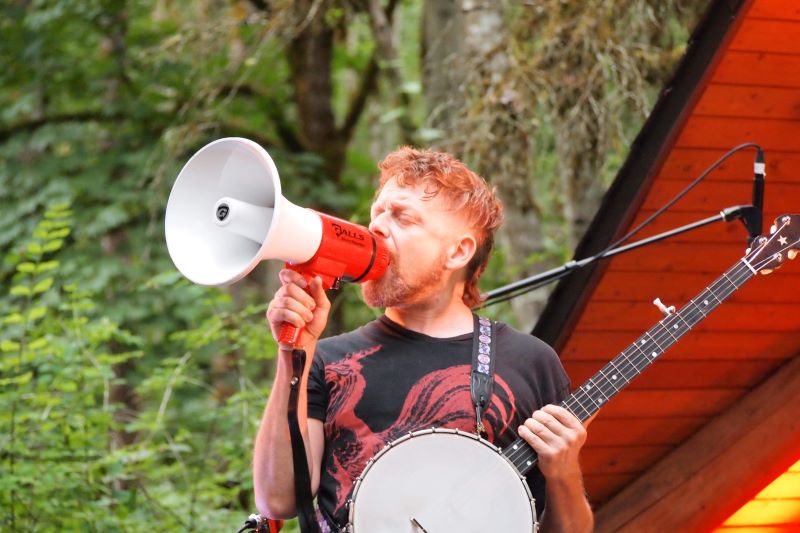 And we got our surprise "Holy shit how have I never heard these guys before?!" musical discovery of the weekend out of the way with the irresistibly funktastic Dirty Revival. Their band was too big to fit on the stage and if they hadn't been outside, their sound would have been too big for the venue.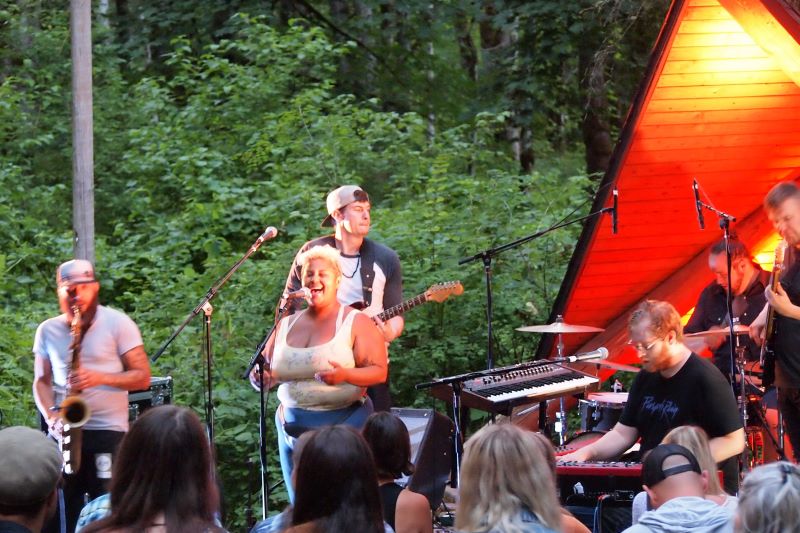 By that time the kids were wiped out. Like many parents, my husband and I trade off late nights at festivals. So I headed to the tent, but my husband informs me that Chong the Nomad had a really fun set.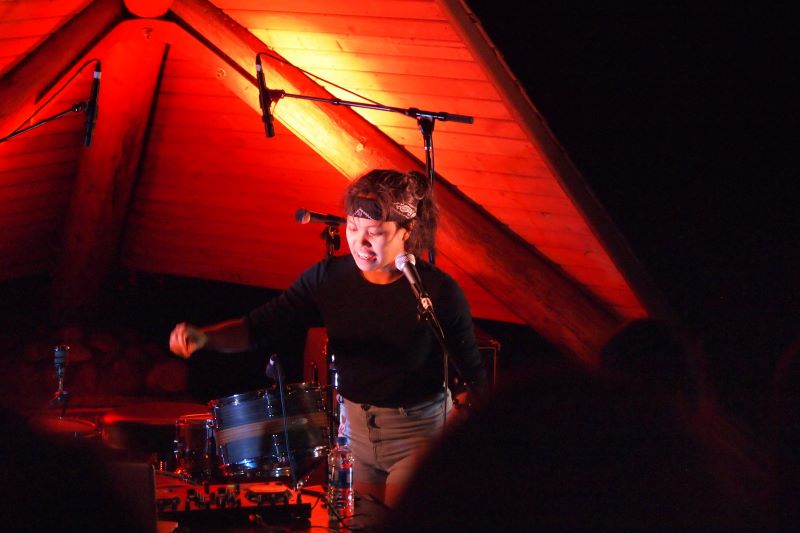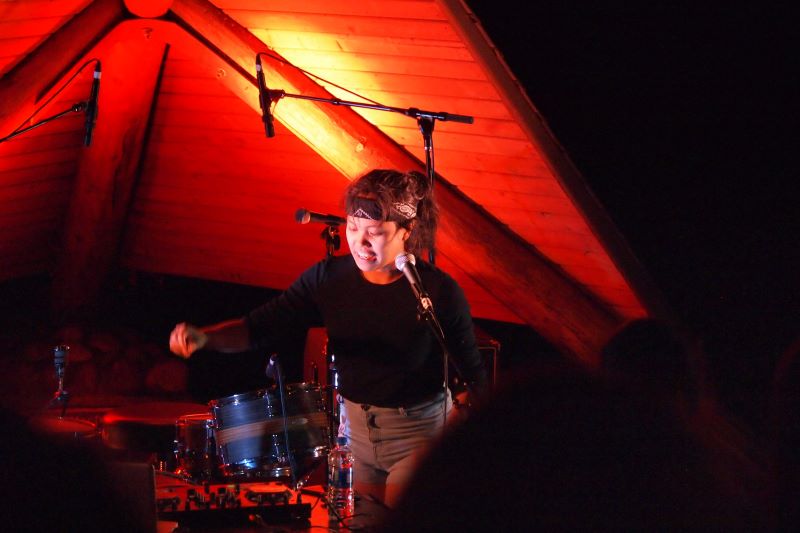 Friday
At Timber! the music never starts until the afternoon, which leaves the morning free for adventures. Most of the organized activities – free and paid ones – fill up really early with pre-registration. But since the nature painting workshop was led by the art teacher at my daughter's elementary school, they squeezed her in on Friday morning.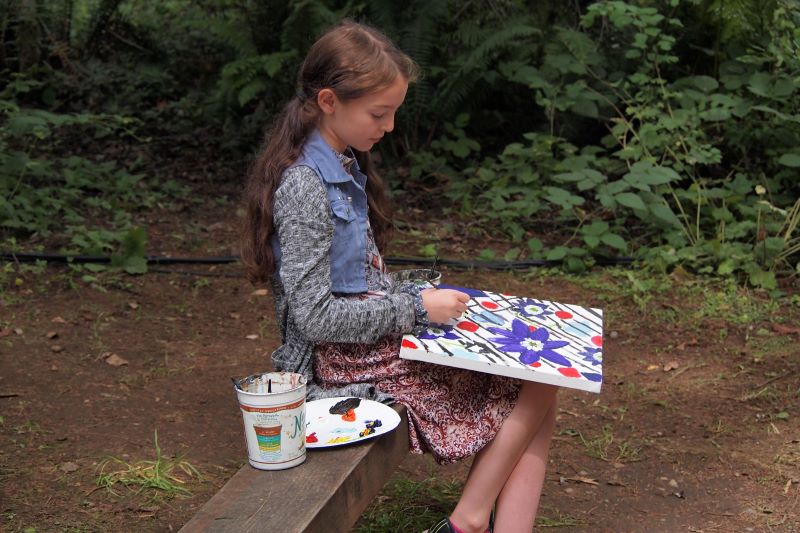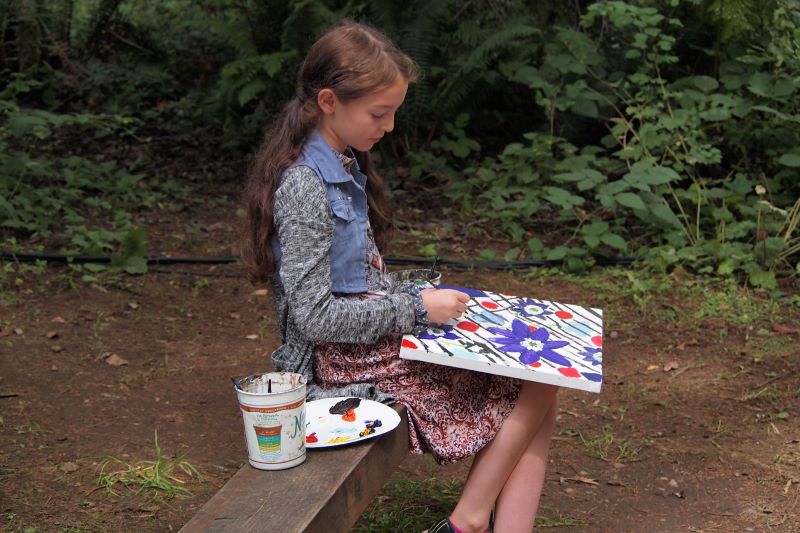 She finished her painting of clematis flowers with plenty of time to play in the river before the uniformed Kilcid Band started the musical party with songs that could have been long-lost Beatles tracks.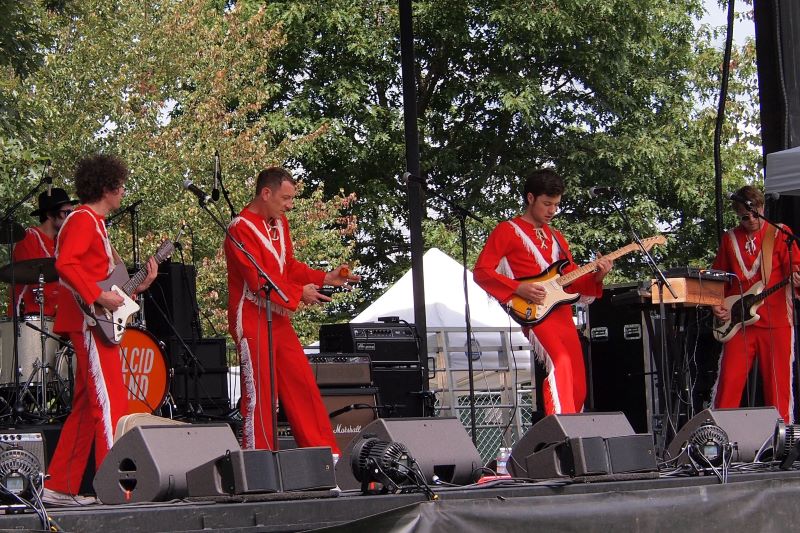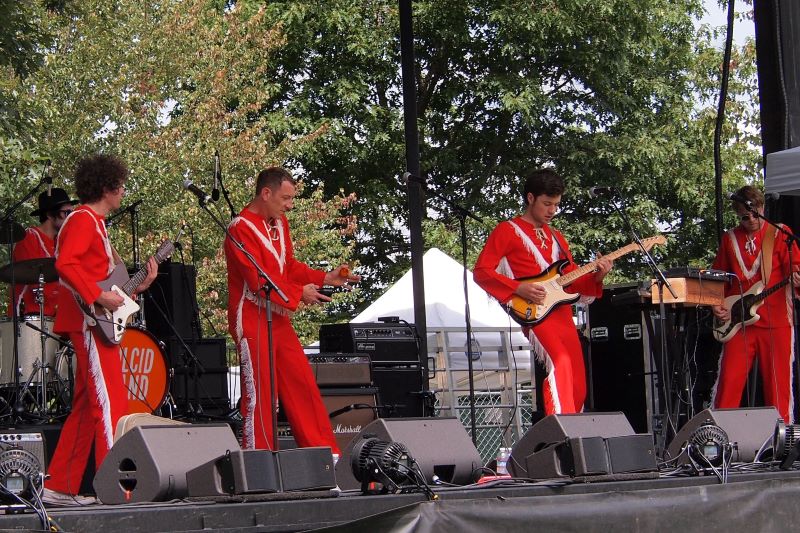 The soulful, bluesy summer jams of Stephanie Anne Johnson and the Hidogs were so cool the clouds rolled in as soon as they took the stage. Irreverent and fun from their cover of Gotye to their closing statement: Like your dog, we like to snuggle, we're happy when you get home and we may have pooped in the house somewhere.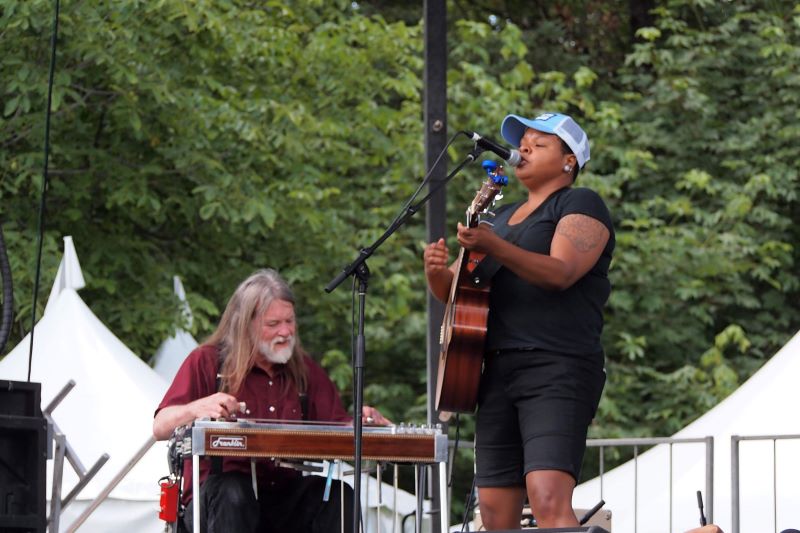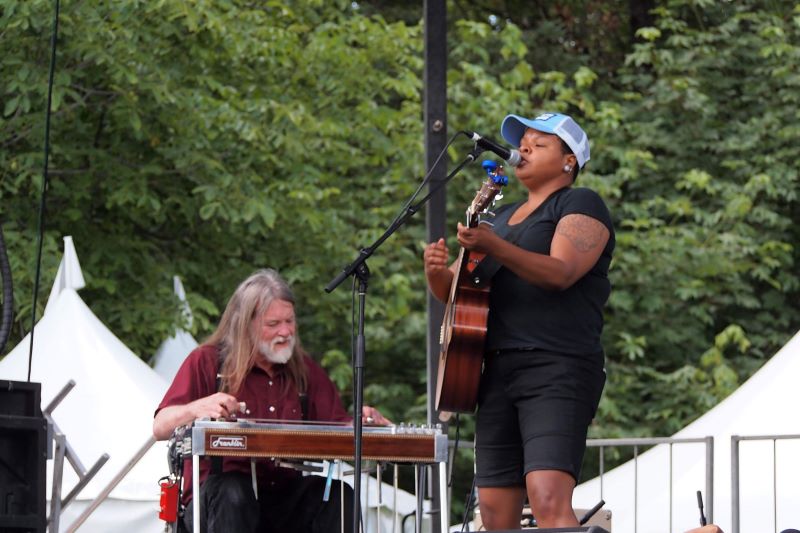 Continuing with the nature connection, an eagle circled overhead, checking out Huey and the Inflowentials – a jazz band layered with rap that made it to the Sound Off finals this year.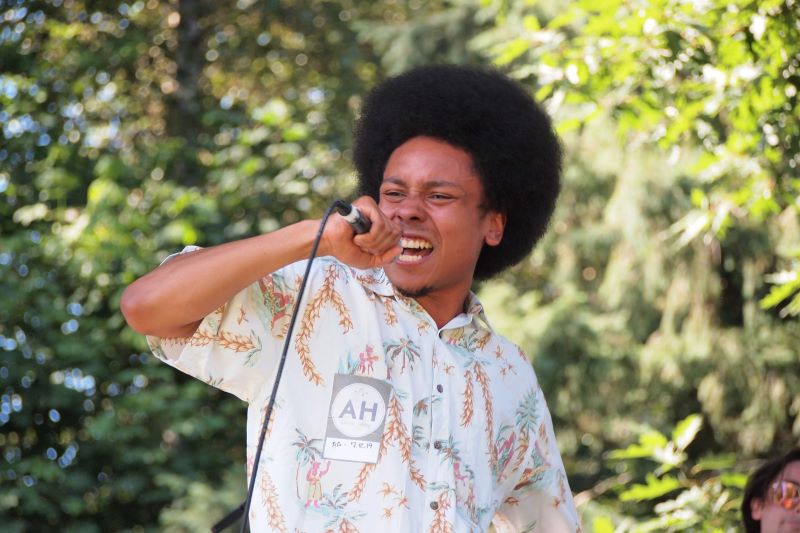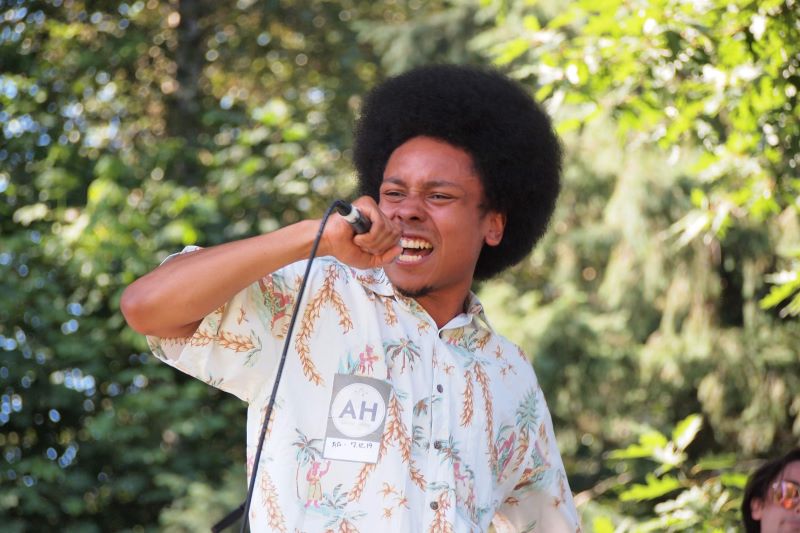 Hibou was one of my most-anticipated sets and their cheerful vibe and sparkly guitars did not disappoint.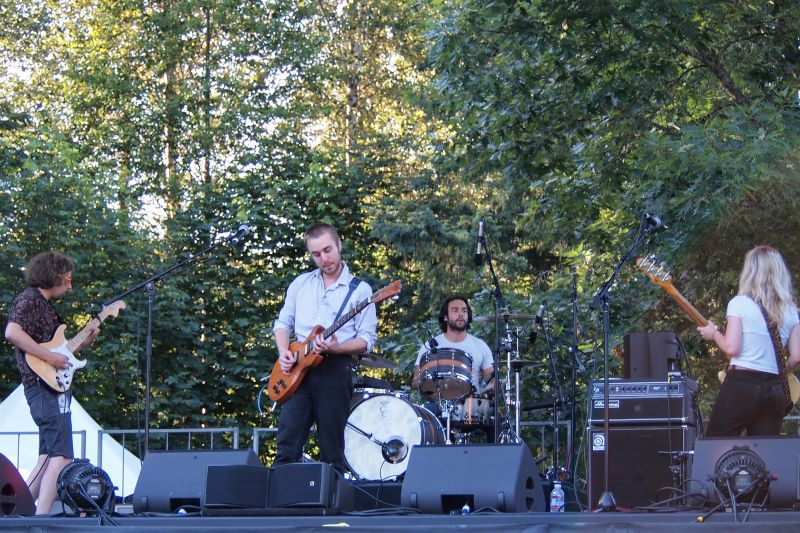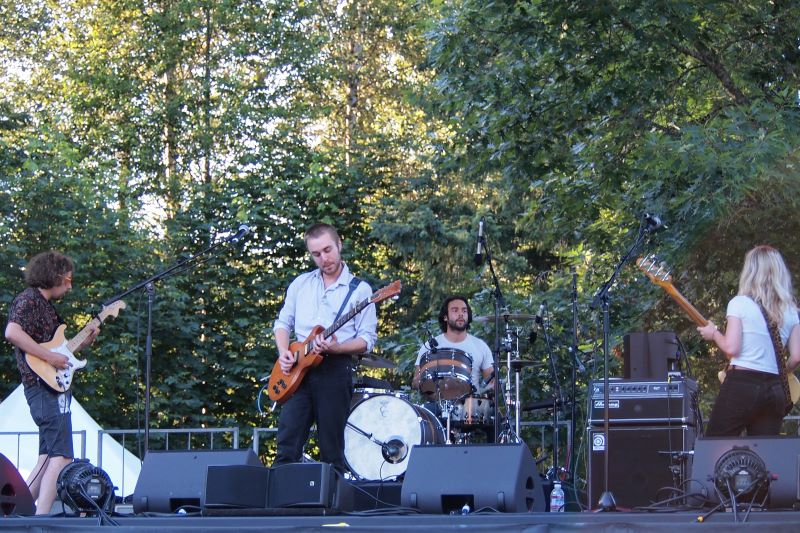 Kelly Finnigan and the Atonements returned to the collaboration vibe when the Atonements turned out to include members of the True Loves; and Seattle's Tribute to the Last Waltz was a supergroup of Seattle favorites (including, among others, Smokey Brights).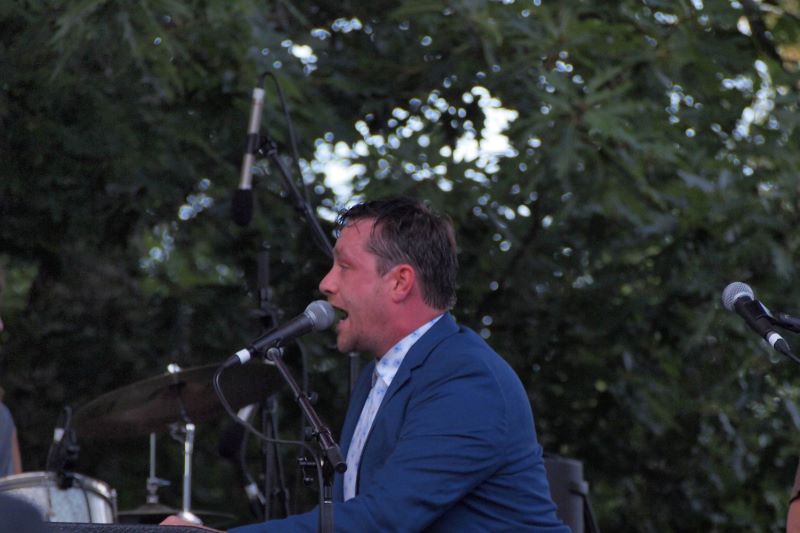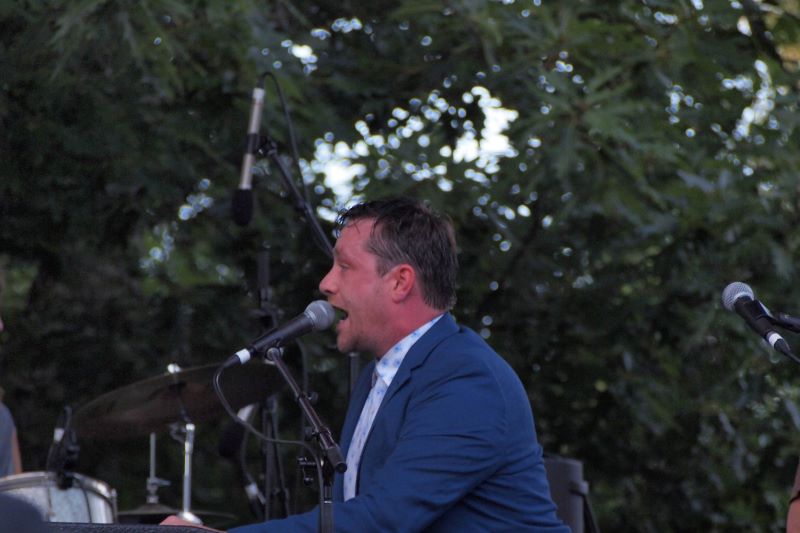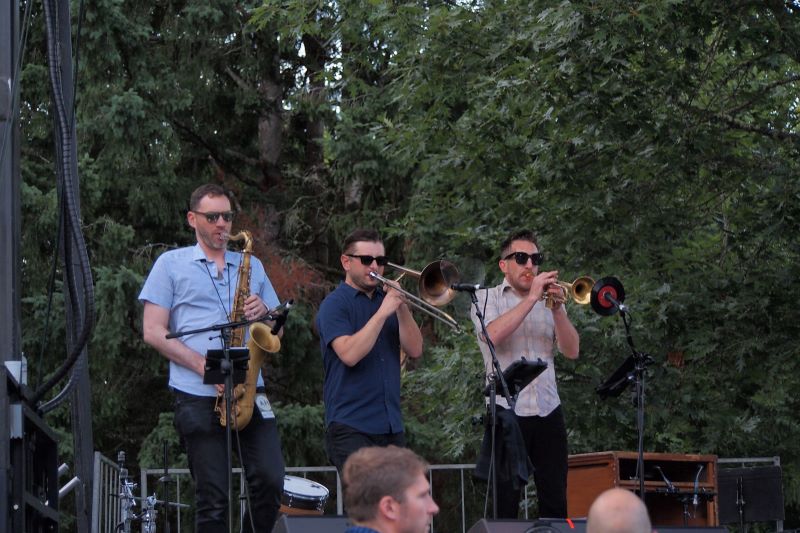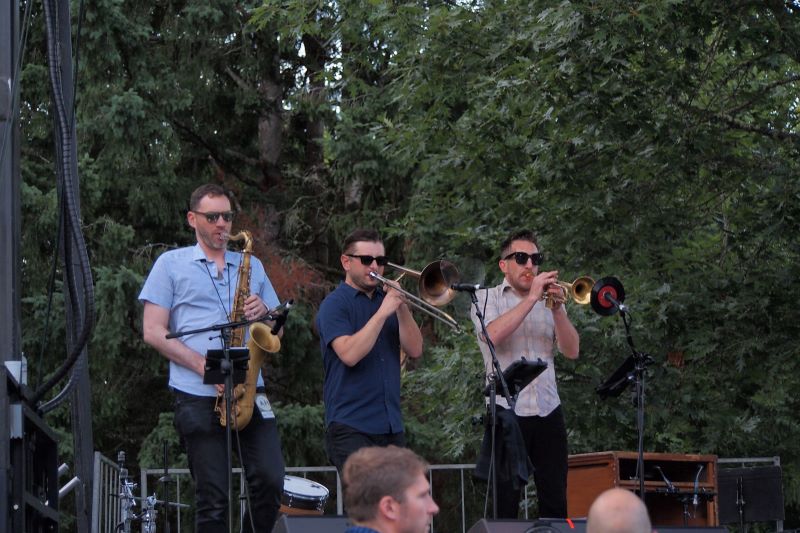 Our usual practice of trading headliners broke down on Friday because neither of us was willing to miss the highlight of the day (who are we kidding? The highlight of the year) – Mark Lanegan on the smaller Campfire Stage under the trees. Backed by the Passenger String Quartet and guitarist Jeff Fielder, Lanegan performed songs from multiple eras of his career. Familiar from decades of listening, but strange in the new arrangements, it was the kind of too-perfect moment out of time that rarely happens in real life. That night Lanegan's voice rumbled through my dreams so that now, only a few days later, I almost believe I dreamed the whole thing.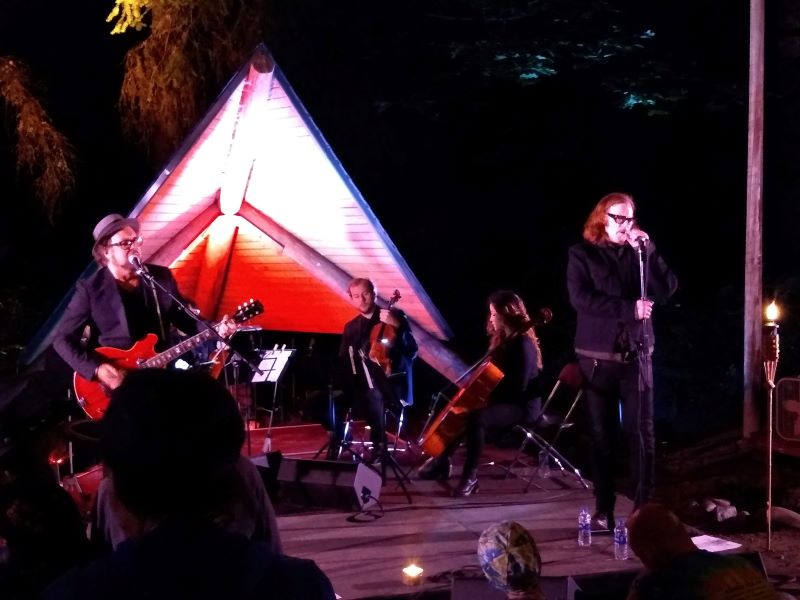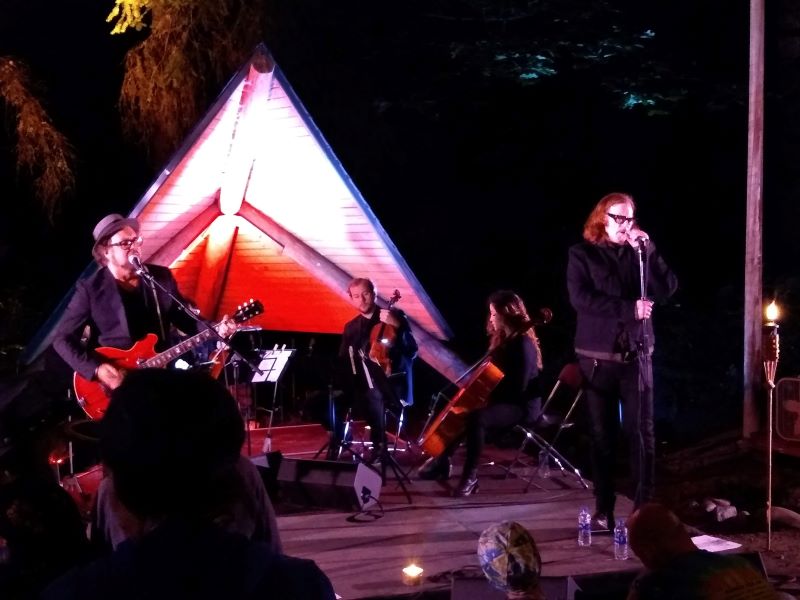 Saturday
Judging by the widespread temper tantrums in the campground on Saturday morning, we weren't the only family that kept our kids up late the night before. But sunshine and river water (and substantial bribes of popsicles and other food-truck treats) got most of us back on firmer ground by the time psychedelic instrumentalists Máscaras took the stage with their serious groove and noodly guitars.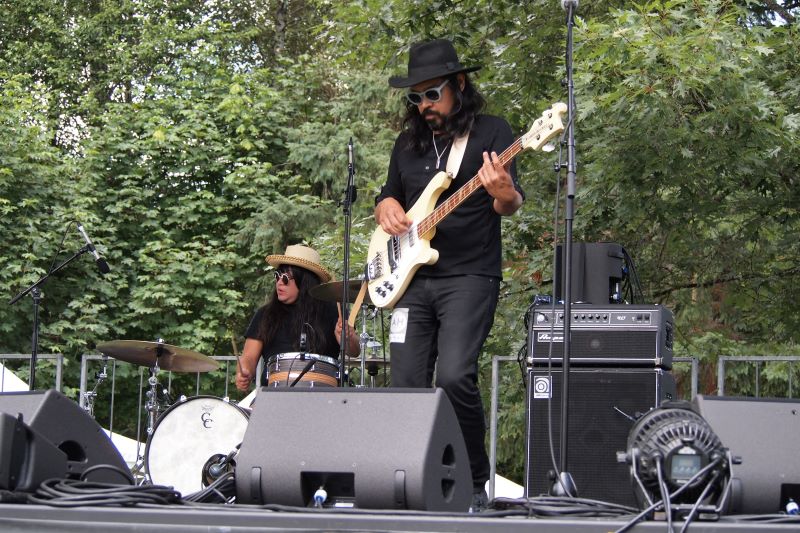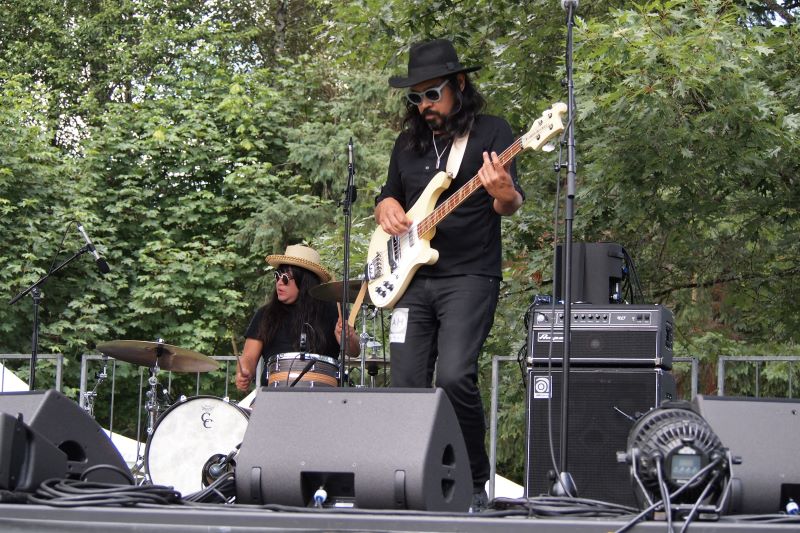 They were followed by Chris Acker and the Growing Boys. I'm a complete sucker for pedal steel guitar, but even my husband, who is not a fan of honky-tonk, was won over by the combination of funny stories, ironic lyrics and seriously good, twangy, old-school instrumentation.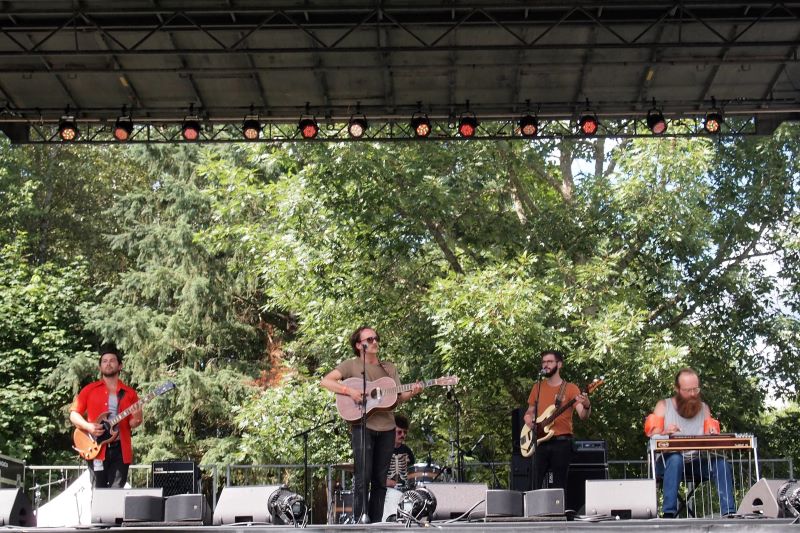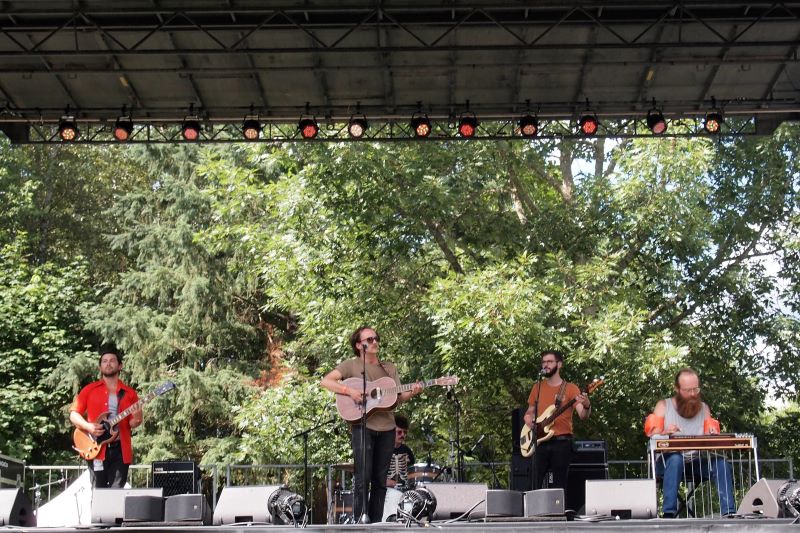 The lineup took another delightful sharp turn with upbeat indie rockers Baja Boy. Disco guitars plus M83 bass lines equals summer fun, the anime dance party vibe of these Sound Off grads was emphasized by the chibi teenage couple getting down at the front of the crowd.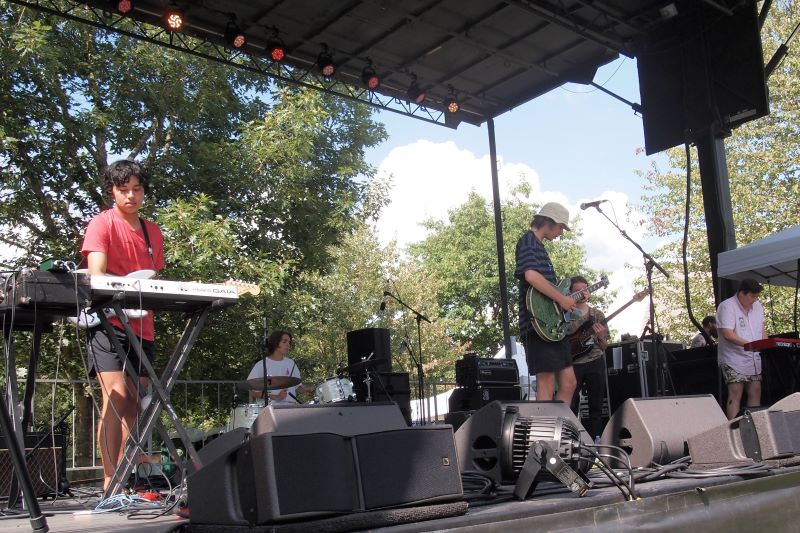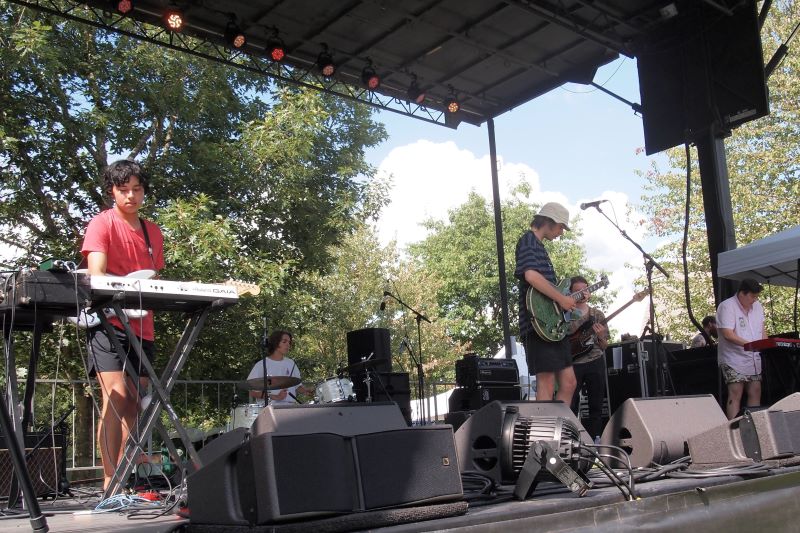 One thing you can say for sure about Sleeping Lessons, is they sure know how to tune a guitar. Another thing you can say is that their radio-friendly indie pop sound and self-deprecating humor would guarantee a good time even if they did let their guitars get a little out of tune.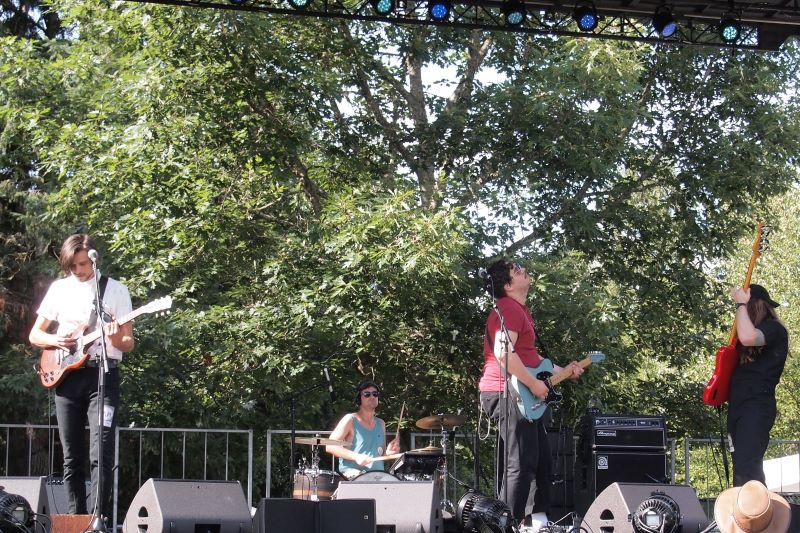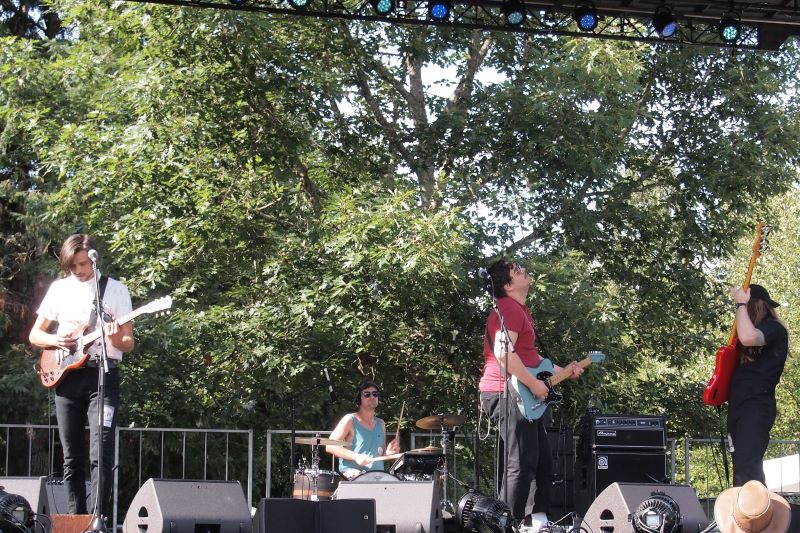 The set turned into a party when they were joined on stage by members of Baja Boy and off stage by a marching band. The green star-shaped helium balloon rising into the sky might not have been the most environmentally friendly moment of the festival, but it did perfectly encapsulate the vibe.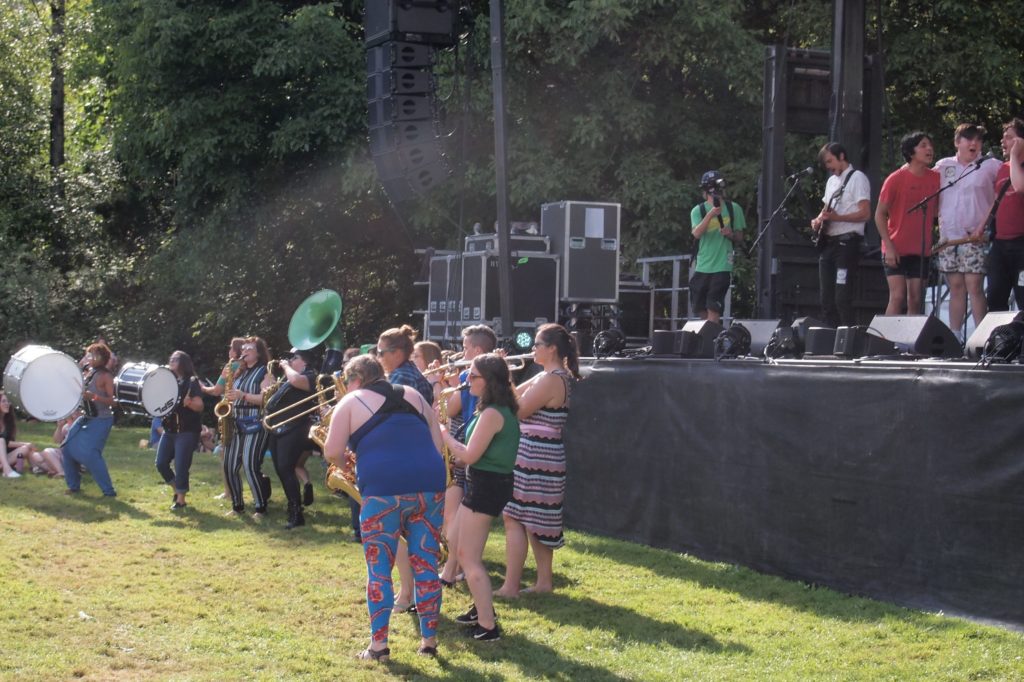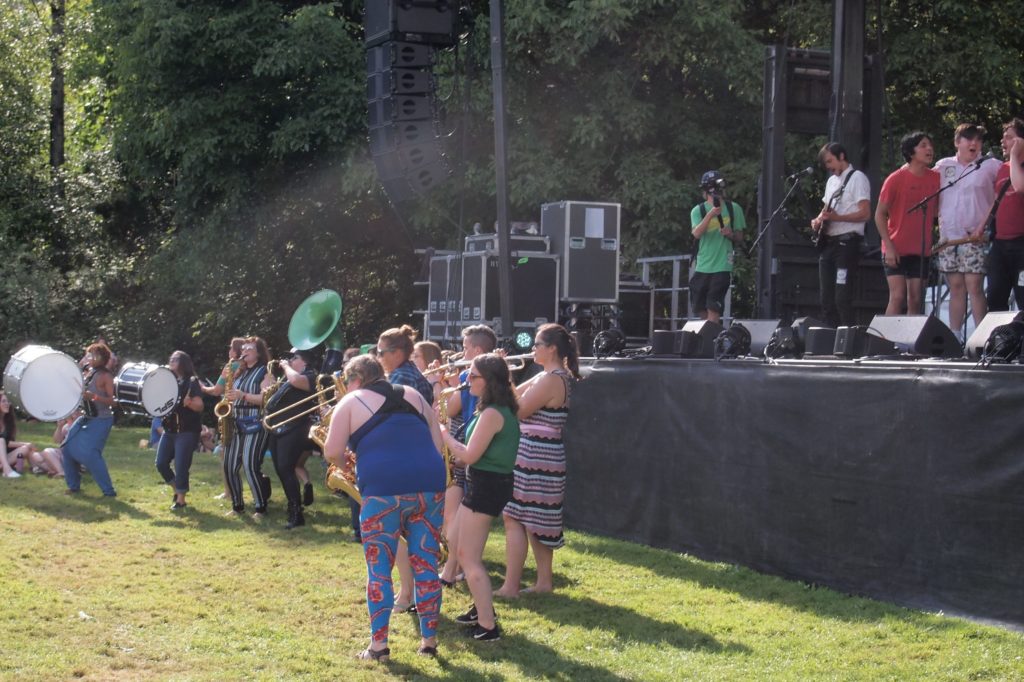 Confession: We were all wiped out from staying up late on Friday, so we didn't make it to the end of the lineup. Instead, we called All Star Opera the headliners and called it a night. The self-deception was easy because this six-fingered monster was all the things: pattern mixing in their clothes, genre mixing in the music. It was hip hop with a full live band, plus occasional cello and trumpet.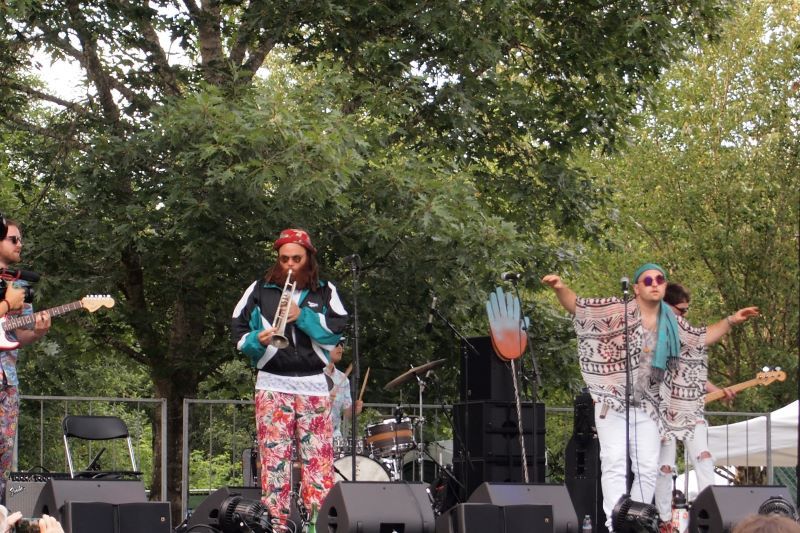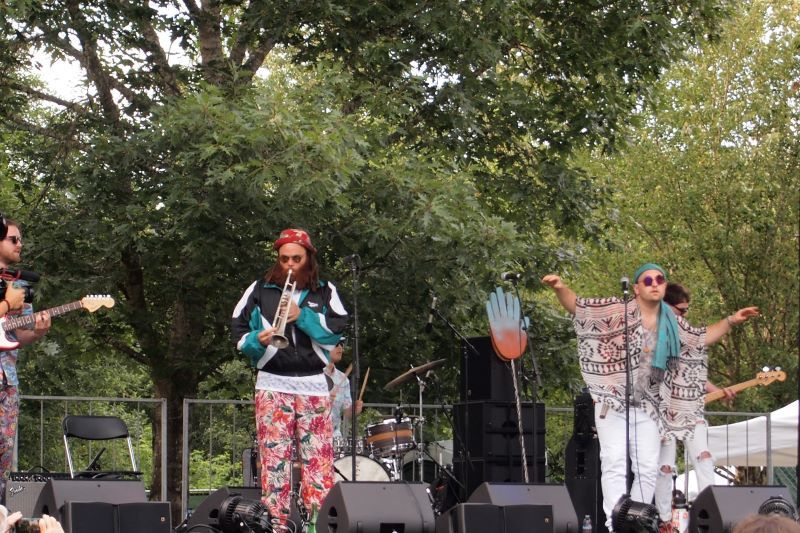 As our inimitable hostess Adra Boo said in her introduction of the band, All Star Opera is the real red velvet cake with cream cheese frosting experience; it's all the holiday and hangover comfort foods and bong rips besides. I might have been a little bummed to miss Summer Cannibals and Oh Sees, but as we grabbed our free S'mores on the way out the gate I was grinning so hard my smile muscles hurt.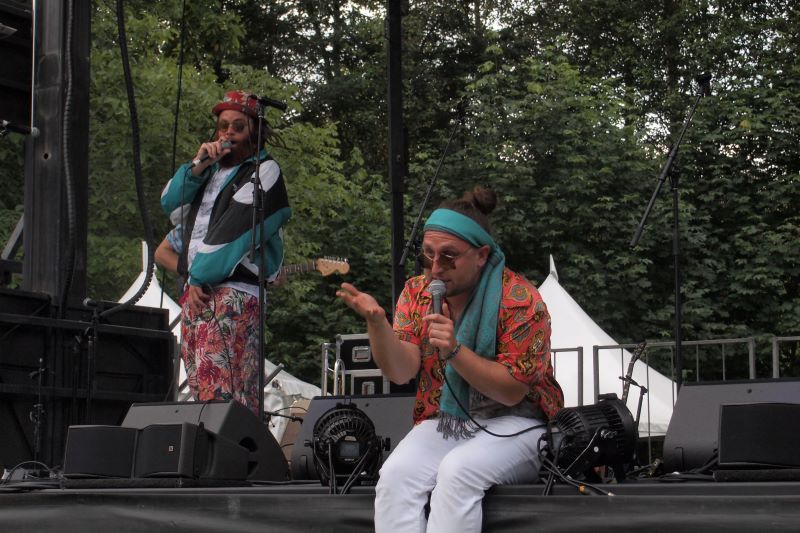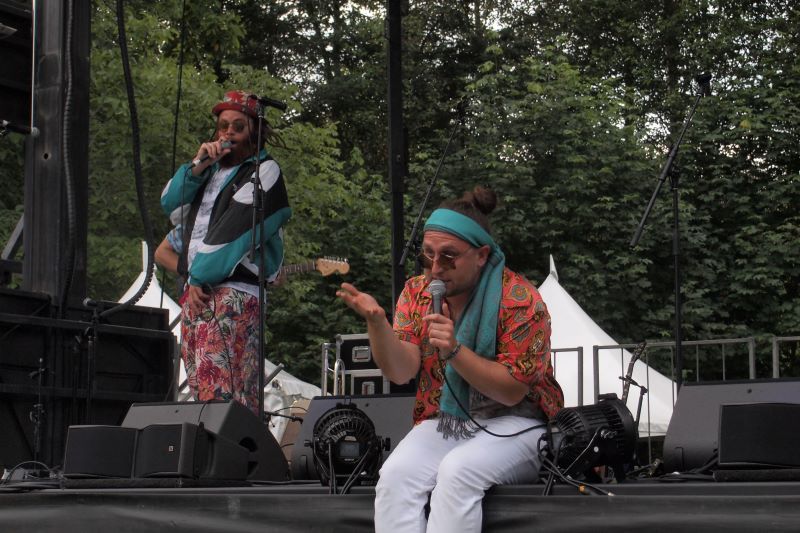 Pretty sure I'll be back again next year.
{All photos by Chris Moses}