Tonight at 7p, swing by Easy Street Records on Lower Queen Anne for a totally free, totally all-ages show from Seattle garage-rock band The Blakes. The show is co-sponsored by Seattle Weekly kicks off an ongoing series of Friday evening in-stores (next few weeks include Brent Amaker and the Rodeo on 4/6 and the Clorox Girls on 4/13).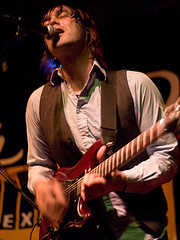 And for the 21+ set, Easy Street is hosting an "Easy Hour" happy hour at 5p tonight at Solo, where they promise "drinks, prizes, and fun," and proceeds to go benefit the Vera Project. 
Anyone else have fun plans for this Friday night…?