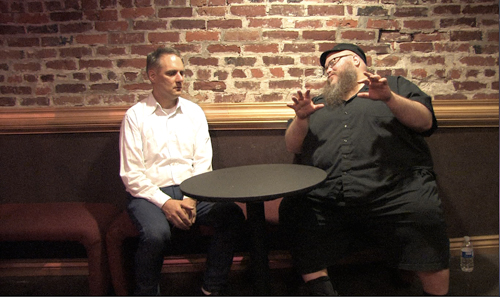 As we announced back in January, there's a new film which captures the first meeting of Three Imaginary Girls' very own Chris Estey and the King of Indie, Calvin Johnson (wiki K Records, Beat Happening, all things rad)!
This meeting of the two mega-minds took place in the historic Columbia City Theater where Chris and Calvin chat and delve into their contrasting tones: Calvin's mysterious cosmos, mesmerizing baritone, and weighted works, with a concentration his latest solo incarnation ("he spits literary bop prosody in the form of three songs") versus Chris's torrential confessionals told with his signature unsurpassable jubilance that spills out like a spoken-word graphic novel (and inspired by Phil Ochs' seminal Greatest Hits album).
Tonight (Monday, March 5th!!!) is the Seattle debut of this 35-minute film at the Northwest Film Forum in Seattle at 7 pm. It is confirmed that both Calvin Johnson and Chris Estey will be there and Calvin will even play a couple of live songs!!!
It is going to fill up, so let's all get there early to grab seats!
(photo by Kathy Wolf)