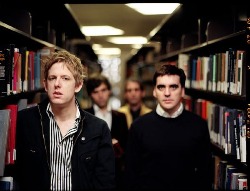 The Crocodile is where magic things happen. Remember that time the Postal Service played there? Or when you were in line behind Peter Buck at the bar? Or the first time you had their veggie gumbo?
In case you need another reason to head to the Crocodile tonight, tonight's the night that Spoon frontman Britt Daniel will be taking the stage to perform an intimate set and raise funds for Charley's Fund.
Charley's Fund is a nonprofit aimed at awarding grants to muscular dystrophy researchers. If it sounds familiar, perhaps you were one of the folks in the know when The Shins' James Mercer headed a similar benefit gig back in January.
Can you really turn down this rare chance to see indie-cred-laden Britt on the cozy Crocodile stage and get the warm and fuzzies? Indie rockers can make a difference too!