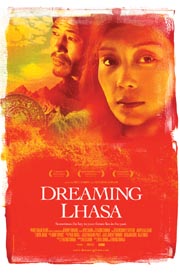 Yesterday's recommended 'show' involved fruity drinks to celebrate the 70 degree sunshiny day. Today we're going a bit in the opposite direction (kinda like the clouds that are moving in).
Dreaming Lhasa only has a couple more showings at the Northwest Film Forum–2 of them being tonight at 7p and 9p. By the looks of the film's synopsis, the film should be one of those go out and get 'em and treasure your freedom kinda films that I love so much. There's also the backdrop of the TIbetian Lhasa to contrast wiht the film's tumultuous story-line.
Because it is much more concise, here's a bit of the movie's synopsis from the website:
For many in the West, Tibet is the last romantic place left on earth. But beyond the stately mountain ranges, saffron robes and timeless traditions lies a struggle unfolding very much in the here and now. DREAMING LHASA is the first film to capture both the majesty of Tibetan Buddhist culture and the complexity of its ties to the outside world. The film tells the story of Karma, a Tibetan filmmaker from New York who comes to Dharamsala, a small town in the foothills of the Indian Himalayas, home to the exiled Dalai Lama and the spiritual and political focus of the Tibetan diaspora. Escaping from a deteriorating relationship back home, she wants to make a film about former political prisoners who have escaped from Tibet. Their harrowing stories of courage and suffering heighten her own sense of cultural alienation.

One of Karma's interviewees is Dhondup, an enigmatic ex-monk who has recently escaped from Tibet after spending four years in prison for his role in anti-Chinese activities. As the pair search for to fulfill Dhondup's mom's dying wish, Karma finds herself unwittingly falling in love with Dhondup even as she is sucked into a quest that becomes both a journey into Tibet's fractured past and a voyage of self-discovery.