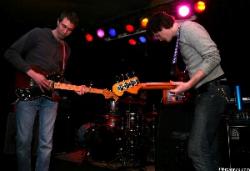 This event, co-presented by Velouria Boutique and Sonic Boom Recordings, is a perfect melding of Indie Rock meets Indie Style. The show not only features two great local bands — Siberian and Ghost Stories — but also will have local models displaying the latest fashions by independent designers before, between, and after each act. Also, it starts early, at 8:30, so don't dilly-dally.
I attended the last Velouria and Sonic Boom-sponsored event last fall at the Triple Door, and it was definitely a smashing way to spend the evening. It fulfilled all my pret a pôrter rock and roll fantasies.

From the press release:
Local Independent Label Sonic Boom Recordings will showcase two of its newest additions , Siberian and Ghost Stories, alongside a slew of independent fashion designers. Local SeattleVelouria, owned by local clothing designer Tes de Luna, will feature 3 fashion sets of local, national and international independent designers making clothing, jewelry and accessories. In between live music segments models will strut their stuff to record spinning Djs while showing off Spring collections by designers such as- Liza Rietz, Holly Stalder, ZUZUPOP, Elizabeth Dye, Frocky Jack Morgan, Dagg and Stacey, Modaspia, RikaRika, and House of Spy boutique

The night is about celebrating small independent businesses that help emerging talent in music, art and fashion.
Worth it to attend to catch Siberian alone, who recorded one of my favorite local releases so far in 2007, with brit-pop flavoured soaring melodies and bombasic vocals. It sounds kinda like all the good elements of the Coldplay/Travis genre of indie-rock without any of the wankery ones.
Aside to Velouria: congrats on the Daily Candy shoutout! It's about time they caught on to what's good in this here town…