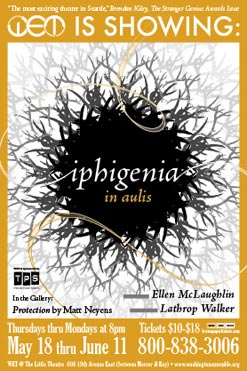 WET's third-season finale is the gorgeous, intensely physical Iphigenia in Aulis, playing Thursdays through Mondays at the former Little Theater.
Words tend to evade me when it comes to the ensemble's work, but here's what I know. Using part one of Ellen McLaughlin's Iphigenia and Other Daughters (adapted from classic Greek tales by Sophocles and Euripides), those crafty WET kids somehow manage to stretch five pages of text into an hour-long one-act. It's light on spoken dialogue (as you might expect) and heavy on lingering silences and extreme physical sequences — many involving small women climbing atop the strategically-positioned legs and backs and shoulders of solid, strapping, sweaty men.
The story? Well, it follows a character named Iphigenia (cupie-faced WET regular Elise Hunt), her apparent shadow-self (Mikano Fukaya), and her angry mother the Queen (Rhonda Soikowski) as they leave their home and search for… something. Yeah, I didn't catch it all, but this summary from the press materials may help to illuminate:
Arriving in a windless place filled with idle soldiers, Iphigenia searches for signs of the marriage she has been promised. Yet her purpose here is quite different than anything she had imagined. A secret is kept in Aulis, and as the men grow restless waiting for war, Iphigenia makes her ascension to the altar and to the revelation of her epic destiny.
Oooh, ok! Anyway, even without a full grasp I enjoyed the show immensely, mainly because of the intriguing performances and the wealth of visual wonders on display. Jennifer Zeyl's ingenious patchwork cocoon/mountain/hive set (another masterwork of scenic design by our city's gold standard) is made all the more mysterious by the stage fog that fills the theater as you take your seat. (In a sudden, innovative jolt, it's gone by the time you leave.) The opportunity to experience this alien world, and to gaze at (aforementioned strapping lad) Taylor Maxwell for an hour, are easily worth the price of admission.