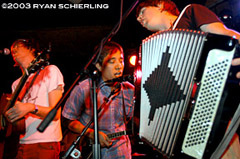 Tonight's the night! The final show of the Noise for the Needy week of shows is tonight at Neumo's and, boy oh boy is it a humdinger.
The night is a tasty blend of local and out-of-towner supa stars: Okkervil River, Sera Cahoone, and Ghost Stories. There are a ton of reasons to join us at this show, but perhaps the biggest reason is because Okkervil River have been working so hard on their new record (Stage Names, releasing on August 7, 2007), that they've been awfully selective on the show front. Besides this show, their only other tour stop is in New Hampshire (for an equally worthy cause). Okkervil River never disappoint, and tonight's will surely feature some sneak previews at the new album and the sound of some breaking heartstrings.
Congrats to the NFTN folks and their stellar 13 showcases of fundraising for local charity Rise and Shine.