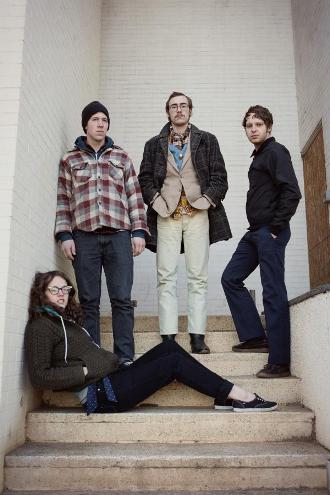 Sallie Ford and the Sound Outside are playing tonight at Chop Suey, and you don't want to miss it. Seriously. Here's why:
A. First off, Sallie Ford and the Sound Outside rules.
Really. I've raved about them before, but in case you missed it: these talented folks are the by-product of listening to all the right records. They've got a basic fifties-era guitar sensibility, with modern, dark (but not too dark) lyrical content — more alt.indie.thinker than alt.indie.brooder — and a voice that's been filtered through a Gramophone. Think of it this way: If Buddy Holly and Amy Winehouse were cousins, and existed in a time warp, and had a younger half-related sibling, it would be the sound of SF&TSO. Only better.
B. One-two punch: it's a benefit for Noise for the Needy.

In fact, it's kicking off all the amazing NFTN shows, which run through Sunday at various venues about town. Your hard-earned, well-spent eight dollars will be put to good use, as all the proceeds from this year's NFTN are benefitting the fine folks over at Teen Feed.
C. Furthermore, it's at Chop Suey.
Come on. Could it be any more convenient than that? A spot in the heart of Capitol Hill, with manageable parking, a rad sound system, and a good view from anywhere in the place (even if the venue is packed).
D. Because we like you.
No, truly. We do. And we hope to see you all there with bells on.
{Photo credit: Chris Hunt Photography / Sallie Ford and the Sound Outside's MySpace photo page. More sights (and sounds) there – go check it out!}