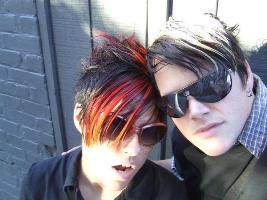 The Pride Parade may be going on downtown today, but the party is up in Capitol Hill. Broadway is alive with the sound of Pride, and if you head a bit south on B-way, the Wildrose has put together a beer garden complete with music and goodtimes.
Yesterday's stellar line-up featured imaginary favorites, Ms. Led and Leslie and the Lys… Today's Wildrose garden line-up features Tiger Teenagers (Roxie & Steph from Ms.Led) and Team Gina — to duos we love because their songs are sassy, feedgood girlpower anthems. And it's FREE!
And PS — Doesn't that new Ms. Led record rock? Congrats to ML on their record release!