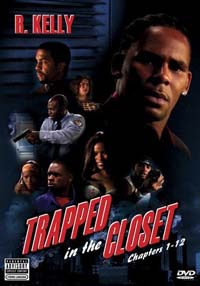 One of my favorite theatrical events in life was seeing Hedwig at the Re-bar starring Nick Garrison (the fellow who played/channeled Hedwig in the Seattle stage version) a while back.
It's no surprise that Nick and his friends at Brown Derby Productions would realize that it was imperative to bring the 12-part R. Kelly Trapped in the Closet series to the Re-Bar stage. Rumor has it that they performed this hip-hop-era last year… and, by the grace of good luck are bringing it back.
I can't wait to see the cast (who also includes Seattle notables Sarah Rudinoff, Nick Garrison, Rebecca Davis, Ian Bell and others) nail lines like:
"close my mouth,and swollow spit,
as I'm thinking to myself this is some deep shit"
and
"Then I said you must be crazy or on crack to have somebody off up in my muthafuckin house"
I can only hope that they've integrated some of R. Kelly's DVD commentary into the stage production.
Unfortunately, it is only showing 3 nights and TONIGHT is the OPENING NIGHT! If you can't make it tonight… it is also showing on Wednesday (April 24th) and Thursday (April 25th) at the Re-Bar.