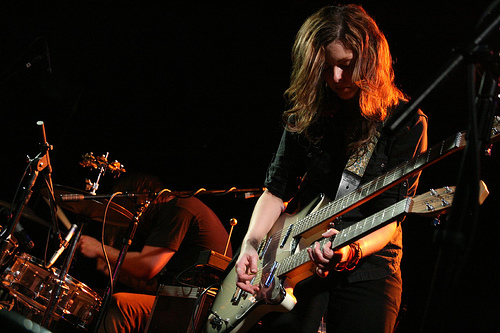 Speaking of popcorn(!) and music… we love it when folks combine our favorite things (movies and music) into one night of fun. The super-cool SIFF folks have taken their pledge to Find True Film out of the theater and into the rock club with their Face the Music program. As SIFF's site describes it, tonight's special show…
… celebrates the Northwest's diverse community and range of renowned artists. Much like the brilliance and originality of our Face the Music films, these bands span a number of genres and are sure to entertain. From the dreamy pop sounds of Viva Voce to the evocative soul of Jesse Sykes and the Sweet Hereafter to indie rock darlings Siberian, this show features something for everyone. Continuing the success of last year's Rock party, join SIFF as we celebrate the sounds that are at the heart of this thriving music community with the Festival's many visiting musicians, filmmakers and industry guests.
Viva (Voce) la SIFF and their multi-talking ways!
(thanks to Laura Musselman for the rad Viva Voce photo!)