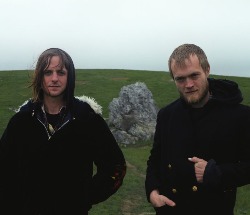 The new Two Gallants EP, The Scenery of Farewell, is set to be released this summer on Saddle Creek. And to celebrate – we've got an MP3 from the forthcoming EP.
Strap on your growly demeanor and vagabond heartbreak, we offer you the song "Seems Like Home To Me." This song solidifies the reasoning behind their signing to Saddle Creek. The track oozes with old martyr crooning, minimalist guitar and loneliness.
If you're hunger is larger than the news of this free MP3 and EP — the 2Gs will be in Seattle on July 3rd (with Les Claypool) and will release a full-length album September 2007.