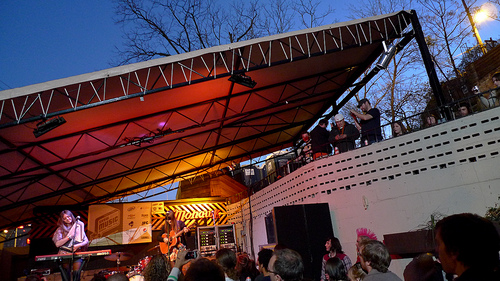 What we've got going on in town tonight and tomorrow night is nothing short of a one-two punch, SXSW 2010 style. Two of the acts I liked enough to venture out and brave the endless lines for in Austin are both coming through town: Good Old War at El Corazon tonight, and First Aid Kit at the Vera Project tomorrow.
Both shows are guaranteed to raise a smile, both are all-ages, and both have such a wide appeal that you practically can't miss. First Aid Kit, my personal favorite of the two, showcases two talented singer-songwriter gals who sing sweet, contrasting harmonies full of smart lyrics — think of them as older cousins of Smoosh, with a little more string-based hippie-parenting influence and a bit of a darker take on things.
Good Old War, in contrast, is an energetic boy-ful three-piece full of catchy, indie heartbreak hooks and bouncy, pretty, sad-smile chords. They're a band on the verge of becoming great, and it may bode you well to go check out all the potential they've got to give while you can still get it at a bargain price. After one listen to lines like "you are my own sinking ship" and "it's the last time we'll fall in love it's the last try to break apart," you'll be giving them a pass on their rough edges. (Don't take my word for it, though — grab a copy of the new single for free here and listen for yourself.)
We'll see you out at the shows, tonight at El Corazon, and tomorrow at the Vera Project. Come drop us a comment or two on Monday and let us know what you thought of the shows!