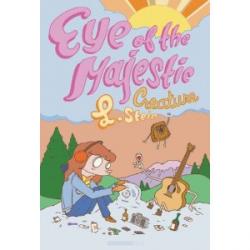 TIG readers won't be surprised there are two adorable new books out from Seattle-snared, world-shaking Fantagraphics. As the world's foremost glossy-n-generous "boutique label" of classic comics reprints (Peanuts, Dennis The Menace, Krazy Kat), and the publishing patron of local and international graphic novel geniuses like Jim Woodring, Megan Kelso, the Hernandez Brothers (Love & Rockets), and many others, we're all up on it. Even those not much into "sequential art" love to hype out along with all the fine arts, middlebrow marauders, and indie rock stars enrolled in their various ranks of production and promoting the product itself (galleries, album covers, et al).
Meanwhile, beyond just knowing the importance of the imprint, where would a good place for a DIY-loving potential fan-person start to read something more like an illustrated 'zine or chapbook, less like a 3-D blockbuster? Well, Leslie Stein is a young lady out of Brooklyn, NY who has been crafting literary/illustrative dub versions of her tastes and trials and laying them out in meticulously crafted yet still oodles-of-eye-fun anecdotes and tall tales. Fanta has collected them all into Eye Of The Majestic, a big-sized anthology of her work, with color covers and B&W insides and a whole lot of heart reproduced superbly for proper long-term keeping.
Stein dedicates this career-spanning selection of her growing up weird and denim-draped to "the Breville BJE200XL 700-watt compact juice fountain, Yamaha, Fender, Larry McMurtry, Bill Amend, The Move, AM1710Antioch, parks, tea, and mostly importantly, cheese," but through the yucks and family complications near-tragically described, songs from musicians such as Michael Hurley and booze such as Maker's Mark and crafting, crafting, crafting lay a unique and vibrant subtext. I'm not usually a fan of anthropomorphism, but the lead character's surly guitar makes for a fine foil for our starlet, who for a time enjoys a cabin in the woods The Head and The Heart would probably all live in. (Other, stranger, acoustic instruments join in the house-sitting and long afternoons fighting doldrums by visiting friends.) In other words, "I eat peanut butter between naps."
Stein's easy-on-the-eyes drawing style shows an affinity for the same greatly defined, goofy universe Pete Bagge's youthful wanderers once trolled though Seattle in, except this is the Seattle many current Seattle musicians are singing about: A timeless place, where art can be created out of love for the imagination and the unspoken brokenness of filial upbringing. I found it irresistible, and will come back to its gentle humor and delightful glimpses into woozy alt-country gal delights again and again.
For you more scholarly or merely serious types who want to sink your lobes into a more lofty tome ABOUT comics, and thus find Stein's (mostly masculine) forebears to check out as well, long-running Fanta periodical The Comics Journal is now a really thick (!! – about 625 pages – !!) bible of analysis and insight. Editors Gary Groth, Michael Dean, and Kristy Valenti have worked with art director Eric Skillman (and many others who assisted) to make issue #301 a voluminous volume of awesome value.
First up, Robert Crumb is interviewed, and as whenever Joe Strummer or Brian Eno were chatted with for print, a lot of what he says is of huge worth for neophytes and ancient acolytes alike. This time he's up against the wall for adapting the book of Genesis into comics form, which was greatly misunderstood in both intention and delivery by many, and is properly criticized here as well. (It's a graphic novel that I think will annoy the hell out of people just for being what it is, disappoint by its very ambitious nature, and in the long term freak the hell out of people for how gorgeous and audacious it was as produced.) As religions grapple with the meaning of sex these days, what better way than to go to the beginning of at least a couple of 'em, crafted by a pretty carnal Gnostic art-philosopher who just wanted to process it creatively?
And processed Crumb is by many critics here after the initial interview, which is must reading for any fan of the form and especially fans of Crumb. Lots of art is reproduced throughout, but that also includes illustrations in the howlingly-deviant conversation with Mad Magazine's Al Jaffe conducted by Ugly Americans-created Michael Kupperman (expertly moderated by Fanta publisher Groth), a very riveting talk with Middle East comics-journalist Joe Sacco, sketchbooks by Seattle (Stranger Genius Award Winner) Jim Woodring, and even a whole bunch of rare old and awesome new comics at the back of this two-inch high edition of TCJ.
If you want to get started on a mindful graphic novel "What does it all mean and how do I get started?" jones TCJ #301 is a superb place to intoxicate on the whims, wills, and wild opinions of makers of the art. It's a masterpiece of modern criticism, and (along with Stein's debut collection) one of my very favorite books of the year. $30, but you'll be reading it all year!