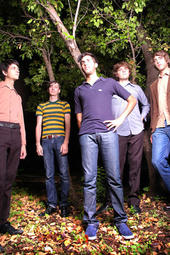 It seems like indie-darlings Voxtrot have been riding the success of their EPs (which some consider only singles) for a while now. It is with a sigh of relief that I report that they've finally announced the details for a full-length album of their very own.
To help us carry through to the release date of this long-awaited self-titled piece of work, they've given us an MP3 for the song "Kid Gloves" from the album.
The album was recorded with award-winning Australian producer Victor Van Vugt (Nick Cave, Depeche Mode, Athlete, Beth Orton) and they promise that none of the tracks from the album have ever been released.
 
TOUR DATES
MAY
Fri 25 Austin, TX @ Emos (CD RELEASE PARTY) # AA
Tue 29 – Los Angeles, CA @ El Rey # AA
Wed 30 – San Francisco, CA @ Great American Music Hall # AA
JUNE
Fri 1- Portland, OR – Doug Fir # 21+
Sat 2 – Seattle, WA @ Crocodile # 21+
Tue 5 – Minneapolis, MN @ Triple Rock # AA [5pm early show]
Wed 6 – Grand Rapids, MI @ Intersection # AA
Thu 7 – Detroit, MI @ Magic Stick # AA
Fri 8 – Toronto, ON @ Sneaky Dees # 19+
Mon 11 – Cleveland, OH @ Beachland # AA
Tue 12 – Baltimore, MD @ Ottobar # AA
Wed 13 – Washington, DC @ Black Cat # AA
Thu 14 – Boston, MA @ Middle East # 18+
Fri 15 – New York, NY @ Webster Hall # 18+
Sat 16 – Philadelphia, PA @ Pure (Making Time) 21+
Thu 21 – Gainesville, FL @ Common Grounds AA
Fri 22 – Miami, FL @ Studio A 18+
Tue 26 – Tallahassee, FL @ Beta Bar AA
Sat 30 – Houston, TX @ Proletariat 18+
AA – All Ages
* – w/ The Shins
# – w/ Au Revoir Simone