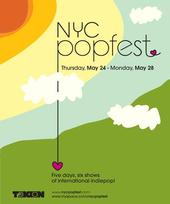 The NYC Popfest folks have announced their 2007 line-up and HOLY COW is it fantabulous! IT MAKES ME WANT TO TYPE IN ALL CAPS!
Behold – I'll post the line-up now and comment more once I gather myself:
THURSDAY MAY 24, 2007 – Opening Night Gala
98-104 Meserole Ave., @ EUROPA in Brooklyn
BMX Bandits (Scotland)
Pants Yell! (MA)
Yellow Fever (TX)
The Metric Mile (NYC)
Lispector (France)
& Other Surprise Guests!!
 
FRIDAY MAY 25, 2007 – Kick-off the weekend with Mitch Easter & a Rooftop Afterparty!!!
168 Delancey Street, @ THE DELANCEY on the L.E.S.
Baskervilles (NYC)
Mitch Easter (NC)
The Secret History (NYC)
The Smittens (VT)
Affair d'Coeur (NYC)
The Reverse (NY)
& ROOFTOP AFTER-PARTY
SATURDAY MAY 26, 2007 – FREE Daytime All-Ages Show
Astroland Stage – Coney Island Boardwalk, @ ASTROLAND on Coney Island!!!!!
Bunnygrunt (MO)
Cars Can Be Blue (GA)
Best Fwends (TX)
The Gritty Midi Gang (NYC)
& Special Surprise Guests!
 
SATURDAY MAY 26, 2007
74 Leonard St., @ THE KNITTTING FACTORY
Casiotone For the Painfully Alone (CHI)
The Ballet (NYC)
Ballboy (Scotland)
Harvey Williams (UK)
My Teenage Stride (NYC)
The Besties (NYC)
Brown Recluse Sings (PA)
 
SUNDAY MAY 27, 2007
361 Metropolitan Avenue, @ LUNA LOUNGE in Brooklyn
Pipas (UK/NYC)
CAUSE-COMOTION (NYC)
Human Television (PA)
Michael Leviton (NYC)
Pelle Carlberg (Sweden)
Dear Nora (CA)
The Pains of Being Pure at Heart (NYC)
 
MONDAY  May 28, 2007 – Memorial Day BBQ & Show
484 Union Avenue, @ UNION POOL in Brooklyn
Allen Clapp & His Orchestra (CA)
The Gazetteers (NY)
The Lil Hospital (PA)
Surefire Broadcast (PA)
Titans of Filth (GA)
& Special Surprise Guests!!
CHECK OUT MORE INFO AND PURCHASE ALL-INCLUSIVE PASSES ON THEIR MYSPACE PAGE!