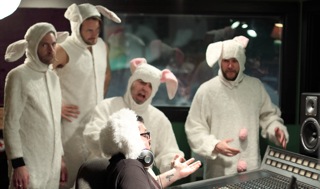 Seattle's own Steel Tigers Of Death punk-metal antics are endearing and inclusive where other band's attempts to merge visual comedy with musical chaos can be sloppy and shrill. They're set to open the set at Neumos on Sunday, July 25, hitting the stage (and probably splashing everywhere) around 2:15 PM.
I sent some questions to one of the guys, who gave them to two other of the guys (El Tigre and Bradley Of, for the record). That's how they roll, as some other guy once said about, um, guys and rolling. All together. Like that.
The mighty Three Pronged Question (wa-cha!!): (1.) Who is in the band doing what currently? — (2.) and what did they do before musically? — and (2.) What are you specifically preparing to unleash your ribald noise upon the throngs of revelers at the Block Party?
1. The lineup is Remington Steele – Drums, El Tigre – Guitar and Vox, Bradley Of – Bass and Vox, Michael Deth – Guitar and Vox. Currently we're doing post-production on our upcoming album (Precious Moments) and trying to figure out how to turn low-level local fame into real, hard, cash.
2. Our resumes are as varied and beautiful as a tropical sunset, but at least one of us worked cleaning porta-potties.
3. As far a preparation, there are four different approaches in the band. Yoga, Smoking, Drinking, Masturbating. I'll leave you to connect them to the appropriate band member.
Why do you think it's a good idea to play the Block Party? Have you had any experiences there before as musicians or thronging revelers? (Any awesomely sick stories to relate either way?)
El Tigre has been to a few block parties, and loved them all. Best of all was ducking into the Cha-Cha to get a drink and out of the sun a bit and running into a secret show by Tacocat, a local favorite.
When the KEXP's Rocket Queen (all hail Hannah Levin! The Rocket Queen! And that DOES rhyme) interviewed you a while back much love was given to bands like Drive Like Jehu on the Swami Records label. Is that romance still hale, or have you been hearing new things come from your members lately (answer that carefully)?
Hmmm, I think we all love the Swami Records family as much now as we ever did. I'm trying to remember what were big hits in the van on the last tour. The Future Of The Left has been pretty well played. Also Me First And The Gimme Gimme's. And if we could just carry Hannah around in our van to dj for us, that would be ideal.
Can you give a complete discography? And, even more annoying: Are you still playing the songs off the Cockpuncher EP? Or have they been left behind? Anything from it your beloved fans won't let you leave the stage without playing?
The discography:
Cockpuncher EP
The Funhouse Compilation Thing (one track)
Steel Tigers Of Death Proudly Present Steel Tigers Of Death! (full-length)
Soundtrack to Blood On The Flat Track (one track)
Steel Tigers Of Death / Android Hero (split 45)
And funnily enough it's a two birds with one stone answer because we never get off the stage without playing "Cockpuncher." And we love it.
You guys have a tendency to roll out the visual madness for live performances (hula skirts and boy scout costumes, "toilet paper mummies," etc.) and we're going to assume you have similar hijinks planned for the Block Party. Can you tell us what you think the apex-zenith-nadir was for a previous Steel Tigers of Death show performance-wise? As in everything going APE SHIT WRONG-RIGHT all at ONCE?
For El Tigre, the aforementioned Toilet Paper Mummies was a highlight. By the time we even got the guitars strapped on, about half the costumes were on the floor, and as we started to sweat, it got much, much worse. I was told that bands playing that stage the next night were still tripping over the TP. Plus there's the incident that we like to refer to as "Freeballing In Las Vegas," but you need to buy me a beer before you hear that story.
Thanks! I will! In the great punk magazine RAZORCAKE Mike claimed the band was like a "Co-op." We're going to ignore the "heepee" aspects of that term, and boldly ask: If each of you four were to put out your own solo albums simultaneously a la KISS, what would each one be like? (And whoever answers this, feel free to answer for the others what you THINK they would. You've shared your favorite records on a tour van boom box, you know!)
El Tigre's would be a cross between NoMeansNo and a drunken Irishman berating you for liking the wrong movies.
Bradley Of's would be as if Devo decided they weren't catchy enough and got really serious about hooks.
Michael Deth's would be one LP-length song written in 9/12 time and about a werewolf that had stopped grooming himself and really let himself go.
Remington Steele's would be a 40 minute cowbell solo.
Speaking of which, any more records coming up soon? Give us the beef: Who, what, where, why, when! (Title, some song names, direction, disco remixes planned, whatever.)
As previously mentioned we're hoping to have Precious Moments out by late Autumn, and we'll be doing a mini-tour to support it. It was recorded at the Vera Project with Jeff McNulty of Android Hero and Bloodhag. As far as remixes, I don't think it could be anymore disco than it already is.
It's just so, so, disco. It's like a black hole of disco. No disco can escape it.
Here's a few song names to whet appetites: "American Cougar Invasion," "X-Ray Milland," "Thriller II."
Speaking of which the other thing too, any more tours coming up soon? And: Inflatable pig OR "Zoo TV"? (Also, bonus question: Who have you played out with/toured with of note to your own tastes?)
We're more of an inflatable marmoset band, but sometimes resort to 40 foot screen playing court tv behind us. It's pretty rockstar.
Our last tour was with local punk legends Neutralboy, and we love playing with those guys. We always make a point to play with The Grannies in SF (or when they're here). They're Aces.
Explain the mysterious Albuquerque connection. And have you guys played there yet?
Oh that. Bradley Of and El Tigre were actually created in Sandia Labs as an attempt to pacify the populace with sweet, sweet melody. Needless to say, it went Frankenstein, and we escaped to Seattle to join STOD and terrorize the populace in dresses.
We've returned a couple times, but thankfully our mad disguise skills have saved us from discovery.
What will you be checking out otherwise at the Block Party? Do you tend to see shows together? If so, which perhaps at the BP? Or will you just drag your sorry asses to each other for the first time that weekend for the massive throng again?
Oooh, Obits and Night Marchers for sure (Swami, man). We're also playing Friday night, but otherwise we'd be seeing local faves Police Teeth. Plus there's a rumor that we'll be wandering around in drag promoting a new Mexican Cactus Liquor called "El Ouchie." I can neither confirm nor deny that.
Anything special planned for the 23rd in Bremerton? Or should we wait to see what flies and ends up at the Block Party on Sunday?
Bremerton is where we can really let our hair down and be ourselves. Think tafetta ball gowns.
Finally (about fucking time, I know), what would you want people to throw on stage when you perform at the Block Party? (Bonus: What would you never want anyone to throw on stage ever at a performance?)
Panties: Yes.
Manties: No.