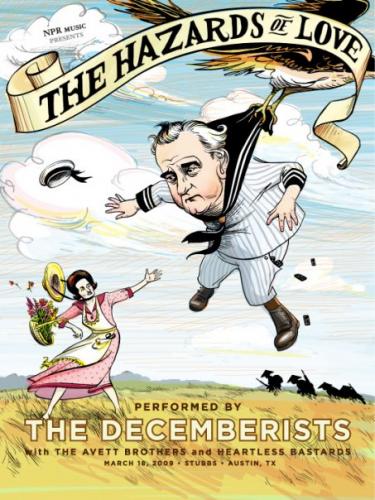 The winner of the Decemberists' The Hazards of Love Poster Design Contest has been announced and I am overjoyed to say it's our very own Corianton Hale and imaginary friend Kathryn Rathke!

You might know Cori as the exceedingly cute and talented fellow who has designed many a TIG poster and our pretty chick logo or as Tullycraft guitarist or the fellow who nailed the Magnetic Field's "Papa Was A Rodeo" at TIG's 69 Love Songs Pre-Valentine's Day bash. Regardless how… you know he's got skillz.
He designed the poster with local illustrator extraordinare Kathryn Rathke (check out her site for buckets of drawing goodness) who's talents are unmatched.
I looked through what their competition (from all over the world) sent in and there were some amazing entries… but I must say Colin and company definitely made the right choice. Cori and Kathryn really put together a piece of art!