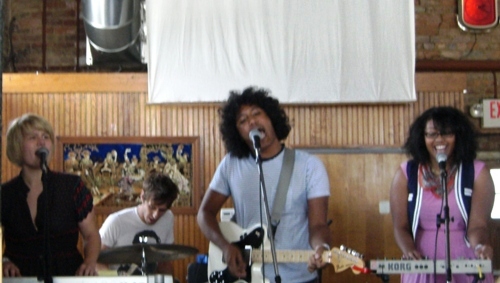 The Athens PopFest schedule has been announced and boy oh boy is this year's a doozy. I've been to the festival the last few years and for the gentile Athens indie-rock way (sometimes I think they might have invented the modern-indie DIY aesthetic) and warm swagger of the town alone it's worth a trip down to popfest it up.
Last year saw the debut of the crowning joy of elitist hipsters everywhere, Black Kids, who played to a crowd of about 30 people at high noon in a place about the size of the Sunset Tavern. Yeah, it's that kind of fortuitous crap that happens each year — you end up finding a stack of bands no one's ever heard of that have great songs for your next mix tape and you get to enjoy the laid back pace of the hearty festival schedule.
This year the schedule looks mammoth and stretches from Tuesday August 12th to Saturday night August 16th. The organizers have really outdone themselves bringing in heavy hitters like Roky Erickson & the Explosives and Elf Power and mixing in soon-to-be-crowned "Next Big Things" like… well, you never know whose demo will be featured in NME.
Truth be told, there's only one reason I actually want to go.
Sure it's just a half-hour spot on Wednesday night of the fest, but if I could magically transport myself there for that set, I'd trade a year's worth of cursing to see my blessed favorites of the moment/year/decade, Nana Grizol at 9.10p on August 13th. With as amazing as that album is, the set is sure to be super fantastical.
And HELLO! There's still a headlining spot marked at as TBA on Saturday night of the fest. Let the speculation begin!
The (nearly finalized) schedule:

CINE 8.12.08
8:00 – Fish Schticks
8:35 – Bob Hay & the Jolly Beggars
9:10 – Allison Weiss
9:45 – Titans of Filth

LITTLE KINGS 8.13.08
2:00 – Boy Genius
2:35 – the Hotwalls
3:15 – Amo Joy!
4:00 – Afternoon Naps
4:45 – Nervous Systems (not confirmed yet)
5:30 – Oh Sanders
(Break time!)
8:00 – Supercluster
8:35 – Blondie-Grunt
9:10 – Nana Grizol
9:45 – Hot Pants Romance
10:20 – the Coathangers
11:00 – Whistling School for Boys
11:30 – Judi Chicago
12:00 – Spring Tigers
12:35 – the Selmanaires
1:15 – We Versus the Shark

LITTLE KINGS 8.14.08
2:00 – That's My Daughter
2:40 – Little Birds
3:20 – A Faulty Chromosome
4:00 – Panda Riot
4:45 – Averkiou

FLICKER 8.14.08
6:00 – Night Driving in Small Towns
6:45 – Good Graces
7:30 – Mary O Harrison

CALEDONIA 8.14.08
8:30 – the Ocelots
9:30 – the Besties
10:30 – Twin Tigers
11:30 – Dead Confederate

40 WATT CLUB 8.14.08
8:00 – Patience Please
8:30 – Velcro Stars
9:00 – Bunnygrunt
9:30 – Cars Can Be Blue
10:15 – Great Lakes
11:00 – the Love Letter Band
11:45 – Dark Meat
12:30 – Roky Erickson & the Explosives

LITTLE KINGS 8.15.08
2:00 – Railcars
2:40 – Tendaberry
3:20 – One Happy Island
4:00 – Hat Company
4:30 – Fat Planet

FLICKER 8.15.08
6:00 – Oh Fortuna
6:45 – Noisycrane
7:30 – Gospel Gossip

CALEDONIA 8.15.08
8:30 – Laminated Cat
9:30 – Ham 1
10:30 – My Teenage Stride
11:30 – Violet Vector & the Lovely Lovelies

40 WATT 8.15.08
8:00 – Cryptacize
8:30 – Secret History
9:00 – the Faintest Ideas
9:30 – Ruby Isle
10:00 – the Buddy System
10:30 – the Lolligags
11:00 – Fishboy
11:30 – the Apes
12:15 – Boyracer
1:00 – TBA

LITTLE KINGS 8.16.08
2:00 – Lognhalsmottagningen
2:15 – Bad Animal
3:00 – the Young Untold
3:30 – Bright Lights
4:15 – American Cheeseburger

FLICKER 8.16.08
6:00 – Oh Fortuna
6:45 – Marc with a C
7:30 – Hot Lava

CALEDONIA 8.16.08
8:30 – Sgt Dunbar & the Hobo Banned
9:30 – Thrushes
10:30 – the Sterns
11:30 – Man Factory

40 WATT 8.16.08
8:00 – the Smittens
8:30 – Big Fresh
9:00 – Thee American Revolution
9:30 – Pipes You See Pipes You Don't
10:00 – Andy from Denver
10:30 – Casper & the Cookies
11:00 – Circulatory System
12:00 – Elf Power
1:00 – the Music Tapes