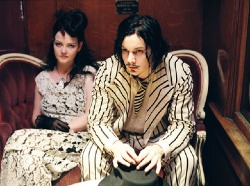 Folks… I don't disclose this often, but I spent a fair amount of my life in Delaware (well, up until the well-orchestrated break-out at the age of 21).  The isolation from anything resembling culture  (sure, we had the Agricultural Museum and the Punkin Chunkin festival) or indie-rock enabled me to hone my indie-rock discovery and exploration skills (for which I gratefully thank the blessed First State). This white-bread Billy Joel wasteland was rarely visited by 'Alternative' bands – save for the They Might Be Giants show at the Stone Balloon (I swear I was 21 officer) or the gestation period of Boy Sets Fire.  Just don't mention George Thorogood, and you'll be safe.
And what do my eyes see this morning? That the WHITE STRIPES will be playing the GRAND OPERA HOUSE in WILMINGTON, DE!!!  I know, I know, the White Stripes are MTV darlings and have sold millions of records… but I am sure this development is going to be the highlight of a lot of Delawareans' lives… or at least their teen-age years.  
Perhaps there will be a wave of guitar sales in the area? Maybe other bands will be inspired to stop off at the Opera House? I don't know. I do know that July 27th is going to be a very magical day.
Hooray for Jack and Meg for bringing indie hope/love/happiness/limited edition vinyl to the deprived masses of Delaware teens!