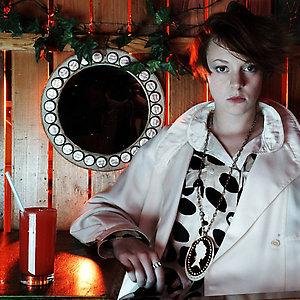 Lately, my musical diet has been strictly electro-pop. I think it's because I started reading Simon Reynolds' modern classic book Generation Ecstasy: Into the World of Techno and Rave Culture. So, right now I've been into almost anything with a big 4/4 beat and an even bigger hook.
That means that I am assuming/hoping that there are a few readers out here that are as excited as I am about seeing La Roux at Chop Suey in two weeks.
La Roux is the British synth pop duo of singer/synth player Elly Jackson and producer Ben Langmaid. Their self-titled debut was just released in the UK about two weeks ago and has gotten a strong critical response as well as sold a bunch of records. It'll be out the US in late October. La Roux was also the opening band on Lily Allen's UK tour this spring (I always end up mentioning her even when I really try not to).
I'm hoping that all that stands between the stunning singles I've heard on YouTube and my iPod is the reliability of the US Postal Service. In the meantime, I've been digging the singles "Quicksand" (which is, coincidentally, the same name of the Circus b-side that La Roux's closest ideologue, Lady Gaga, wrote for Britney Spears) and "Bulletproof".
So, if you want to see La Roux play at Chop Suey on Tuesday, July 28 and would like to see La Roux play at Chop Suey on Tuesday, July 28 for free even more, you're in luck. We have two pairs of tickets to give away to lucky readers (one will be given away at the end of this week and one at the end of next week). All you need to do is send an e-mail to tig at threeimaginarygirls.com before Friday morning (July 17) at 9am with "LaRouxTix" in the subject line. The show is all ages.
Here's the video to "Bulletproof", if you want any further convincing:
[video:http://www.vimeo.com/4685184]