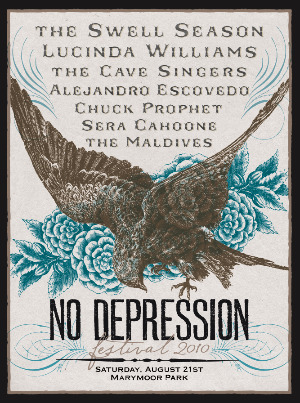 Check it out!
We're giving away two tickets to this year's No Depression festival!
On August 21st, the grounds of Marymoor Park (Redmond, WA) will be graced with not just one or two, but seven swoonworthy acts to fit the taste of every alt.americana, alt.country, and modern-folk indie-roots enthusiast within driving distance. Performers like Lucinda Williams and the Cave Singers will be sharing the stage at the second annual installment of ND, following in the footsteps of stellar sets from last year's big name headliners — Gillian Welch, Iron & Wine, and Jessica Lea Mayfield, just to name a few.
Did we forget to mention that the Swell Season is headling? Silly us! If you haven't bought yourself some tickets already — and even if you already have — you might want to take a moment right now to enter our ticket giveaway. Send an email to tig@threeimaginarygirls.com with the subject line SummerIsTheSwellestSeason and tell us why you think we should send you off to the Park for the day!
The only full-font fine-print is that entries must be recieved by midnight on Wednesday, August 11th to be entered into the drawing. Winners will be announced on Friday, August 13th. There's no catch! You can even bring your underagers, since No Depression is an all-ages event.
While you're waiting by the keyboard for your winner notification email, you can spend some time checking out this gorgeous, genius-concept of a video for the Swell Season's "Low Rising" if you haven't crossed paths with it already.
[video: http://www.youtube.com/watch?v=b5KV1Lf2NkY]
Be sure to check out the No Depression website, where you'll find more information on the fest — and some great interviews from last year's show with KEXP's own Greg Vandy.
Good luck, everybody! We'll see you at the Park!