T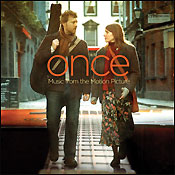 his Tuesday, December 18th, Nectar Lounge is hosting a screening of the film Once!
Besides being a touching love story between an Irish street musician and a Czech immigrant set in Dublin, the film has an impeccable soundtrack and indie hustpa thanks to the film's stars Glen Hansard (of The Frames) and Marketa Irglova (classically trained vocalist and pianist, and Glen's girlfriend).
Three Imaginary Girls is excited to mark this FREE screening of the movie (during Nectar's splendid HAPPY HOUR, no less) with a giveaway with a Once-inspired prize pack: a T-shirt, a DVD, and a copy of the soundtrack.
To enter to win the prize pack, email us by midnight (PST) on December 17th!
The festivities / film screening starts at 6p and again, it's FREE!