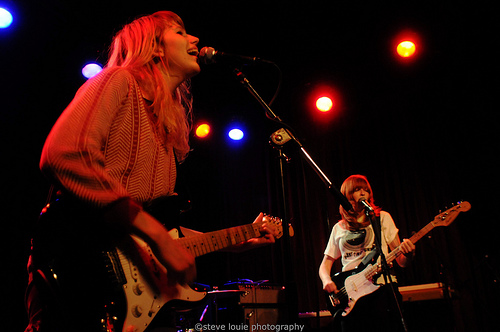 Let's admit it: There has been a wave of near-deafening hype behind the Vivian Girls for over a year now. Then admit this: All that love is well deserved. The Vivian Girls have knocked the socks off a lot of really smart people who have good taste in music for a reason… they really are that good.
You should go see the V Girls when they play Neumo's this Thursday, April 30th with Abe Vigoda and The Girls (which makes sense to have them on the bill for so many design and sonic reasons)… and we're happy to say that we could help you get there with some money left in your pocket to pick up a cd or t-shirt at the merch booth.
Enter to win a pair of tickets to see this Thursday's show courtesy of Three Imaginary Girls. Email us at tig @ three imaginary girls.com with your name and the subject line "VGirlsGirlsGirls" by Tuesday, April 28th at 9a PST.
(Awesome photo by Steve Louie)