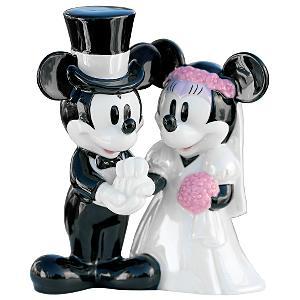 Astonishing news from Team Disney this morning: the company, known for promoting so-called Family Values and supporting Bush presidential campaigns, just announced that they are making their "Fairy Tale Weddings" program available to all couples gay and straight in both of their theme parks as well as on Disney cruise ships.
According to the article, Fairy Tale Weddings enable you to get married on Disney rides, or under a fireworks extravaganza with Minnie Mouse as your bridesmaid (!!). Also from the article:
The company blamed its weddings policy on laws in Florida and California prohibiting same-sex unions. But after pressure from the gay website afterelton.com, it dropped its requirement that Fairy Tale Weddings packages, which start at $8,000 (£4,100), have to include a valid marriage licence. "This is consistent with our policy of creating a welcoming, respectful and inclusive environment for all of our guests," Mr Walker said.
I suspect their inclusion of sale-sex unions are based more on financial than political reasons (as my hunch is the percentage of gay couples requesting Disney weddings must be huge!). But no matter — BRAVO, Disney! A job well-done! Now I hope they update this fancy promotional Flash movie soon with some nice Big Gay Disney Weddings!!)