25 years ago – on April 13, 1991 – R.E.M. was the musical guest on Saturday Night Live.
Much of my time during the late 80s and early 90s was spent obsessing over everything R.E.M. R.E.M. songs and lyrics and interview quotes filled my head most every moment of the day.
(click on an image to see larger versions of the R.E.M. posters)
In 1991, I was a freshman at the University of Delaware. I only found out about R.E.M.'s upcoming SNL performance the week before it was to happen. The next six days were spent plotting out how I could get up to New York City to see the show.
I was unsuccessful in convincing anyone to join me on this adventure, so after my last class on Friday afternoon, I caught the Amtrak north to NYC on my own with $50 and no real plan of what the next 30 or so hours would hold.
I arrived into Penn Station around 10pm and asked the cab driver to take me to Rockefeller Center so I could go get in line for tickets to see Saturday Night Live. He was an older gentleman and so friendly and kind – just what I needed to find my way to the SNL door to go stand in line all night for a ticket.
When I arrived, the line was already a couple hundred deep, wrapping around several corners of the hallway. My spirits slightly fell, but undeterred, I held out hope that I could at least get a ticket to the dress rehearsal.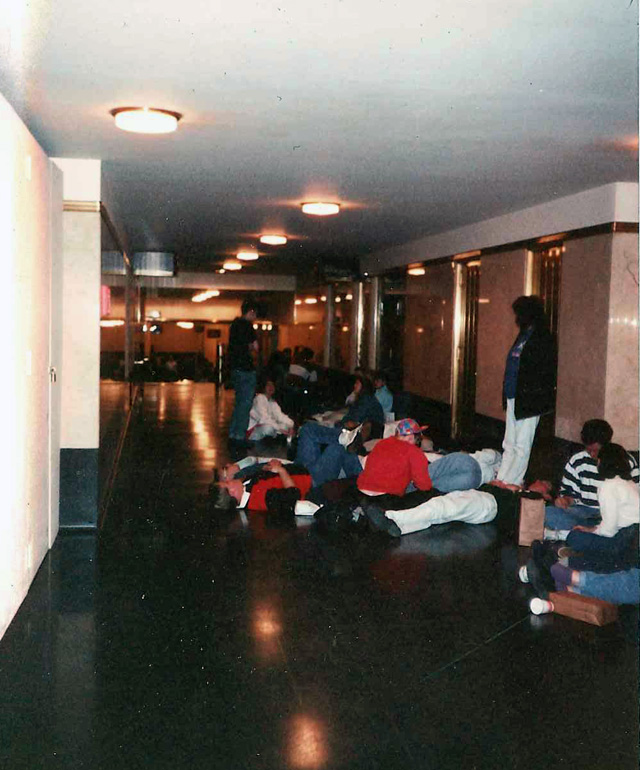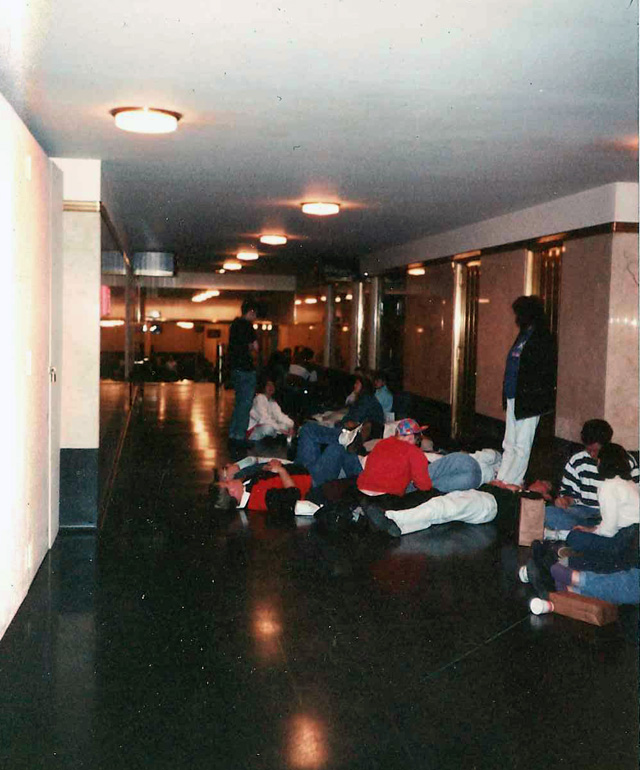 The next morning they handed out tickets for the show and the dress rehearsal. I think my standby ticket for the dress rehearsal was #139. This didn't look good.
So, I spent Saturday filling time until I could start lining up with my stand-by ticket. WIth only enough money to cover possible cab fare, I went sightseeing in churches and big department stores – great free places to sit down and rest up for the big night.
As afternoon approached, I realized if I'm going to stand around anywhere, I should stand around inside Rockefeller Center and try to see Michael, Peter, Mike and Bill walk in. Oddly, only 3 other people had this idea – and they were all just as excited as I was.
There were two guys from NYU who were autograph collectors waiting inside the door. Then there was a gal (we'll call Jen) who loved Kate Pierson and had heard she was going to be performing with them. My inner Athens-GA-ophile flipped out with happiness at the prospect of a member of the B-52s joining them on stage. The two NYU guys were invaluable, they were full of all kinds of info on where the musicians and actors usually enter and how to get their attention.
An hour later, they arrived! The first sighting of my heroes was happening! R.E.M. were shuffled by us in a magic blur of awesome. Kate stopped to say hi and was so friendly. I got her to sign an R.E.M. book (one of the only things I packed for the trip) – which she hadn't seen before so we totally had a "connection." 🙂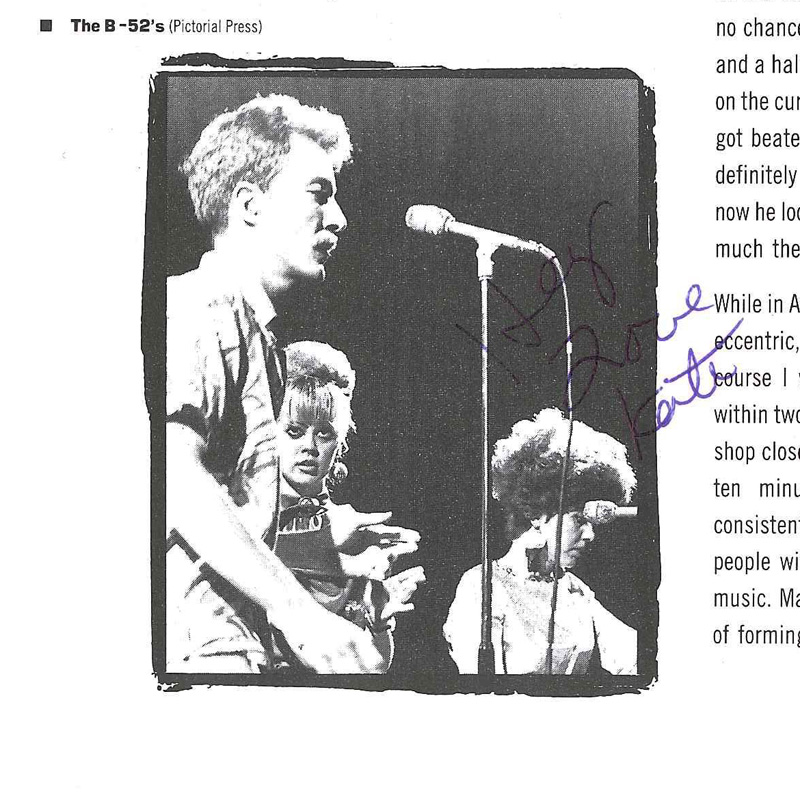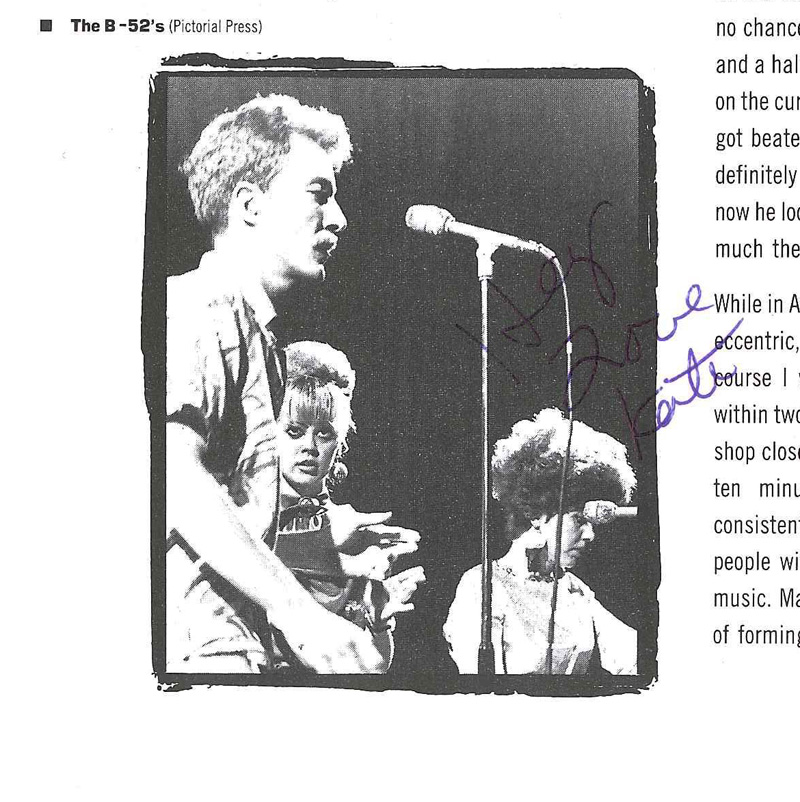 The two NYU guys and Jen left. I stayed and sat on some steps near where the line for the dress rehearsal audience was to start in a few hours. I tried to blend into the fancy woodwork so that I could catch any other exciting SNL-related entrances. Along the way I met a lady (we'll call Jane) – a mom who had gotten a pair of tickets for her teenage daughters to get into the dress rehearsal show. She, like me, was spending the next hour or so waiting outside the SNL doors during the dress rehearsal show.
We swapped stories and I went on about how I love love love R.E.M. and I traveled up there from Delaware because they were the musical guest this night. She was super nice, and made it seem like a big deal that I had been up since my 8am classes Friday morning and waited in line for tickets all night. She told me about how she had to drag her daughters, who weren't that excited to come out to see the show, there.
Before long, the line started to form for the folks who had tickets to see the taping of the actual live show started to form. A man and his nephew walked up to Jane and I to ask where the line was to pick up tickets for the live show. Jane quickly explained that we didn't know and that we weren't in line, but "boy have you got to hear her (pointing to me) story." Like a good mom-type, she proceeded to share all the details of my last 24 hours and my dream to see R.E.M. on SNL. He also seemed surprised. I confirmed, "yes, I LOVE R.E.M. THAT MUCH."
Then the unexpected happened. He said, "I'll see if I can get an extra ticket. Come get in line with us."
Wait… what?
In five minutes we were at the front of the line to pick up his tickets. When the woman handing out envelopes of pre-assigned tickets in the will-call line handed him his envelope he said, "I thought there was supposed to be three tickets in here, there are only two." The woman looked surprised and slightly frazzled. He then said, "Yeah, I thought Lorne said we would have three?"
Wait… what? THIS GUY IS FRIENDS WITH LORNE MICHAELS?!?!?
She then pulled a ticket out of another envelope and slid it into his. We were in! We got into the elevator with my fellow audience members and made our way to our seats.
My new best friend and his nephew were such great co-conspirators. I asked so many times, "How can I possibly pay you back for this? You have changed my life!" And he just responded, "Nothing – just stay enthusiastic."
The show was amazing (really, it's one of those ones you should watch in its entirety). When R.E.M. took the stage I tried my hardest not to cry the whole time. Who wants tears to blur one of the most remarkable performances of my life? They played two songs from their recently released album, Out of Time: "Losing My Religion" and "Shiny Happy People" (with Kate Pierson). It was dreamy.
After the show, I hugged my BFFs and made my way back to the Rockefeller Center lobby. When I exited the elevator who did I see? Jen! While I was upstairs watching the show, she had made two new friends – teenage NYC natives who knew all about the SNL afterparty and where it was going to be that night! All four of us screamed in mutual glee as we reveled in our plan to head to the afterparty.
But, we weren't jumping in a cab just yet… we had to wait to see if we could get one more spotting as the band left the building.
10 minutes later, R.E.M. entered my airspace. I found myself standing next to Peter Buck. The. Peter. Buck.  I made small talk – which was actually pretty easy because he's so disarming and a fellow record store nerd.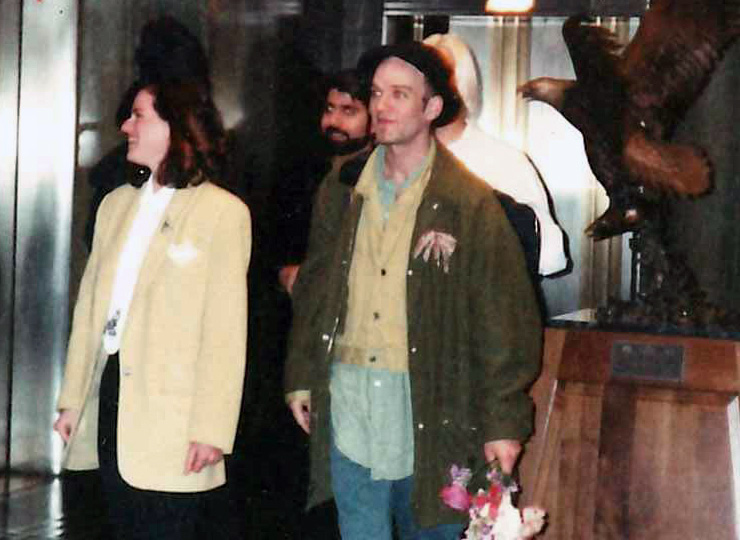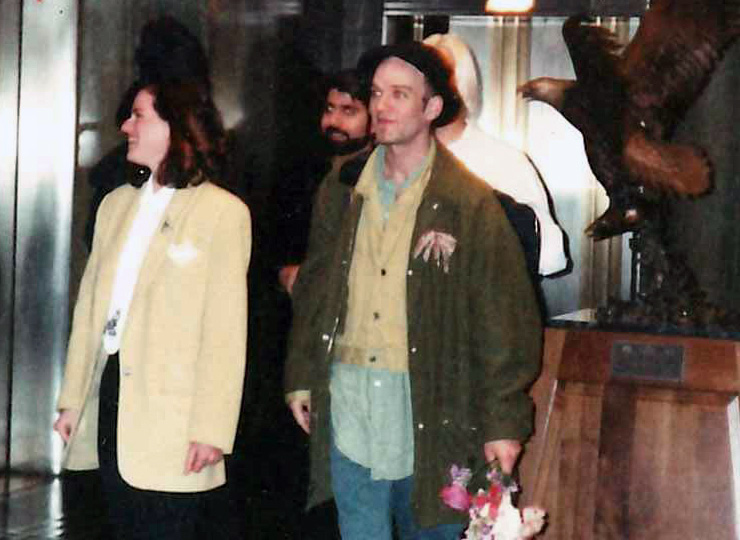 Then I approached Michael Stipe. The person who penned words that changed my perspective and comforted me through so much. I had read somewhere the he doesn't give autographs, so I just walked up to him, told him that he had changed my life for the better, and asked to shake his hand. Even though there were people pulling him to and fro for photos, he giddily said, "Sure!" – which was perfect and exactly how I imagined it might happen.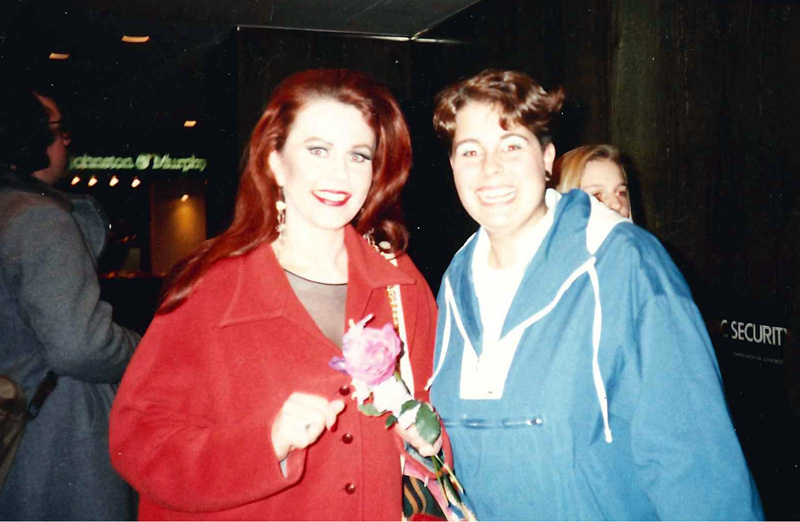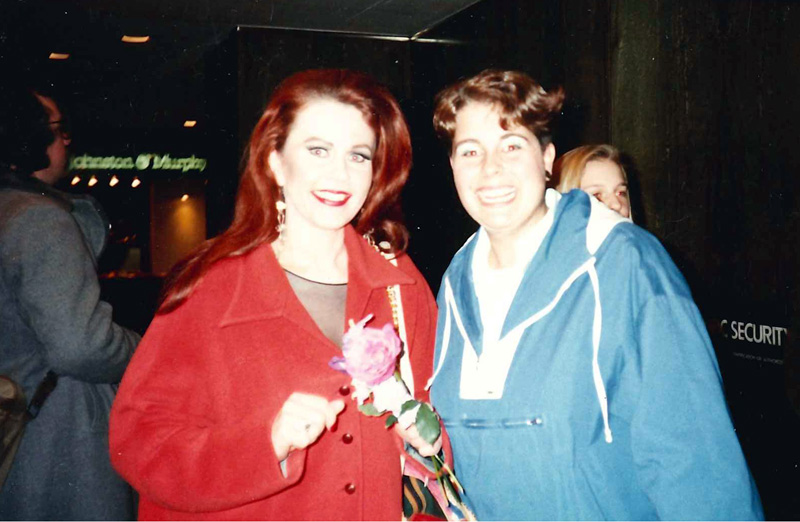 I snapped a couple photos of the chaos and then I jumped into a cab with my second batch of BFFs to head to the afterparty. We arrived to find a a nice, low key restaurant/bar with a strict doorman making sure we didn't talk our way in (I don't blame him, actually). We were content to nonchalantly hang out outside and press our noses against the window every once in a while to see who was mingling inside.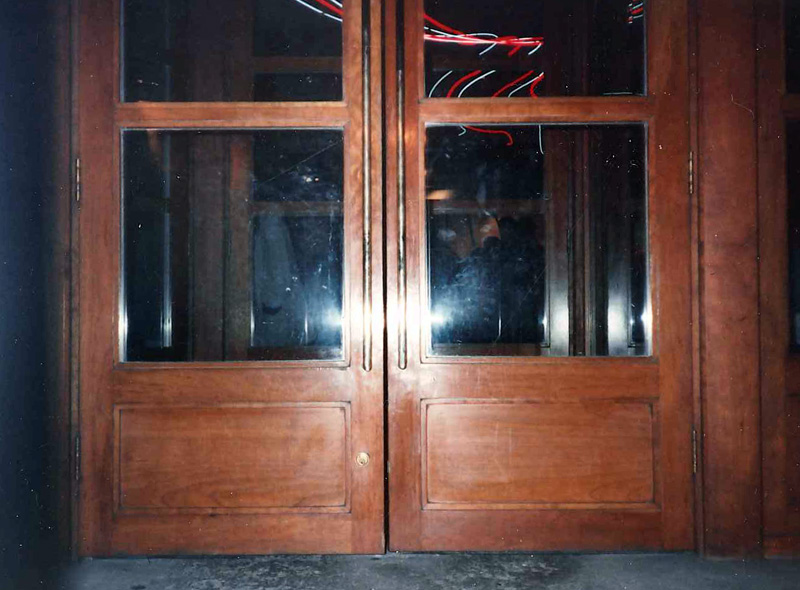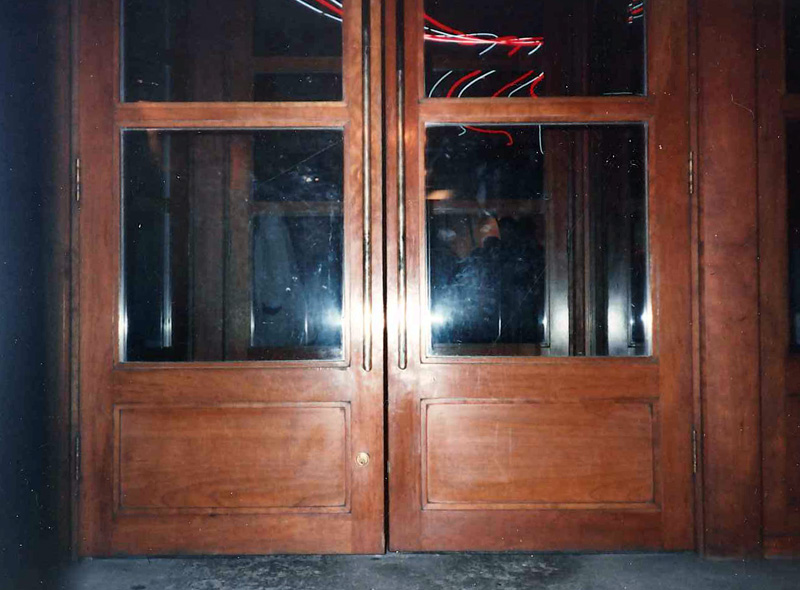 Along the way notables came and went. The one I remember most was Goldie Hawn who gave us some friendly hellos as she entered (she really is *that* sweet and pretty in person). Around 3am or so, I realized I should head back to Penn Station to catch a train home.
As I passed the next hour or so, waiting for my train, I sat in the brightly-lit, fairly empty waiting area. Out of nowhere a gregarious voice says to me, "Hey! How'd it go! Did you see the show?" It was the taxi driver I had met on Friday night, the fellow who had driven me to Rockefeller Center.
It was further proof that the world can be a wonderful, friendly, strange, kind place.
Top photo:  As if there aren't enough reasons to love Peter Buck – of course, he takes the time to visit and shop at a record store (Tower Records) when in NYC!