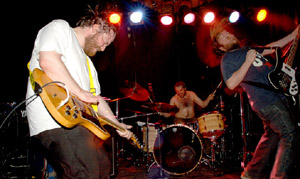 A sad email of a band's demise hit my inbox times two this morning: Scottish band Aereogramme have broken up after nine years together. It seems like only four years ago that we saw them play with the Delgados at the Crocodile… um, because it was!
Official message from the band:
It is with heavy hearts that we tell you all that Aereogramme have decided to split up. Reasons are multiple and complex. It is however fair to say that the never ending financial struggle coupled with an almost superhuman ability to dodge the zeitgeist have taken their toll, ensuring that we just don't have any fight left in us.

We are immensely proud of the four albums that we made over the past seven years. We hope that they continue to grow in your hearts. We plan to honour and celebrate the beautiful friendships we have made along the way with these final shows over the summer.
If you're lucky enough to be in Europe this summer, you have a few more chances to catch the band live:
MAY
30th    Aberdeen  Musichall
31st    Edinburgh Potterrow
JUNE
1st      Glasgow  Barrowlands
16th    Glasgow QMU
23rd    Hurricane Festival. Scheesel, Germany
24th    Southside Festival. Neuhausen, Germany
JULY
27th    Omas Teich Festival. Grossefehn, Germany
AUGUST
31st    Connect Festival. Inverary, Scotland.
Farewell, sweet Scots!