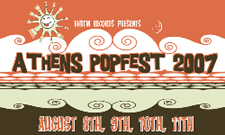 I'm leaving for the Athens PopFest in 3 days and I'm cramming in as much PopFest-prep to familiarize myself with the bands I'll see while there.
This Friday is a big day for the fest. Bands performing on this day include  Poison Control Center, Casper and the Cookies, and Tullycraft (debuting new songs from their to-be-released-in-the-Fall album).
Today I'm especially looking forward to High Water Marks from Lexington, Kentucky. They have a fetching Mangum-esque slightly muttled pop with Rentals keyboards style.
Listen to "Polar" or "Have another dream" from their MySpace page.
Wondering what else is going down on Friday?
At the Little Kings
1. Laminated Cat
2. Poison Control Center
3. Pipes You See, Pipes You Don't
4. the Marbles
At the 40 Watt Club
5. Ideal Free Distribution
6. Ryan Anderson
7. High Water Marks
8. the American Revolution
9. Postmarks
10. Tullycraft
11. Casper & the Cookies
12. Circulatory System
Is anyone out there making the roadtrip, or joining me there?