Show Date: July 21, 2019
I took a leisurely pace at my last day at block party. Much like I have with posting about it in a timely fashion. Good things come to those who wait y'all. 
Vancouver based Actors walked up onto the Vera stage dressed head to toe in black and looking SERIOUS AF. I absolutely love it when bands who'd be perfect for a vamped out dance party have to play in the bright sunlight of day at festivals. It's like an out of body experience. Lead singer Jason Corbett yelled out, "Does anybody know who we are?" He was answered by a "WOOO!" from the back. "Oh really? Just wondered cause there's an absence of black t-shirts in the audience. We're just a buncha goths out in the Summer."  They truly were. Those late '80s Cure guitar tones sounded so good I was salivating. What kind of pedals you using bro?!? You'll definitely wanna hear their album It Will Come To You, before they're back for their next gig.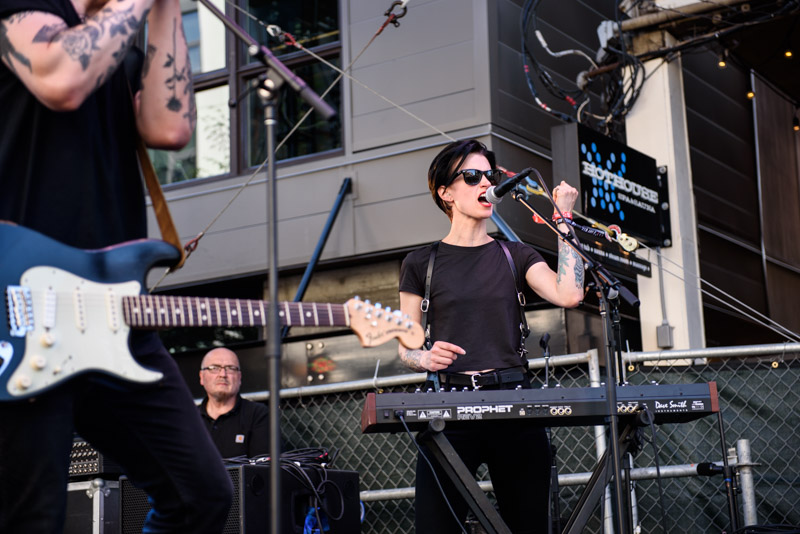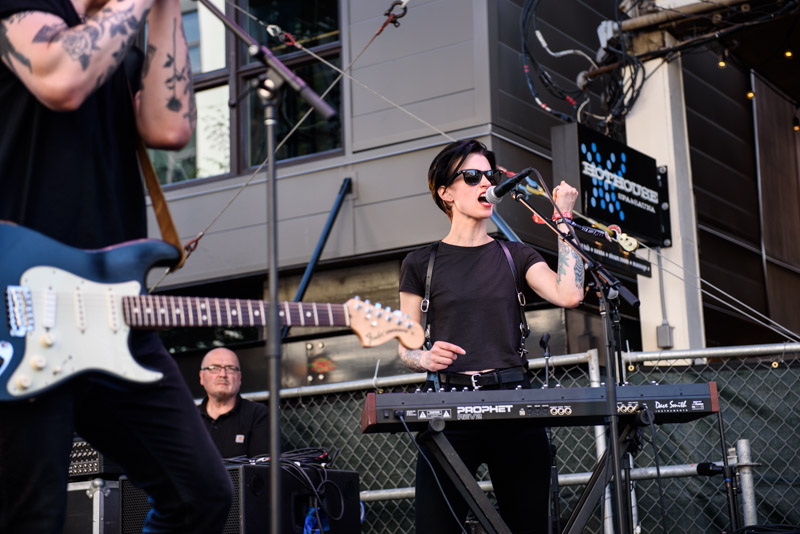 STRFKR, what to say about this set? Their chill pop was just TOO CHILL. It seemed as though nothing was happening at all, even though about 12 people had joined the band onstage in costumes ranging the gamut from t-rex, to astronaut, to a porg from Star Wars. I may not have been that interested in STRFKRS set, but I did definitely yell " I AM REALLY INTO GANDALFS RIGHT NOW," from the pit. Also, that dress was gorgeous.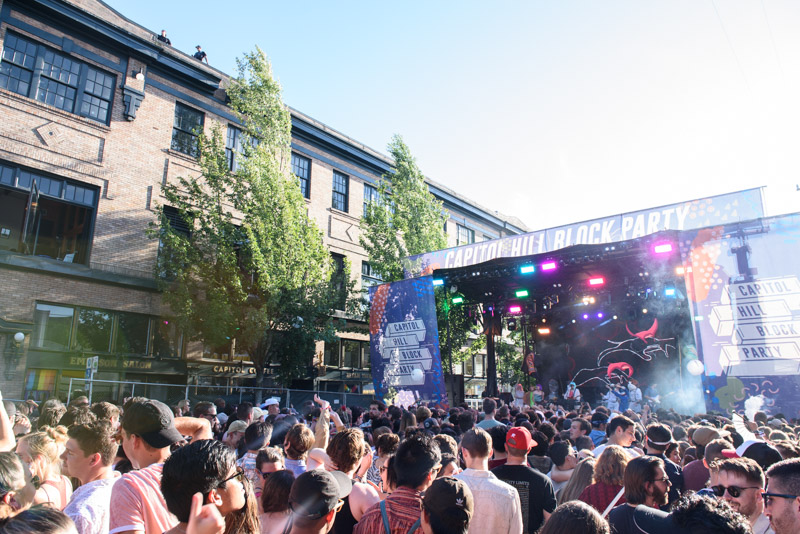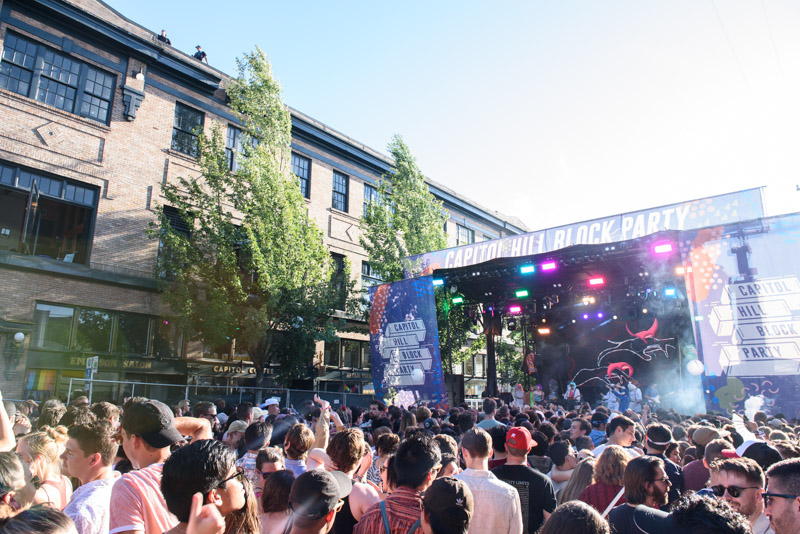 Speaking of guitar tones, can we talk about the incredible textures and wandering melodies in TERMINATor's post-punk sound? With so many loops and delays, their live sound may not always match up perfectly, but that's the joy of it. They bring an unsettling feeling, even within beautifully lilting, tremeloed flute solos. In a festival surrounded by pristinely performed pop and prerecorded dance tracks, it was lovely to catch something a little darker, and avant-garde. I just found out about their new Visual EP and I am INTO ITTTT.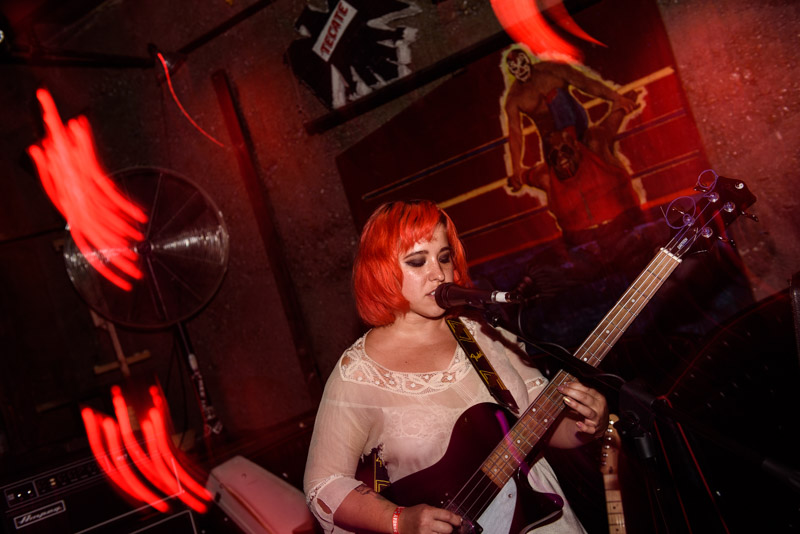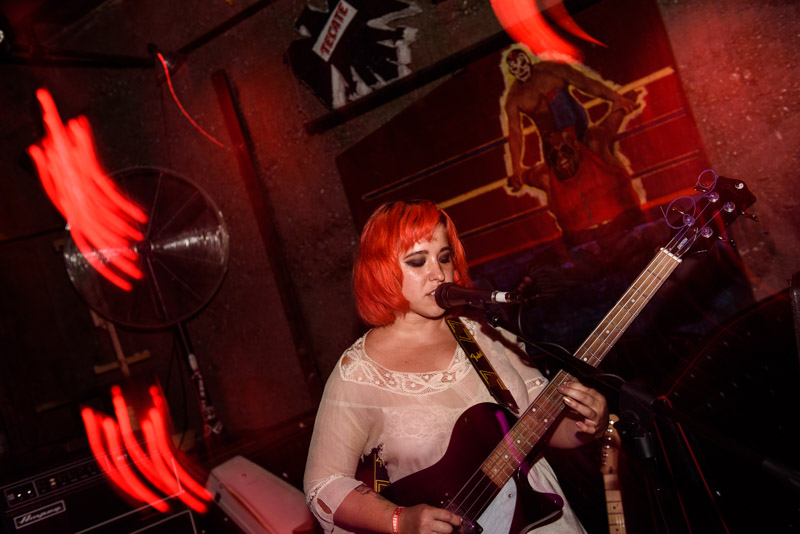 Whitney Mongé played to a small crowd inside of the Wild Rose, a quiet enclave nestled into the mass of drunken chaos outside. Her rich voice and fingerpicked guitar filled the room as if there were several performers instead of just one. Her soulful notes had a 90s vibe to them as well, and reminded me of the great Tracy Chapman. She held the audience in her hands, hanging off of every word.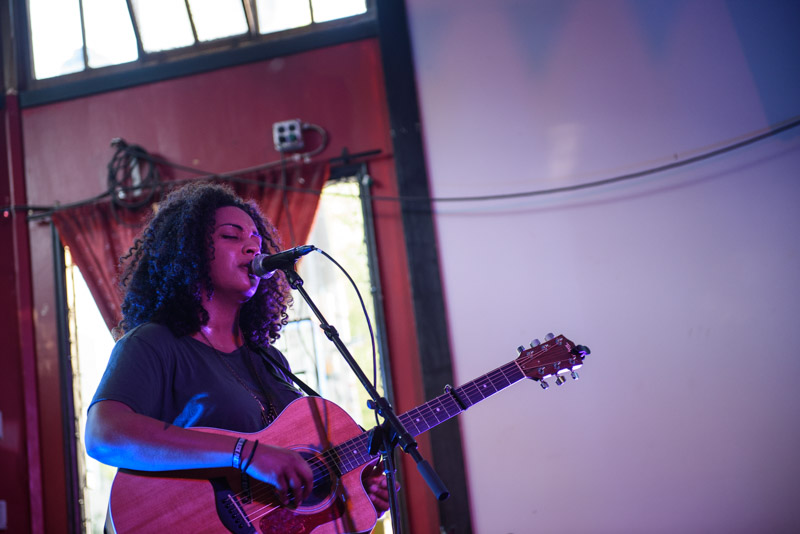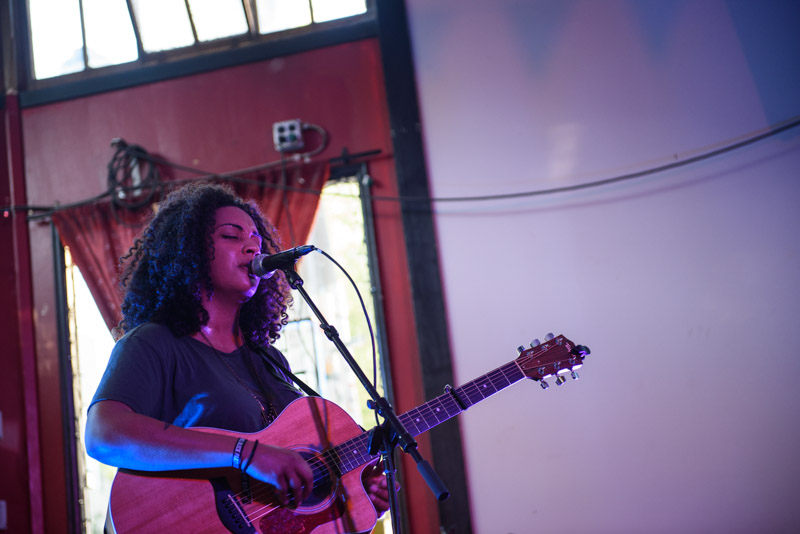 From start to finish, Yves Tumor's set was absolute perfection. How can you go wrong when you start it by handing out cupcakes to the audience festooned with your own face? He traipsed in bedazzled boots all over the stage and into the audience rarely stopping, always grooving to his experimental chill beats. Much like his music he was a merging of dualities. At times, crooning softly to the crowd with a scarf over his face, mysterious and nameless, while also spending a good portion of the set jumping into the faces of folks as the music swelled with boisterous beats. He rolled across the floor, climbed on the scaffolding and intimately sang to local photographer Alex Crick, not once but THREE TIMES. They might be dating now IDK.  Of course Capitol Hill's resident rose seller had gotten into the crowd and several soon flew up to the stage. They rained down in front Yves Tumor like he was one of the Three Tenors, looking posh AF in big sunglasses and wrapped in his flowing white scarf. He deserved them. He's a super star. 5 stars. WILL SEE AGAIN ANY TIME.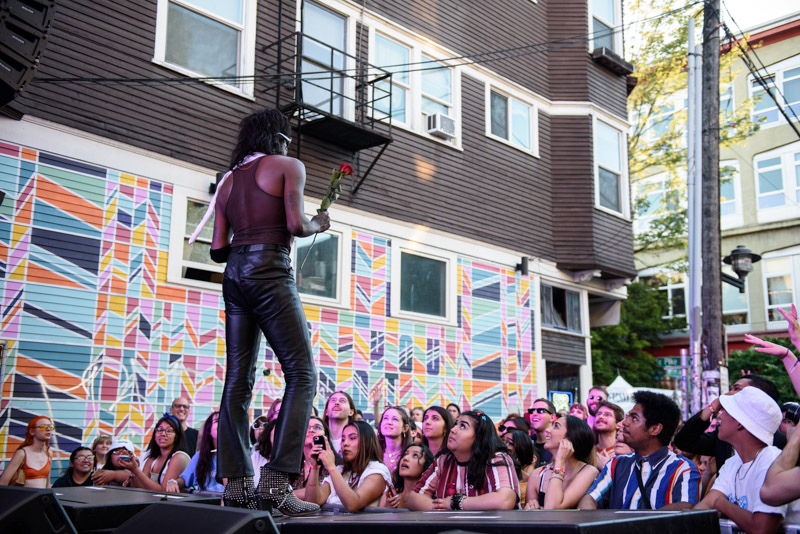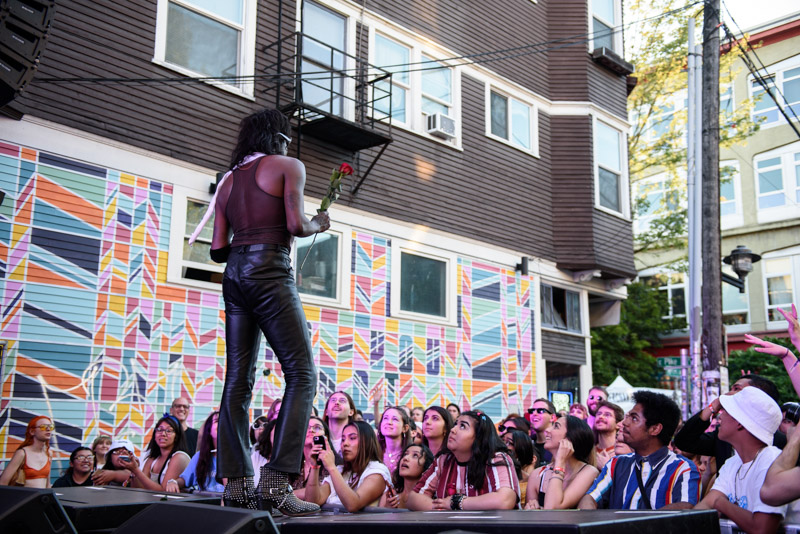 As lead singer Aya Mara of Razor Clam rode through the Cha Cha crowd to the stage on the shoulders of burly men sporting two golden horns and a third golden horn strap on, it was clear we'd be in for a show. As the band writhed around the stage to songs about the perils of relationships and doing it up the butt, the heat inside the venue scorched into a frenzy and the crowd was LOVING IT. The band has a distinctly Missing Persons dream pop vibe going on and were an absolute blast to watch live.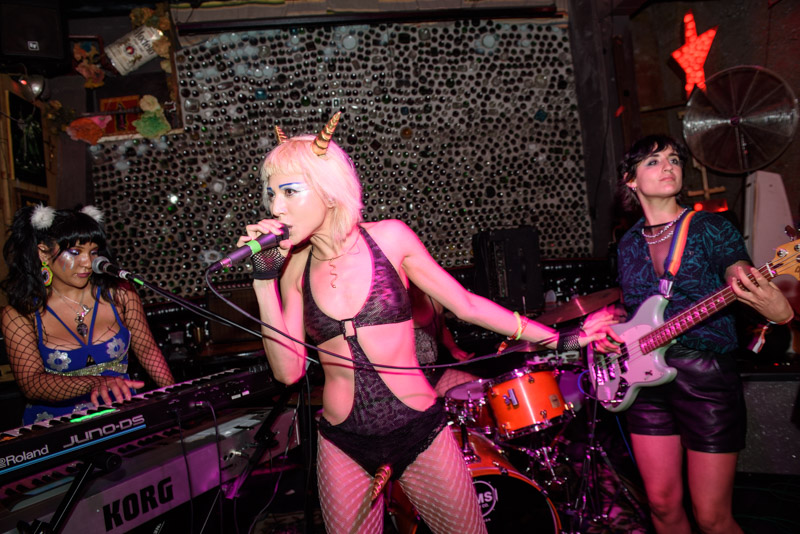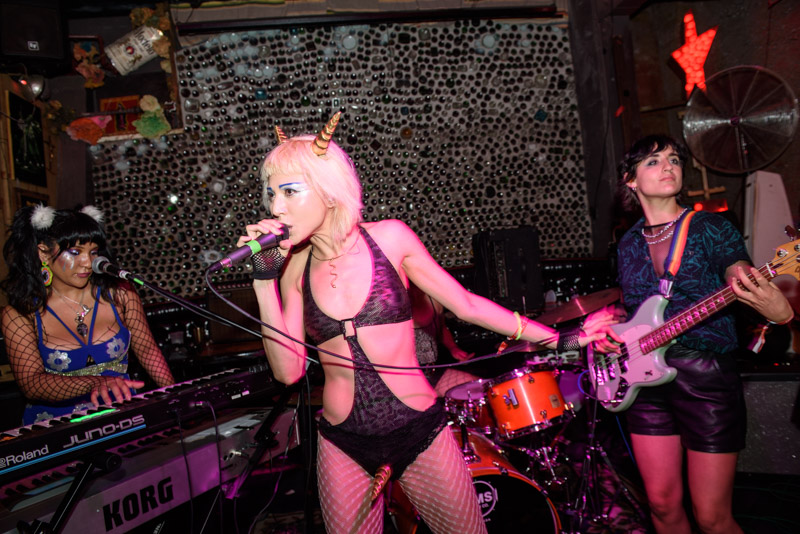 That's it for me y'all. I am ALL PARTIED OUT. We'll see ya next year!!
All photos by Brady Harvey